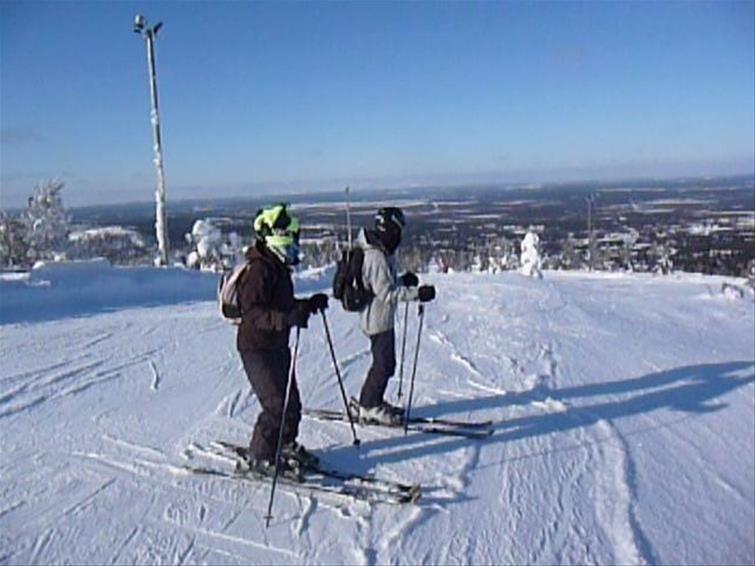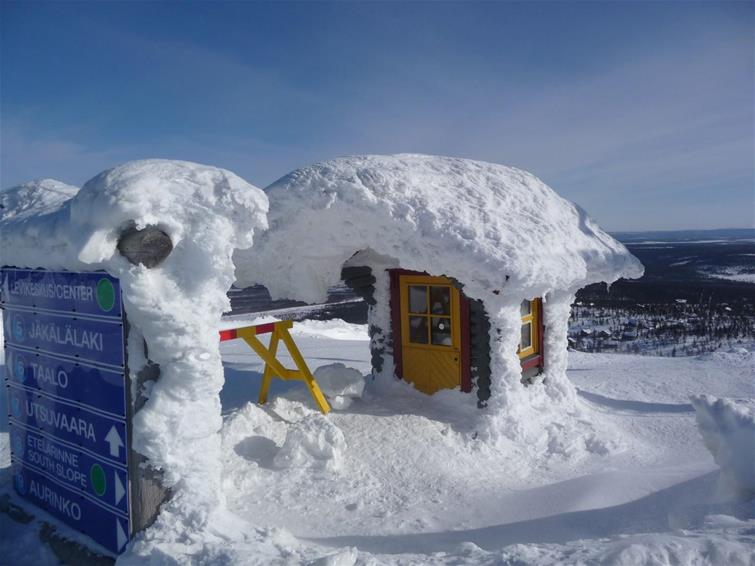 The summer holidays are over and soon everyone will be talking about C……..! Which for me is a great reminder of one of our fantastic trips to Lapland. On this occasion there were 24 of us on our annual group skiing holiday! We had two cosy, adjoining catered chalets in the woods, each with a log fire and a sauna.
It wasn't until we had the meet and greet with our reps, that we realised that there were so many other activities to do in Lapland other than ski! We did ski every day, but not all day as we usually do, so that we could go and experience some of the other activities.
During our time there we experienced extremely cold weather, the lowest temperature we saw on the town thermometer was -33! We very soon learnt to make sure that we had all our hair completely tucked into our hats or else it just snapped off!
On day one we were hoping to go on a Husky safari, however this was postponed as it was even too cold for the Huskies! Every day we had a call to say 'sorry, it is still too cold', until our last morning when the temperature had warmed very slightly, so we were able to go. On arrival at the Husky farm, the dogs were all very excited as they hadn't been out for a week. We were given our sledge and dogs, and to our surprise, we were in charge! One of us drove at the back and the other sat on the front. After being given very brief instructions, we took the brake off and away we went. It was such an amazing experience, being pulled at great speed through the woods.
Some of us also embarked on a Reindeer safari around the frozen lake. This was also great fun, but at a slightly slower pace than the Huskies!
The next activity, that mainly the 'boys' embarked upon, was a snowmobiling adventure. After their initial briefing and getting kitted up, they headed off in convoy into the snow laden trees, along some narrow forest tracks. After an initial cautious start (probably only a couple of hundred metres!), they dropped down onto the frozen lake and they opened the throttles. Their smiles got bigger as they raced across the lake at about 80km/h, with only 5ft visibility ahead, as the snowmobile in front was kicking up snow and ice. They all managed to arrive at the lunch stop in one piece, although a couple of the machines were not quite performing 100% so this was rectified by a couple of the guys for the return journey. Hot lunch was served in the lodge where the fire was blazing, where they also defrosted ready for the afternoon drive. They were warned that police do spot speed and breathalyser checks, so the beers had to wait until their return to the chalets.
Next to one of the mountain restaurants was an ice karting track. So, after lunch one day the race was on. There were sibling rivalries being fought as well as personal pride to be upheld. Different techniques were utilised for the 10-lap race, some fast and furious, others driving like Miss Daisy. By lap eight, many of the 'Fast and Furious' boys had spun out or crashed into the snow barriers. But Driving Miss Daisy just cruised until the finish line. 'Slow and steady wins the race'!
After another fabulous meal in our chalet, some of us ventured to the well know local Crazy Reindeer bar, where we had a great night with the locals. An experience that we would highly recommend.
After the hustle and bustle of the previous days, my sister and I decided that no trip to Lapland would be complete without a visit to Santa. We had not had the opportunity as children, so even though we did not have any children with us, it didn't matter at all, we still wanted to visit him. After all, we are all big children at heart. We arrived at the edge of the forest and had to walk through the candlelit paths to Santa's log cabin. We were met by his elves and everyone had the opportunity to partake in snow activities before being invited into Santa's cabin. It was so magical just sitting and listening to him telling stories. A very special memory for my sister and I.
One of our most memorable events of the week was our post-midnight trek to the lake to witness the Northern Lights. We all stood captivated for over an hour watching one of nature's marvels. This was so much more than our usual annual group skiing trip!