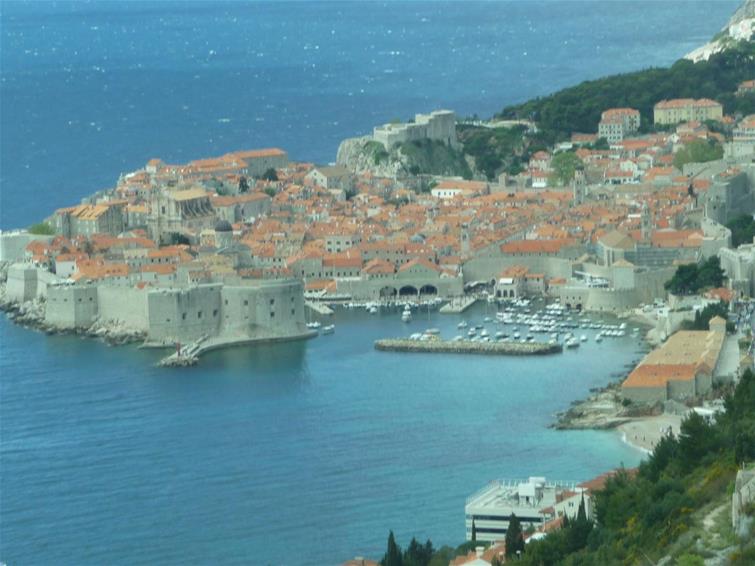 How time flies – it only seems a couple of months ago that we were enjoying cruising around the Med. We flew out to beautiful Malta to meet our P&O ship Oceana, where glorious warm sunny weather greeted us. We were soon on board, unpacked and it wasn't too long before we were enjoying our first drink out on deck admiring the beautiful port of Valletta. My husband was soon reminiscing about his 'lads' diving holiday he had enjoyed many years ago, however this was going to be a completely different experience as we had our parents in tow!
During our two weeks we visited some beautiful places. There were plenty of options, whether it be to explore the ports or cities at your leisure or join an organised tour.
Our first port of call was Dubrovnik. I had heard so many great things about this, which was a big influence when choosing this cruise and we were certainly not disappointed. We explored the old city, rich in culture and history with its orange tiled rooftops, bustling markets and busy streets. From the city walls there are fantastic views of Lovrijenac fortress, the site of Red Keep from the TV show Game of Thrones.
Venice lived up to all our expectations, from St Mark's Basilica to the Doge's Palace, famous bridge of Sighs and of course the must do gondola ride through the Venetian canals. But one of the unexpected highlights was our visit to a Murano glass factory where we witnessed, first hand, the skill and artistry of the glass blowers.
In Taormina in Sicily, my husband and mother in law decided to wander through the beautiful town and sat in a café enjoying a coffee and galetta with Mount Etna in the background. He was quietly wondering when it was next going to erupt as my mum was on a tour climbing it! My Dad decided to join a cheese and wine tasting tour, whilst I enjoyed a guided tour of Taormina with some free time to explore the roman theatre with magnificent views of Mount Etna.
It was with some trepidation that we chose a long walking tour of Rome on Easter Saturday. However, this was an excellent choice, as we were in Vatican City soaking up the atmosphere as all the preparation for Easter Sunday was taking place. The Trevi fountain was nothing like we were expecting, in a good way!
After my husband's contemplation regarding Mount Etna plus mother in law, he redeemed himself by spending the day walking the Principality of Monaco with her. Although it was Easter Sunday, after mass they were able to visit the cathedral where Prince Rainier and Grace Kelly are laid to rest. My dad and I however, took the hop on hop off bus all around the town. On the second lap round we hopped off at a few places including the stunning Casino. My dad loves his motorsport, so in the afternoon we walked the F1 circuit and visited the Prince of Monaco's private classic car collection which he absolutely loved.
As well as all these beautiful places we also fitted in a visit to romantic Florence, Pisa and Corsica where my husband decided that he needed to work off some of the fabulous cakes he had consumed during our holiday and joined some like-minded people on a kayaking adventure around the coast.
The diversity of this itinerary covered a variety of historical cities, scenery and cultures, and has left us with fantastic family memories.