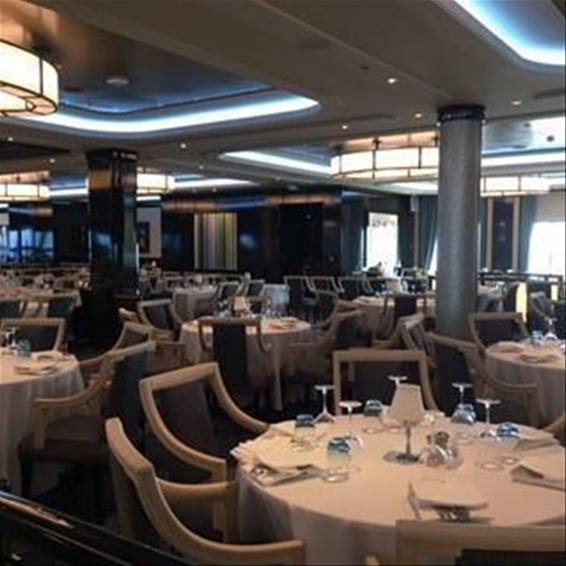 After an early flight from Stanstead to Hamburg, where I met one of my colleagues, and then a couple of hours on a coach through the beautiful German countryside, we arrived in Bremerhaven early afternoon, where The Beautiful Norwegian Bliss was waiting for us. Norwegian Cruise Lines had only taken delivery of her at 9.30am that very morning!
We stepped on board and the first thing that I noticed was that 'new' smell – how lucky were we to be in the first group of passengers on board. We found our cabin and, of course, we were going to be the first passengers to stay in it. We unpacked and off we went to explore.
We wandered out on deck into the glorious weather, incidentally it was the most beautiful weather we had had so far this year! There were musicians playing on the quayside in preparation to send us on our way. Such a great atmosphere.
Of course, we had to attend muster, as you do at the beginning of any cruise, which was in a cosy bar area, another place ticked off the list to explore. We spent the remainder of the evening exploring/experiencing what was on offer and were certainly not disappointed. There are 27 different places to eat!
The following day we were lucky enough to have a full tour of the ship and I can honestly say that the standard of every stateroom type is excellent.
This is a beautiful ship, amazing food, fabulous customer service and wonderful entertainment. There is even a go carting circuit at the very top of the ship. They offer Premium All-Inclusive rates which means there is a wide choice of premium alcoholic drinks, soft drinks and bottled water, selected speciality coffees with meals and service charges and gratuities included in the price of the cruise!
This ship has been so well thought out. Even though it's passenger capacity is 4004, you'll enjoy a tranquil space in which to relax and unwind if you desire. Whether you are travelling alone, as a multi-generational group or as a couple seeking a romantic escape, Bliss offers options to suit your tastes and budgets. There are cosy studios for solo travellers to connecting staterooms for families to well-appointed Spa Suites and sumptuous luxury and 24-hour butler service in The Haven.
Unfortunately, all good things come to an end, and we had to disembark the ship in Southampton where the next passengers were eagerly awaiting to embark on her first transatlantic crossing!
I am very much looking forward to cruising on Bliss again in the future!