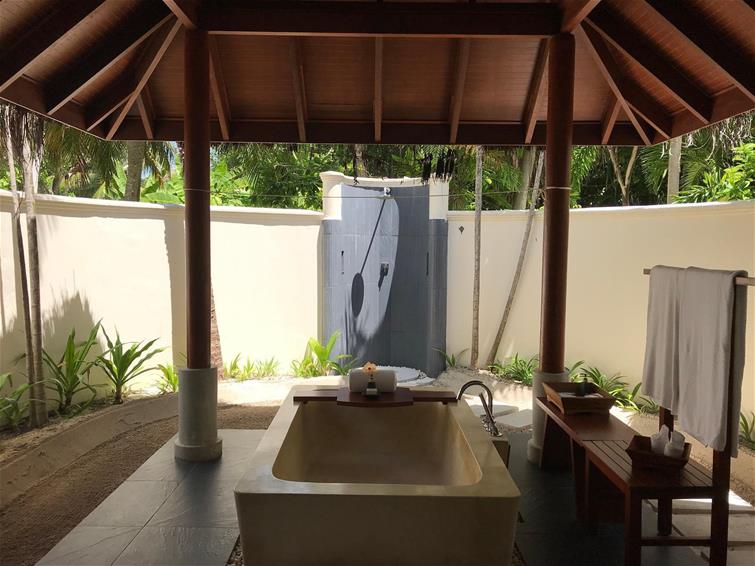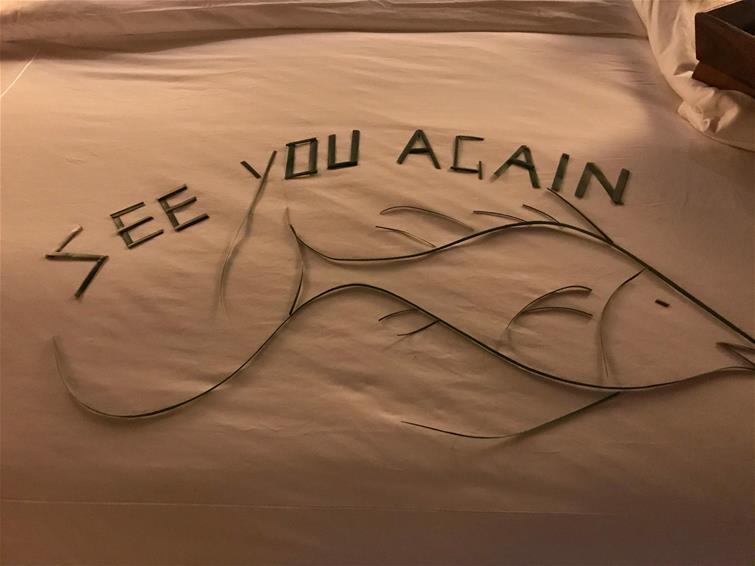 You can either fly direct from London, which is a 10-hour flight, alternatively, if you wish to break the journey up you could opt for an indirect flight. We took an indirect flight via Dubai with only a 1 ½ hours layover. You arrive in Male where you either pick up your speedboat or seaplane transfer or a domestic flight.
The first destination we stayed at was Anantara Dhigu. After being warmly greeted at the airport we were taken to our speed boat which seats about 35 people, and then driven 'James Bond' style for about 40 minutes to the island. The first thing that we noticed was the stunning colour of the crystal-clear water and the beautiful white sand of the beach. The welcome we received on the jetty was truly amazing.
We were quickly whisked to our beach villa which, when entering we knew this was going to be an amazing trip! After settling in, we then headed to the over water spa to experience their 60-minute signature massage. It was absolute bliss!
Prior to dinner, we watched the sunset from the Aqua Bar, one of the many options available for dining. Dinner this evening was at Sea.Fire.Salt specialising in freshly caught Maldivian fish and prime-aged cuts from Australia – absolutely delicious. Even though we had only been on the island a few hours, it felt like we had been there for ages. It certainly is a very relaxing atmosphere.
Breakfast the following morning was buffet style in Fushi Café with lots of international favourites. We then had the opportunity to tour the resort and visit Anatara Veli, a hideaway adult only resort and Naladhu, a small exclusive private island.
We then had some time to swim in the beautiful sea before having lunch by the pool. In the afternoon we were taken out on a snorkelling trip, where we spotted sea cucumber, a turtle, yellow puffa fish as well as lots of other beautiful fish. If you are not someone who likes to lay and sunbathe all day there are so many activities that you can do whether it be on land, on the water, or below the water. There is also a fantastic club for children with indoor and outdoor activity spaces.
This evening we sampled another of the dining venues, Origami Japanese restaurant and were certainly not disappointed! If you are celebrating a special occasion the resorts 'dining by design' program offers a choice of unique and intimate dining experiences from torch lit beach side dinners with movie to 2 experiences to an on the water private floating pontoon.
The service levels at these resorts are like no other I have ever experienced. Thomas and his staff go above and beyond.
Sadly, after an amazing 3 days, it was time to head back to Male by speedboat to then catch a seaplane to our next resort.