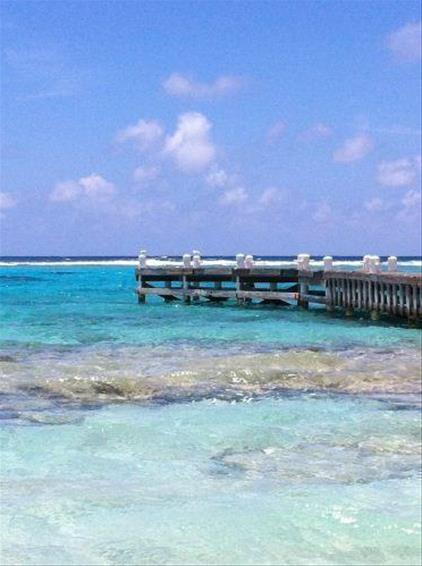 I have travelled extensively throughout the Caribbean within the past seven years both for work and pleasure, but The Cayman Islands was a first and it exceeded my expectations as a fabulous alternative to the more well-known islands.
Lying just south of Cuba, the islands of Grand Cayman, Little Cayman and Cayman Brac benefit from tropical weather, accommodation suiting all budgets, plus a wide choice of excellent restaurants. Add to this some interesting local attractions and excursions plus some of the most outstanding snorkelling and diving in the world and you have all the makings of a paradise holiday destination!
We were hosted by the Department of Tourism for five nights at the Sunshine Suites (close to Seven Mile Beach). Our accommodation was clean, comfortable, well equipped and central to the heart of Grand Cayman. We visited a large range of hotels during our stay - from more basic budget options to 5 star luxury resorts, and we also checked out some smaller boutique style properties, plus specialist dive hotels too. I am now very well placed to give detailed personal advice on where is best to stay.
After a delicious breakfast at Icoa Fine Foods, our first morning was spent at Pedro Castle with a multi-media presentation giving an overview of the islands history along with some time spent exploring the grounds and the castle itself. Later that afternoon we enjoyed a dip in the sea and a cocktail at Rum Point, a great spot to chill out and enjoy the sunshine.
We set off early the following day for Little Cayman, this turned out to be one of the highlights of the trip – a short 30 minute flight afforded us amazing views of the reef system below and on arrival we were touched by the serene atmosphere which prevails across this sleepy little island. After gaining an overview of the accommodation options (condo/villa/beach house style is the norm here) we drove to the tip of Little Cayman, called "Point of Sand". I have never seen such beautiful shades of turquoise blue in the ocean, it was simply stunning. I would have loved to settle down on the beach with a picnic, I can imagine how blissful it would be to while away an afternoon surrounded by sea, sky, peace and quiet.
We enjoyed a tasty lunch at the Hungry Iguana and headed back to the airport shortly after that. With Bob Marley playing on the radio, airport check in suddenly became quite a unique experience. The music was turned up full power and a little dancing on the tarmac followed whilst waiting for our plane to arrive. Memories that will stay with me forever (I don't think there are many places in the world where it would be possible to do this!)
Over the coming days we enjoyed several popular excursions, diving 104 feet into the blue on the Atlantis submarine, enduring temperatures close to 192 degrees on the Seven Fathoms Rum Tour and walking up the observation tower followed by designer shopping at Camana Bay. We enjoyed delicious meals at a number of local restaurants including, Cayman Cabana, Tikki Beach, The Wharf, Ortanique, Cimboco and Casanovas. I would definitely recommend room only or B&B basis as the food available locally is too good to miss!
We were lucky enough to sample the most popular daytrip here too - Stingray City with added snorkelling to explore the reef and coral gardens. What can I say, the stingrays are amazing (you have to be brave to stand in the midst of them) braver still if you fancy kissing one for seven years good luck! But the highlight of this trip for me personally was snorkelling in such crystal clear waters. The reef system is simply pristine with a huge abundance of fish. I could have spent hours here just watching the underwater world go by.
Our final day included a visit to Hell and lunch at the Cracked Conch where we sampled conch fritters (a local delicacy) all washed down with a "painkiller cocktail"!
Prior to visiting these beautiful islands, my perception was of a high-rise commercialised holiday playground. I was very wrong indeed, the American influence prevails to a certain degree (mostly in the size of the portions served in restaurants!) but the beach front is certainly not over-developed, and the warmth and friendliness of the Cayman people gives the whole place a laid back Caribbean vibe.
I hope I can visit this slice of paradise again soon.