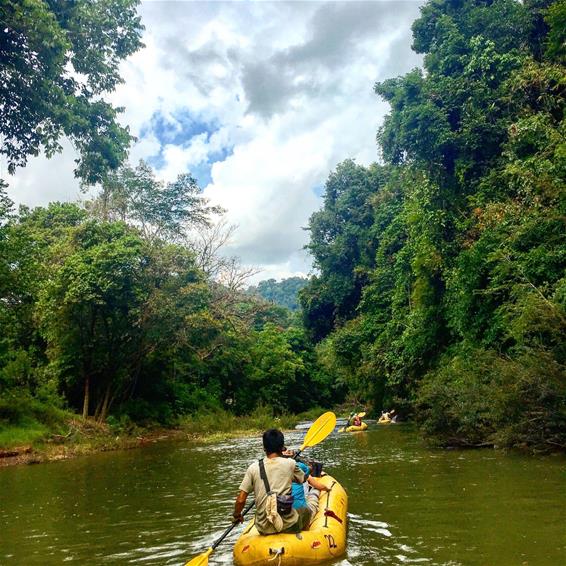 My 3 day/2 night stay with Elephant Hills was a real treat. I came away feeling relaxed, humbled and even more in love with Thailand.
The Elephants
Interacting in some way with Elephants was always going to be the highlight for me and I wanted to make sure it would be a positive experience. I was really nervous as we approached the camp, hoping that ethically I had make the right choice. I soon learnt that these are domesticated elephants. They have been rescued but not able to be released for a number of reasons but mainly for fear of being caught again. Here they can enjoy life, not ridden for pleasure, not used for logging or even worse. The staff and guides in particular were fantastic. They know their stuff, care about what they are doing and want to make sure that you learn something and ultimately have a great stay.
What makes it right for any itinerary?
Amazing and safe interactions and great photo's - TICK. Whats great is that you can use this adventure as an add on to your resort stay or tour. It's ideal if you are short on time, plus it's really handy for the transfer options too if you are travelling at your own pace. For example, I was picked up in Phuket and then taken to Koh Tao afterwards - that's west to east! This is a great option to take advantage of and I was really impressed at how organised they were throughout the trip. It is also perfect for families with lots for the kids to enjoy and participate in.
Its' a GO for Glamping and doing your bit.
I love camping anyway, so knowing that I would be in the Jungle and also on the lakeside was really special. I was surrounded by stunning scenery, had the chance to see some Gibbons when out kayaking and hiked the stunning limestone cliffs to explore a cave. I spent time swimming and relaxing besides my floating lakeside tent. The food and service was fantastic. I saw that they purposefully recycled, ..more green efforts….
I travelled solo (standard for me), but if you are thinking of taking that special someone, just to let you know that for 3 years in a row they won Trip Advisor Travelers'' Top 25 Hotels for Romance – Thailand. Brownie points to be won all rounds I think.
It's a must do when you are in this part of Thailand! Please message me if you would like dates and prices for 2021.