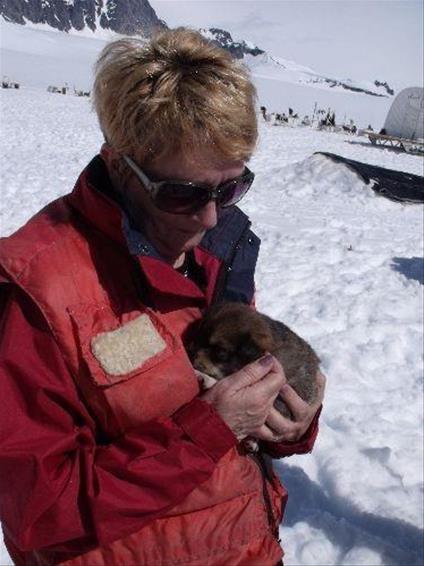 As it was a 'special' birthday for me this year, I wanted to do something memorable. After a great deal of discussion with my husband, it was agreed that we would do an Alaskan Cruise. I can honestly say it was an amazing experience.
We flew to Seattle for an overnight stay. We chose Celebrity Millenium, as this was giving us the dates we wanted and I had cruised on her before, so knew the ship and loved it. The following day we flew to Anchorage and went by coach down to Seward to board the ship. It was a long but beautiful drive. The scenery was as I expected, lots of snow and stunning scenery.
We decided to have an ocean view cabin, which is a must in my opinion. We would have liked a Balcony cabin but finances did not stretch to that as we wanted to do quite a few excursions, and decided to spend the money on these instead.
The cabin was very comfortable and had plenty of room to move around in. That evening we found our table and was delighted that it was right by a window, and as it was still light we had wonderful views of the passing scenery. Our first stop was at the Hubbard Glacier. It was incredible how close the ship got to this huge Glacier which is 6 miles wide. It was freezing cold and we had to go in at one stage to thaw out, but soon went back on deck to take more pictures.
The following morning we arrived in Juneau. It was like arriving in a different country as the sun was out and no sign of snow on the ground. This was our first excursion and we chose to do the Whale Watching trip plus a Salmon bake. We saw Hump Back Whales, in fact one went right under our boat, I was so excited I forgot to take a picture. The Salmon bake was lovely too, nothing like the salmon we get back here in England.
From here we went to Skagway, this was the highlight for me. Again the sun was shining and everyone we met kept telling us how lucky we were. Unfortunately we had booked a helicopter trip onto the glacier and then a Husky ride, but the mountain was shrouded in mist so the helicopter could not take off. We waited all morning and then at 1.00pm we were given the go ahead. Wow. The helicopter trip itself was fantastic, there were 6 of us in the helicopter, and the views were stunning. There were hundreds of Huskys on the glacier, they live there all summer and love to race. We had 2 to each sled, a 'Musher' and a passenger. My husband was a Musher but I struck lucky and got a hunky Canadian instead. (Another poor girl got hubby). It was only a short ride but we learned all about the huskys and cuddled 2 pups that had just been born a few days earlier. This was an experience I shall never forget.
Day 4 was a stop at Icy Strait Point, I must admit this was another excursions that we chose, and I was beginning to regret. This town is known for the longest Zip Wire ride in the country. It took us 45 minutes just to drive up there and when I saw the view from the top, I started to shake. There were 4 'seats' next to each other, they strap you in a bit like a baby bouncer seat, you are told to lift your legs, then it is 3 2 1 and go. No time to think. All I can say is I would do this again. It did not feel as though we were going fast, yet we reached the bottom in less than 60 secs, and was travelling at 45 mph. The only time I felt scared was when I saw the ground rushing up to greet me at the bottom, but we stopped okay and I was elated. I looked up and could not believe that I had actually come down on that.
Our final destination was Ketchican. We decided to just stroll around the town and visit the Creek area, known for its 'dancing girls' at the height of the Gold Rush.
Finally we arrived in Vancouver at the end of am amazing trip. Would I do this again? In a second I would!