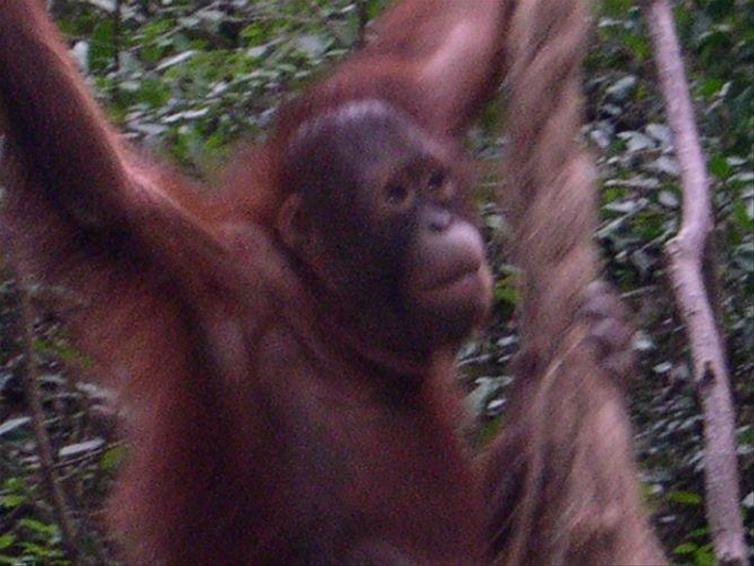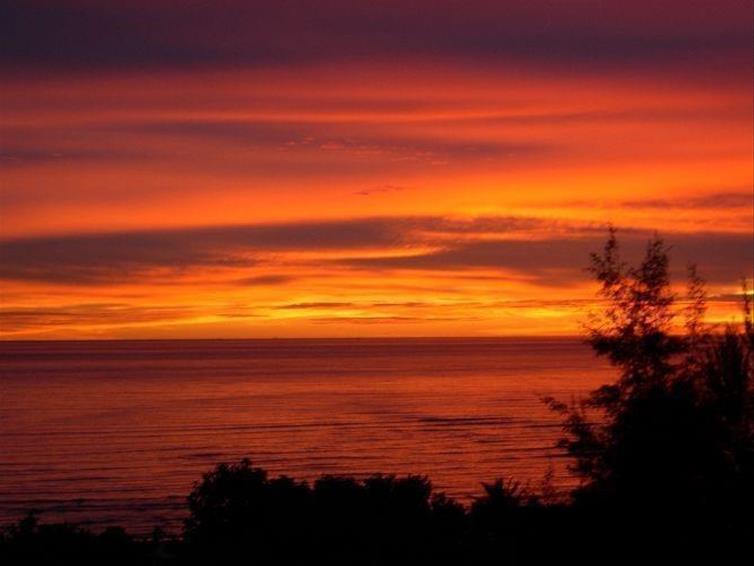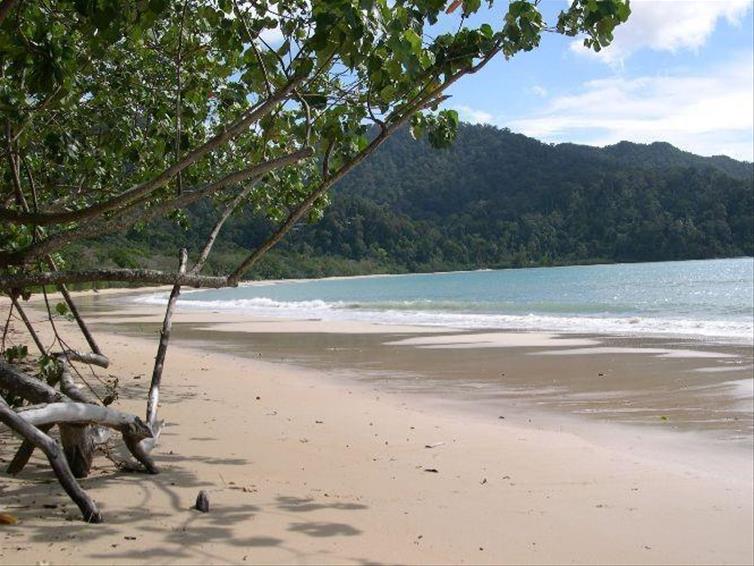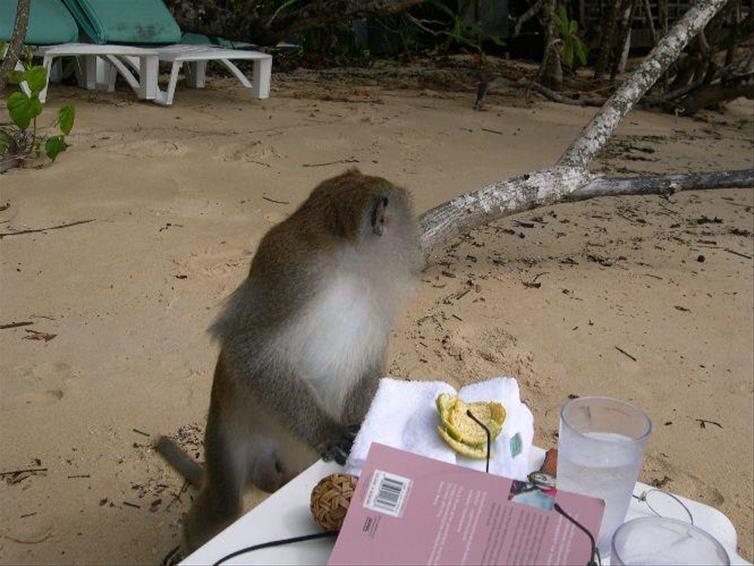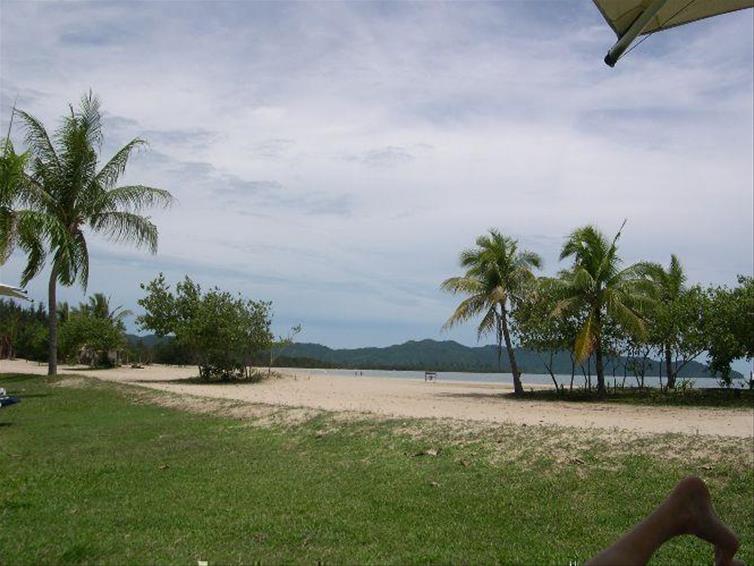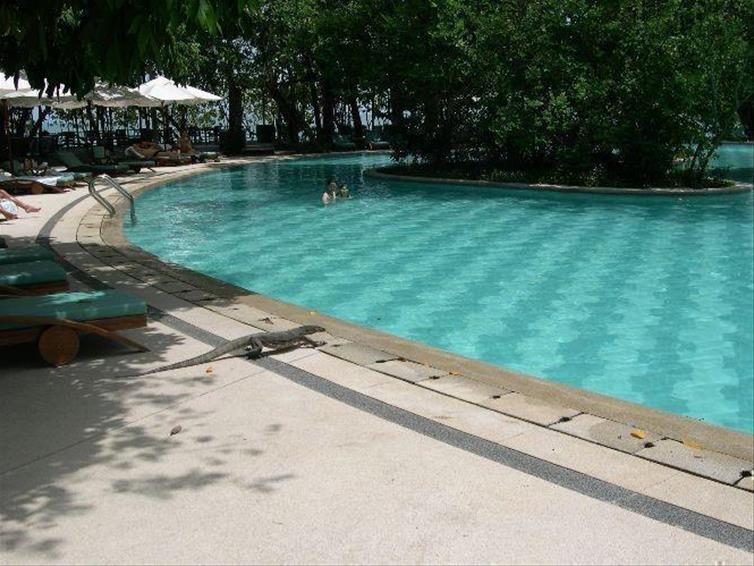 I had always wanted to travel to Malaysia, and when some very good friends of ours mentioned they also wanted to go, that was enough for me to make the decision and not to put it off any longer. We travelled from Heathrow to Kuala Lumpar and from there took a connecting flight to Langkawi. We decided that this was going to be a twin centre and we would have a week in Langkawi and a week in Borneo. With my love of wildlife, this was a must as I had always wanted to see the Orang Utans.
The end of April is the dry season in Langkawi, however as we were in the middle of a rain forest it did not mean we were without rain, in fact it rained most days but it was short and heavy. It certainly did not spoil it for us. We stayed at the Andaman in Langkawi, a really beautiful hotel right on the beach. You are warned not to leave any windows open as the monkeys venture in from the rain forest and steal anything they find. One day as we were sitting by the pool, I noticed several people suddenly clambering about, I looked round and about 4 ft away from me was a very large Iguana. He was about 3 ft long, he walked right past my sunbed, climbed into the pool, swam across and got out the other side and walked into the forest. Apparently he does this most days, but this was the only time I actually saw him. You don't see that happening in many places.
Langkawi is a beautiful island, and the people were lovely. We took a taxi everywhere we went and it was never too much trouble for them to drive anywhere you wanted. They are very proud of their island and are very keen to show it to you. We took the cable car up the summit of Gunung Kraf Budaya, and visited a local craft village. They are very gentle people and when our week was finally up, we did not want to move. However the thought of seeing the Orang Utans was a good incentive.
We flew to Kuala Lumpar and then on a connecting flight to Kota Kinabalu; the capital. From here we drove to our next hotel which was surrounded by 400 acres of gardens and boasts its own nature reserve. This is where I was going to see my Orang Utans at last. They only have a few baby ones here, that have been rescued, usually because their mothers have been killed. They rehabilitate them before sending them off to Sandakan and releasing them into a much larger area, where hopefully they can spend the rest of their lives in safety. I cannot describe how excited I was to see the little babies clambering above me and swinging from the trees. They were gorgeous.
We ended our stay with 2 nights in Kuala Lumpar. Its a very busy city but the public mono rail system was brilliant, and so cheap. We went all over the place for just pennies. The only fly in the ointment was when we collected our luggage in Kuala Lumpar airport on our way back from Borneo, I said to my husband, 'Can you smell fish?' Of course he couldn't smell anything. I did notice several people looking at me, but again I was so busy talking - as usual - that I really did not take much notice. That was until we tried to put my case in the taxi. The driver suddenly started shouting at me and pointing to my case. He wanted to know if I had fish in my case. When I bent down to sniff, I was nearly knocked out with the smell. They must have been carrying fish in the plane with the luggage, and I can only assume the fish container must have burst open and most of it landed on my case. We were staying in a 5* hotel in Kuala Lumpar and I was most embarrassed checking in. They were wonderful however, and took my case, wrapped it in cellophane, contacted the airline and arranged for a new case to be sent. Now thats what I call service.
This is a place that I most definitely want to go back to, we only scratched the surface of this wonderful country. I shall just make sure they are not carrying fish next time I go.