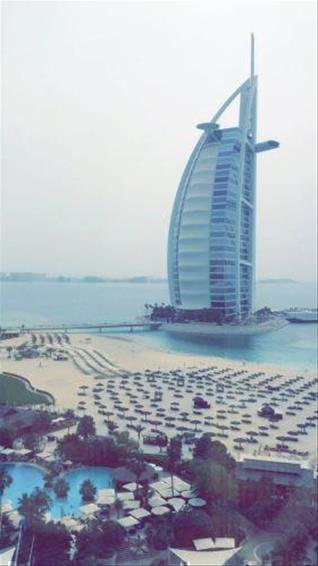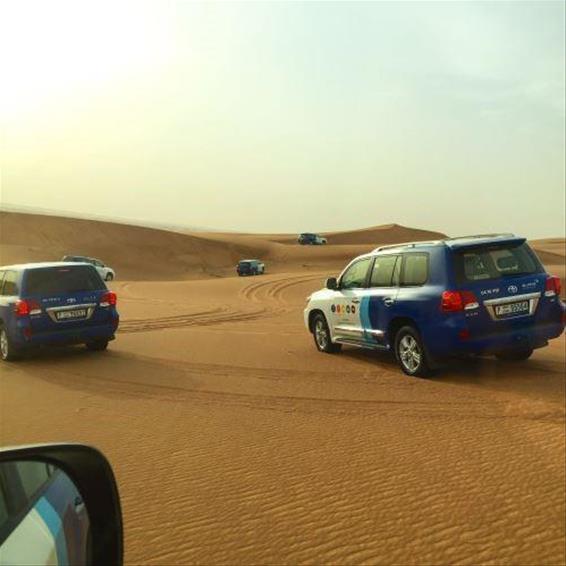 I was lucky enough to be given a four night educational trip to Dubai from 7 May 2016. I have never been to Dubai but had sent many of my clients there and have always wanted to go.
We flew from Heathrow with Qantas and got upgraded to business class! Wow what an experience, I have never flown anything but economy before. The crew were so friendly to all passengers and very chatty. We also saw the premium economy seats which were more than comfortable and the First Class seats which were amazing! Like having your own suite!
We stayed for two nights at the Jumeirah Zabeel Saray Hotel. The rooms were beautiful, every need had been thought of and the sunken bath was as big as a double bed!
The following day we visited the Burj Khalifa - the tallest tower in the world! Great to visit but definitely pre book before you go as you save so much money. The views are amazing!
We also had a walk around Dubai Mall - it is huge! So many shops in one place, a lot of shops we see on the high street but also many more. Segaworld, Kidmania and an indoor ice rink are also in this mall. Great to go to when it gets too hot outside!
We then went to the Sheikh Mohammed Centre for Cultural Understanding (SMCCU) and had a traditional lunch and a talk about the culture in Dubai. Very interesting.
We had free time at the hotel for an hour which meant we could see the pool, beach and spa. All are out of this world. The kids club was fantastic with the kids pool fenced off so no one can escape! A great pool for children and still relaxing for adults.
The meal at the Zabeel Saray was in the Indian restaurant. The best Indian meal I have ever had! Prawns were delicious and so massive.
The next day we had breakfast and went to the Burj Al Arab for a hotel visit. This hotel is the only 7* in the world! The décor is so intricate and different to any other hotel! As you enter the hotel there is a huge waterfall. We saw the Royal Suite which is bigger than my actual house! This was £12k per night! Other suites are much less but the hotel was full so we didn't see them.
They have a new pool area being built at the moment which will be a great addition. The service you get here is second to none, such a unique hotel and iconic building.
We then went on to the Madinat Jumeirah. The Madinat is made up of three hotels; Al Qasr, Mina A Salem and Dar Al Masyaf. All are linked by a river that you get small boats to each property/restaurant. Such a lovely way to travel and with great views of the Burj in the background! I loved all of these properties, they have something for everyone and if you are half board you have the dine-around facility so you can eat in all Jumeirah hotels.
We checked in to the Jumeirah Beach Hotel which was breath-taking when I saw the view from my room! Burj Al Arab straight in front of me! Wow!
After a quick change we got into a jeep that took us on a desert safari! This was so fun, unless you get travel sick! We flew around the sand dunes in the jeep for around 15 minutes then had something to eat (not that we felt like eating at that point!) There was a belly dance show and camel rides. Good to see the sunset too!
Our last day in Dubai was a site inspection of the JA Oasis Beach Tower and JA Ocean View Hotel, both are in the Dubai Walk area. This area is much more affordable but still on the gorgeous white sand beach.
The JA Oasis Beach is great for families, the apartments are so spacious with 2/3/4 bedrooms. The fridge is stocked up for your arrival, great touch! JA Ocean View had lovely beachy décor, lovely airy feel to it. Rooms can interconnect too, which is good for families.
We then went back to Jumeirah Beach Hotel for a site inspection. This I think is my favourite property, I certainly can imagine going back with my family. The sides of the hotel is where you will find the suites. They overlook the desert or the Wild Wadi waterpark. The rooms are all being updated but they are all very well equipped. You never have to buy water, it is constantly stocked in ALL the hotel rooms we visited.
There are several restaurants, the main buffet restaurant is massive! Full of everything you could wish for! We also had an hour in Wild Wadi waterpark which was such fun! The slides are brilliant, loved it here!
In the evening we went to downtown Dubai where the Burj Khalifa is. We visited the Manzil Hotel, this is a trendy property with a boutique feel. There is a great courtyard area in the middle of the property. You wouldn't know you were in a busy city!
Then we had a site inspection of the Palace Hotel, which again had a boutique feel about it and great views of the Burj Khalifa which lights up at night. The Dubai fountains outside the Mall come on every hour for around 10 minutes, they are really pretty. We ate in the Thai restaurant at the Palace Hotel, this restaurant has a great view of the fountains and the Burj Khalifa.
The following day we had an early flight back to Heathrow with Qantas. We travelled in economy this time, but the seat pitch was very good and the crew again were lovely.
All in all I had the best four nights in Dubai and can certainly recommend it. I would be more than happy to go back with my family - in fact I am working on it as we speak!