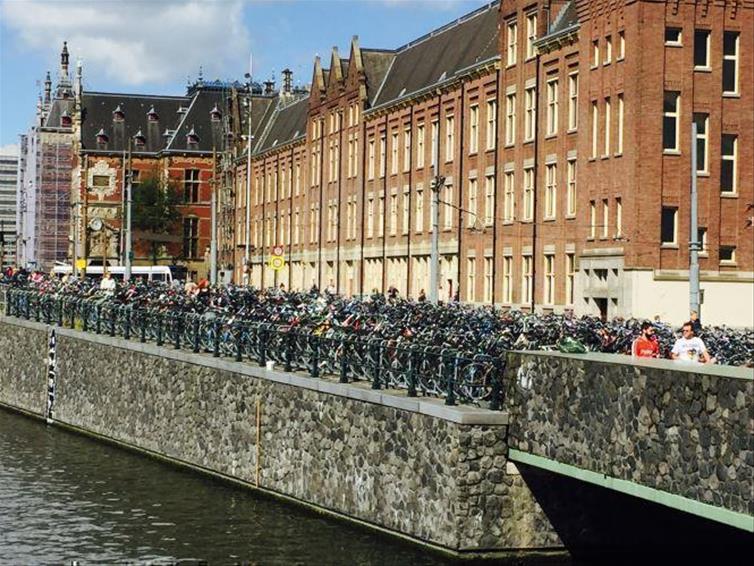 In September 2017 I was lucky to be one of a small group of Travel Counsellors invited to visit Holland America Line's newest cruise ship, MS Koningsdam, when she was docked in Amsterdam. It was also great to spend a weekend break in the wonderful vibrant city of Amsterdam hosted by Super Break who organise inspiring short breaks in the UK and Europe.
We flew to Schiphol International Airport and took a train (they run every 10 minutes) to Amsterdam's Central Station. We stayed at the Movenpick Hotel, which is a short walk from the station and handy for taking a break in Amsterdam.
After a morning walking tour, which took us along canals, over bridges and past gabled buildings, museums and through the famous Dam Square, Rembrandt Square and the Leidseplan, we had a typical Dutch lunch at Haesje Claes. In the evening, we were treated by Super Break to a dinner canal cruise. It was great to see the city lit up at night and to glide past the Skinny Bridge, the Opera House and Anne Frank's House and Museum. Amsterdam is a vibrant and interesting city and a great place to people watch. It does not disappoint. We visited the Sky Lounge on the Saturday night -- a great place from which to view the city.
Early on Sunday morning we were woken to the sight and sound of MS Koningsdam mooring on the quayside just outside our hotel. She was a beautiful sight. She is a medium-sized cruise ship carrying 2,650 passengers. Launched into service in 2016, she is the first of her class ushering in a new era of Pinnacle-class cruising.
The ship was truly impressive. The décor, which has a musical theme, was lovely. The central atrium at the heart of the ship soaring three decks high was incredible. There is a wide range of accommodation for all budgets, from state rooms and suites to family cabins.
Delicious and exciting food and dining options range from informal buffet areas to speciality restaurants (Italian, French, Asian, American etc.) There is everything from burger and fries by the lido pool to the Pan-Asian flavours of the Tamarind restaurant to the ultimate and luxurious dining experience of the Pinnacle Grill. For 'foodies' a unique dining and culinary experience is America's Test Kitchen where guests can experience an exciting array of live onboard cooking shows and hands-on workshops. On our visit, we were treated to a delicious lunch served by friendly staff in the spacious and beautiful main dining room.
Activity and entertainment options abound, including classes to learn something new and film and stage shows. In addition to the cookery school, activities include wine-blending classes (at Blend), digital workshops, and BBC Earth Experiences, and much more. You can rejuvenate at Greenhouse Spa & Salon, take a Pilates class or simply relax and unwind. There are two swimming pools and a fitness centre, as well as basket and volleyball courts. There are also dazzling entertainment and nightlife options. There is an excellent choice of bars and there is a casino.
For children, Club HAL, Holland America Line's youth activities program, offers an array of entertaining events for children and young people aged 3-17, supervised by professionally trained staff. They can, for example, join others of the same age for arts and crafts, sports, video game competitions, scavenger hunts, challenging team games and themed parties.
It was great to visit Amsterdam and to have a guided tour of MS Koningsdam. I hope to visit Amsterdam again; and to take a cruise on MS Koningsdam one day in the future.
If you would like to find out more about MS Koningsdam and Holland America Line cruises or about taking a holiday break in Amsterdam, then please do get in touch. I would love to hear from you.