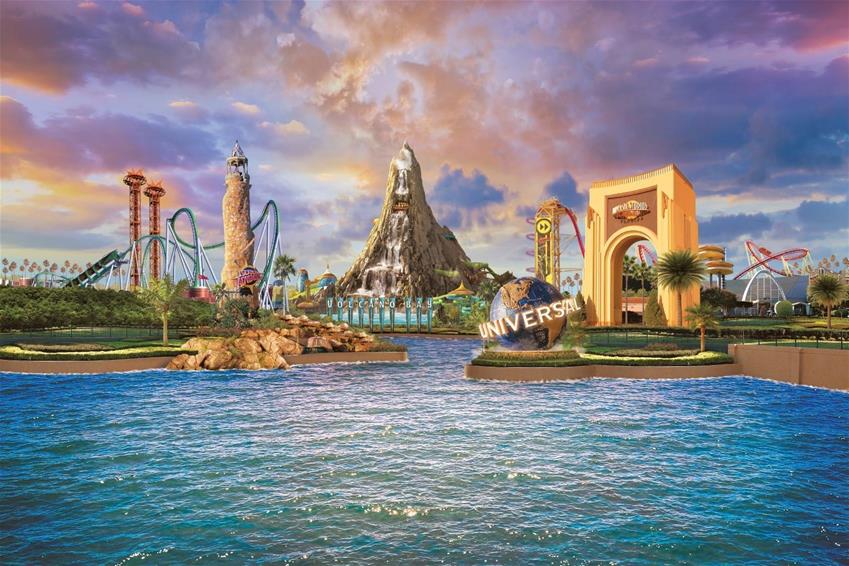 Universal Orlando offers some of the best theme park rides and experiences in the world including The Amazing Adventures of Spider-Man, Volcano Bay and The Wizarding World of Harry Potter. It's no wonder that guests visiting Disney World leave Mickey's backyard for a few days to explore Universal's three theme and water parks.
Here's my top 5 reasons to split your stay between Walt Disney World and Universal Studios.
No unused Disney Meal Plan Credits If you're on the Disney Dining Plan or even better, taking advantage of the amazing Free Disney Dining Offer, spending a few days at Universal cuts down the time you have to eat all that Disney food. It's not uncommon for families to be rushing around on their last day trying to use up all their snack and meal plan credits. Although the cost of the dining is listed as free in your package, your hotel stay isn't. Universal Hotels like-for-like are generally cheaper than staying at Disney.
Less travelling – save time and money As of 2020, Disney will be charging guests to park their car at their hotels which makes hiring a car even more expensive. Plus, Universal charge $20 a day for parking at their theme parks. Alternatively, a Mears Taxi will cost around $50 one-way whilst Uber or Lyft is around $20. That adds already an extra $40 - $100 each day just getting to Universal Orlando, By staying either onsite at Universal or at selected partner hotels, you'll have free shuttle transfers or water taxis to the parks saving time and money. Some hotels are also within walking distance to the parks too. Plus, after a long day exploring Universal, do you really want to drive back to your Disney hotel? I'd rather be able to get back to my hotel quickly and easily.
Early access – beat the crowds By staying at Universal or a selected partner hotel, you'll be able to gain entry to the Wizarding Worlds of Harry Potter and Volcano Bay an hour before regular guests. This means you can explore Gringotts, ride Hagrid's Magical Creatures Motorbike Adventure, reserve your sun lounger and get your morning fix of Butterbeer all before the crowds start to arrive. I love arriving at the parks before everyone else. It lets me tick off some of the biggest rides before regular guests have even had a chance to park their cars.
Free Universal Express Pass at selected hotels Want to feel like a top celebrity VIP (but without the paparazzi)? Stay at either Loews Portofino Bay Hotel, Hard Rock Hotel or Loews Royal Pacific Resort and you'll have Unlimited Universal Express Pass access for your entire stay! Unlike the Disney Fastpass system which is restricted and bound by times, Universal's Express Pass lets lucky holders skip the regular lines at most popular attractions in Universal Studios Florida and Universal's Islands of Adventure. This is worth up to $129 per person per day alone. If you're visiting during peak season, it's worth considering a few nights staying at one of these hotels to allow you cram in as many rides as you like without worrying about long queue lines.
Volcano Bay – the best Water Park in Orlando! What's the worse bit about Water Parks? Queuing! When Universal created Volcano Bay, they reduced queuing times to a minimum with the innovative TapuTapu. When you arrive at Volcano Bay, you'll receive a TapuTapu to wear on your wrist. It's your key to having an amazing day. You'll use it to ride most of the attractions, activate interactive surprises, open rental lockers, make cash-free payments and more. All the rides at Volcano Bay feature a Virtual Line. No more getting cold waiting in lines for you! You're free to float, swim, splash, eat, shop or just relax until it's your time to ride. Volcano Bay is ranked as the best Water Park in Orlando and if you only have time to visit one water park on your stay, I'd always recommend Volcano Bay.
As an Orlando expert, I sell lots of holidays each year splitting stays between Disney and Universal. The onsite hotels at Universal are great value for money and offer a different experience to the Disney hotels. Please contact me to find out more about how I can make your Orlando holiday even more magical with a split stay at Disney World and Universal Orlando. Email martin.ross@travelcounsellors.com or call 01452 855 433.