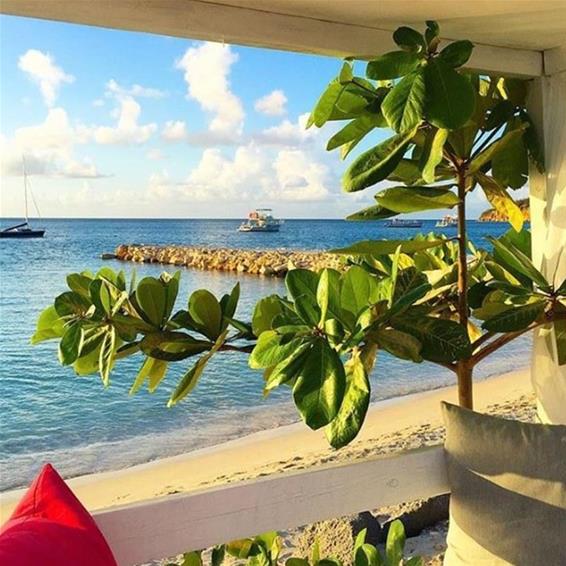 I was recently lucky enough to travel to Antigua on a Travel Counsellors Trip. A big thank you to Joel and Sean from the Antiguan and Barbuda Tourist Board, Virgin, Elegant Resorts and everyone involved in making this trip so wonderful!
We left London Gatwick on a Virgin flight. We flew in Premium Economy which was very spacious and is a very economical way to have some more space and upgrade meals and seating. If you like to spread out then you will find Premium with Virgin great, a footrest and leg support made all the difference on an 8-hour flight. The food was of a very high standard and we even had a mini afternoon tea! Plenty of room, a small cabin with attentive staff made the flight very enjoyable. Great choice of entertainment also to choose from.
I found Antigua Airport very easy on arrival, not much waiting and passport control was quick and efficient, you fill out your visa entry on board your flight. Really friendly staff and lots of music and smiles!
Colourful Antigua is the primary island of Antigua and Barbuda, known as Wadadli by indigenous Antiguans. With just over 100 square miles of paradise (that's only 11 miles wide and 14 long!), Antigua offers a diversity of landscapes to encapsulate every Caribbean dream.
Nelson's Dockyard is the perfect choice for a day trip. The original British naval base was Britain's primary naval base for the whole north-eastern Caribbean.
The UNESCO-recognised heritage Georgian harbour is wonderfully atmospheric. A handful of bars, restaurants, workshops and museums sit alongside exclusive Antiguan hotels, catering to the sailing crowd who tend to dock here.
We travelled to Hodges Bay for our first hotel stop and had a 2-bedroom beachfront suite. 1 master suite at the front with patio doors opening onto a lovely terrace with beach and garden views. A huge bathroom with a claw foot bath and lovely rain shower. Nicely decorated, a lovely big kitchen and lounge and a twin room towards the back of the suite, 2 full single beds that can also be made up as a double. Overall a very lovely suite. We also had a good look at the villas and standard rooms at this resort which were lovely. Wonderful pool areas and a great beach, smaller than some but lovely clear water and white sand. The adults pool had a really nice view out to sea and a swim up bar. Kids clubs were being established as this is a new hotel. A family pool with separate rooms with curtains and sofas in with TVs if you want to get the little ones out of the sun in the afternoon. Cabanas in the pool will be a hit also!
Breakfast here is on a large terrace overlooking the sea, lovely choice of food for breakfast. Plenty of fresh fruit and bakery items. You can order fresh cooked breakfasts from the menu also.
You can also get a boat from Hodges Bay Resort to Prickly Pear Island and stay for half a day and swim, snorkel and have a lovely jerk chicken or fresh fish lunch. I would highly recommend this, it looked pristine and was well worth the visit.
At Blue Waters Resort and Spa, we had Rock Cottage for the day which was a 5-bedroom villa. You can have a personal butler, chef here and I have to say the views and villa were simply stunning. We had steel drums while we had lunch, a few small pools to choose from also and well thought out accommodation.
Lot of water sports for all the family and I thought the gardens were stunning! You have a good choice of restaurants and things to do here. I do think that if you are planning a wedding the Blue Waters Resort is perfect, a stunning walk down to the cliff through a wonderful garden area. I can highly recommend this hotel, a wonderful spa and a great feel.
I would highly recommend the Cover Suites also, in buildings of 4 with a private pool. It is also worth mentioning that if you stay in Rock Cottage you have your own jetty where you can swim to an almost deserted beach.
While staying at our chosen hotel we did an island jeep tour with kayaking in the mangroves, this was not so far and was really enjoyable. I would recommend it for all, you just need to be reasonably fit and healthy but it's good for families and couples alike. You get some wonderful insight into the mangroves and how they protect Antigua, whilst seeing amazing wildlife in and out of the water.
We also visited Curtain Bluff, one side Atlantic with crashing waves and a stunning beach the other calm and tranquil Caribbean with beach waiter service and very comfy sunbeds! A wonderful beach restaurant and great evening entertainment, a lovely atmosphere. Great if you love tennis, a wonderful spa also with beautiful sea views. Large rooms and gorgeous sea views. A lovely atmosphere with lots of couples enjoying the evening entertainment.
We had lunch at a few local restaurants which I think is so important, the best fish and Caribbean cuisine rustic but lovely, a great vibe at Annas on the Beach. This is set on Dickinson's Beach, a wonderful cocktail bar and outside eating area. http://www.anas.ag/
Dennis on the Beach had amazing goat curry and fish or jerk chicken, amazing views out over a pristine beach. Perfect for a swim. http://www.foodanddrink-antigua.com/item/antigua-dennis-beach-bar-restaurant/
We then visited Nonsuch Bay which was beautiful. You can see for yourself with this video. https://youtu.be/G7pUET1vzOs
A great choice of rooms and villas, some for families and they do have an adult only side to the resort with infinity pool and spa. You can have a room with garden or sea views with its own small infinity pool, they will even set your table and host a private dinner for you! A very friendly good value hotel, lots to offer!
The Inn at English Harbour. Situated in one of the Caribbean's most stunning and captivating islands, The Inn is surrounded by its own national parkland, immersed in lush tropical gardens and delights in the sparkling sandy beachfront of Freeman's Bay where guests can enjoy the warm Caribbean waters, making it one of Antigua's most picturesque and intimate locations.
Historic and atmospheric with its own wonderful beach and gorgeous restaurant.
Antigua is great year-round, even in May which is low seasons it was hot and very little rain. I would highly recommend this wonderful Caribbean Island to all.