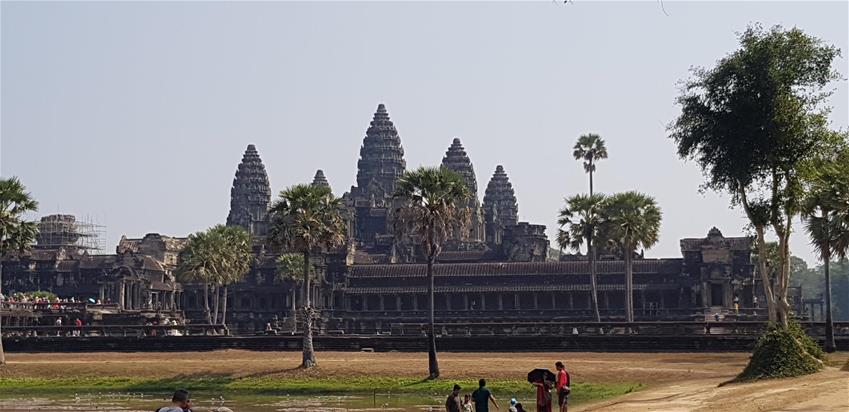 Our Honeymoon – January 2020 – the Cambodia part!
My husband and I (we only got married last summer) had our honeymoon in South East Asia at the beginning of the year, when travel was still possible! It was Steve's first time in Asia, so he was in for an absolute treat! After 5 days in Bangkok we took the hours flight to the fantastic capital city of Cambodia, Phnom Penh where Steve was very excited to have another stamp in his passport. We were greeted and met by our guide who then took us to the Patio Hotel in the city. In the afternoon we walked around the city and had the most amazing experiences - Phnom Penh is a city of tuk-tuks, cars, vans, scooters, bikes all sharing the roads with pedestrians due to a lack of pavements! Tuk vans are able to carry anything from tyres, foods, clothes, rubbish, household goods and people you name it they will get it on the back.
The atmosphere in Phnom Penh is complete hustle and bustle with wonderful smells, sights and sounds, but we found a lovely little backstreet bar, run by a Ukrainian couple for an Anchor beer, some Cambodian dumplings and a Ukrainian shot, as a must for all their visitors! After more walking and finding ourselves at the junction of the Mekong River lined with bars, restaurants and parks we then went back to the hotel for a swim and dinner – the perfect end to our first day in a new country!
After breakfast on the roof terrace we were met by Trang, our local guide for the day - Phnom Penh Palace, Wat Phnom, the peacefulness despite the appalling atrocities of the Killing Fields and the inhumane Genocide Museum. Fascinating though depressing to learn more about Pol Pot and the history of this fascinating country. We met a Cambodian survivor at the Tuol Sleng Genocide Museum who had just turned 50 – he had escaped in 1978 at the age of 9, one of only 5 escapees – we bought his book which I'm sure will be very interesting to read.
The following day we had a great Travel Counsellor experience - we were sitting by the pool around 10 in the morning ready to be picked up at about midday to be taken back to the airport to fly to Siem Riep. Someone from the hotel reception came and said, "Unfortunately your flight has been cancelled and you won't be flying until 7 tonight so we have rearranged the transfer, it will be here at 5 and we have arranged for late check-out -please enjoy our service enjoy our city!" Following the hotels recommendation (and advise on tuk tuk costs) we experienced the Art Deco Central Market – hot, sweaty, loud, amazing smells of incense, meat & fish – a fabulous market experience.
After a 1-hour flight from Phnom Penh to Siem Reap we were met by Dollar, our local guide and checked into the fantastic Tara Angkor hotel for the night. We then met him the next morning for our trip to Angkor Wat – the most amazing place and even better than anticipated - definitely a bucket list moment. The benefit of having an incredibly knowledgeable local personal guide is that he was able to answer all our hundreds of questions, as with Trang in Phnom Penh, about the local sights and also growing up in Cambodia. He was able to give us a tour of Siem Reap on the way to Angkor Wat. He was also able to take us around the huge spectacular area of the sight, fast track the tickets, dodge the bus loads of tourists and provide us with a very peaceful and memorable experience. Angkor Wat is part of the Archaeological Park and other highlights were the Bayon Temple, Ta Prohm Temple (used in Tomb raider), the best thing about doing all of this with a Travel Counsellor organised guide is cold water and cold flannels every time we hopped back in the car. We then finished our successful Day at Angkor Wat in the centre of the bustling cosmopolitan city of Siem Riep with a cold 'Cambodia' beer in Pub Street, an area where chic hotels, backpackers bars, all ranges of restaurants, markets stalls and 'Fish tank pedicures' (and experience we both tried for the first time!) lined the streets.
Thank-you Cambodia – you have been fabulous - we will be back!