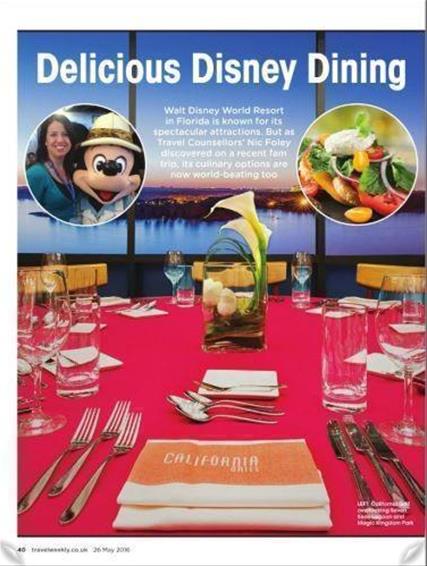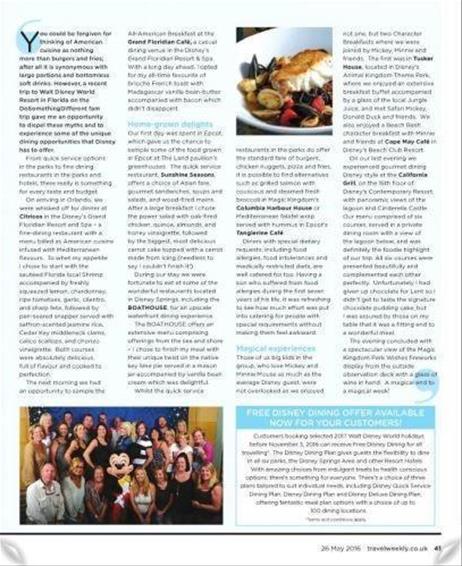 You could be forgiven for thinking of American cuisine as nothing more than burgers and fries; after all it is synonymous with large portions and bottomless soft drinks. However, a recent trip to Walt Disney World Resort in Florida on the DoSomethingDifferent fam trip gave me an opportunity to dispel these myths and to experience some of the unique dining opportunities that Disney has to offer. From quick service options in the parks to fine dining restaurants in the parks and hotels, there really is something for every taste and budget.
On arriving in Orlando, we were whisked off for dinner at Citricos in the Disney's Grand Floridian Resort and Spa – a fine-dining restaurant with a menu billed as American cuisine infused with Mediterranean flavours. To whet my appetite I chose to start with the sautéed Florida local Shrimp accompanied by freshly squeezed lemon, chardonnay, ripe tomatoes, garlic, cilantro, and sharp feta, followed by pan-seared snapper served with saffron-scented jasmine rice, Cedar Key middleneck clams, calico scallops, and chorizo vinaigrette. Both courses were absolutely delicious, full of flavour and cooked to perfection.
The next morning we had an opportunity to sample the All-American Breakfast at the Grand Floridian Café, a casual dining venue in the Disney's Grand Floridian Resort & Spa. With a long day ahead, I opted for my all-time favourite of brioche French toast with Madagascar vanilla bean-butter accompanied with bacon which didn't disappoint.
HOME-GROWN DELIGHTS Our first day was spent in Epcot, which gave us the chance to sample some of the food grown in Epcot at The Land pavilion's greenhouses. The quick service restaurant, Sunshine Seasons, offers a choice of Asian fare, gourmet sandwiches, soups and salads, and wood-fired mains. After a large breakfast I chose the power salad with oak-fired chicken, quinoa, almonds, and honey vinaigrette, followed by the biggest, most delicious carrot cake topped with a carrot made from icing (needless to say I couldn't finish it!).
During our stay we were fortunate to eat at some of the wonderful restaurants located in Disney Springs, including the BOATHOUSE, for an upscale waterfront dining experience. The BOATHOUSE offers an extensive menu comprising offerings from the sea and shore – I chose to finish my meal with their unique twist on the native key lime pie served in a mason jar accompanied by vanilla bean cream which was delightful.
Whilst the quick service restaurants in the parks do offer the standard fare of burgers, chicken nuggets, pizza and fries, it is possible to find alternatives such as grilled salmon with couscous and steamed fresh broccoli in Magic Kingdom's Columbia Harbour House or Mediterranean falafel wrap served with hummus in Epcot's Tangierine Café.
Diners with special dietary requests, including food allergies, food intolerances and medically restricted diets, are well catered for too. Having a son who suffered from food allergies during the first seven years of his life, it was refreshing to see how much effort was put into catering for people with special requirements without making them feel awkward.
MAGICAL EXPERIENCES Those of us big kids in the group, who love Mickey and Minnie Mouse as much as the average Disney guest, were not overlooked as we enjoyed not one, but two Character Breakfasts where we were joined by Mickey, Minnie and friends. The first was in Tusker House, located in Disney's Animal Kingdom Theme Park, where we enjoyed an extensive breakfast buffet accompanied by a glass of the local Jungle Juice, and met Safari Mickey, Donald Duck and friends. We also enjoyed a Beach Bash character breakfast with Minnie and friends at Cape May Café in Disney's Beach Club Resort.
On our last evening we experienced gourmet dining Disney style at the California Grill, on the 15th floor of Disney's Contemporary Resort, with panoramic views of the lagoon and Cinderella Castle. Our menu comprised of six courses, served in a private dining room with a view of the lagoon below, and was definitely the foodie highlight of our trip. All six courses were presented beautifully and complemented each other perfectly. Unfortunately I had given up chocolate for Lent so I didn't get to taste the signature chocolate pudding cake, but I was assured by those on my table that it was a fitting end to a wonderful meal.
The evening concluded with a spectacular view of the Magic Kingdom Park Wishes fireworks display from the outside observation deck with a glass of wine in hand. A magical end to a magical week!