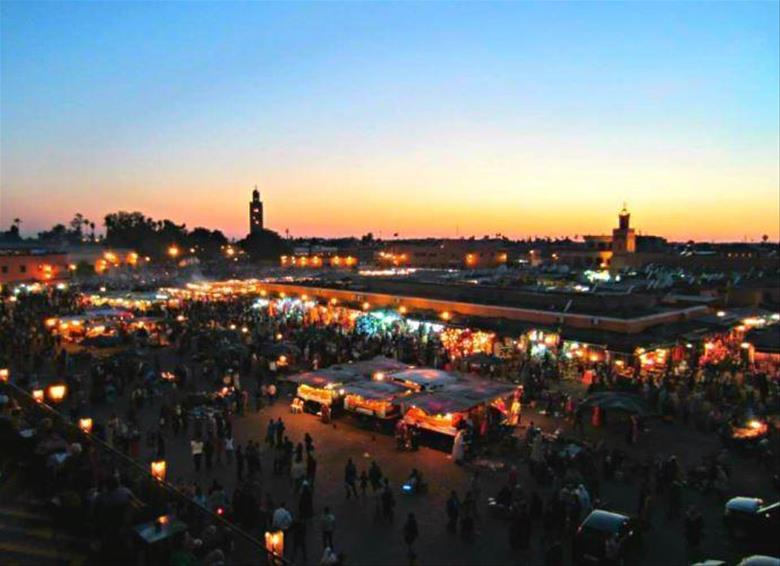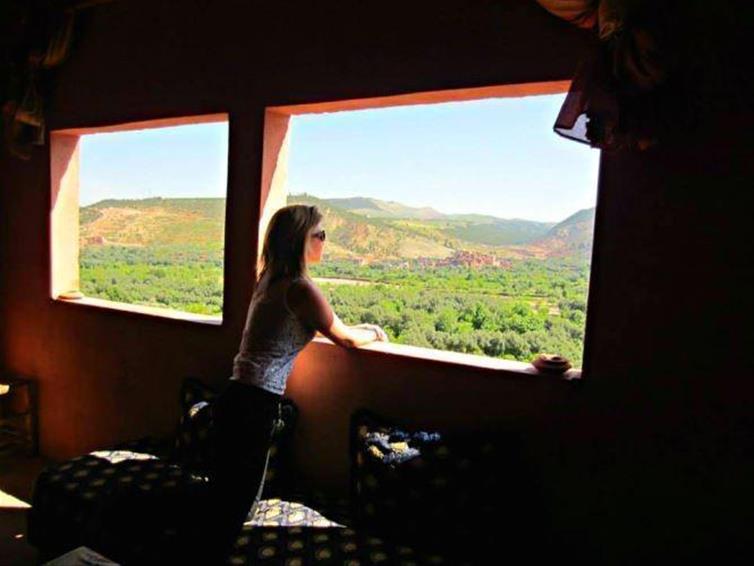 My husband and I were seeking that end of winter sunshine where we wanted a few days to relax and escape the cold in the UK. We didn't want a long flight but wanted to be somewhere that we felt far away and experience somewhere culturally different. Well Marrakech ticks all those boxes and more. We flew from London Gatwick, the flight only being 3.5 hours which is just amazing considering how different the weather and culture are there.
Arriving in Marrakech we got that wonderful feeling when you step out the aeroplane doors and the warmth and new smells send your happy endorphins racing. Stripping off our coats and scarfs we made our way to passport control – I mention this as it's quite an experience and one to be aware of. Having found the landing cards to fill out in the immigration hall (something they don't highlight, so knowing this before queuing and being sent back is highly useful) we joined the queue – I say queue very loosely. If you look up queue in the dictionary you will find a very different meaning to how this is done in Morocco. After deciding our polite British attitude wasn't going to get us on our way quick enough we adopted the local culture and made it to the other side with ease where we were greeted by our very friendly driver.
We drove through the beautiful city, passing stunning Riads, lush palm trees, motorbikes piled high with the whole family on board and some very sleepy looking camels resting by the side of the road. We stayed just outside the city at Dar Ayniwen Hotel & Spa. The hotel was beautiful, with very traditional décor, a large garden with resident tortoises and wild birds you could go and feed. The staff were very accommodating and the food was simply divine. We treated ourselves to a massage in the hotel Spa which I cannot recommend more.
Throughout our time in Marrakech apart from relaxing by the pool we visited the famous souks – bustling our way through the maze of alleyways we got totally absorbed in the local culture, we felt a million miles away from home. My husband was a great navigator and we managed to test our bartering skills which by the end of the holiday we had perfected. Sampling the local cuisine at the pop-up night markets was a highlight, perhaps a little intimidating at first as every stall owner enthusiastically attempts to entice you to a seat at their tables. Aside from this there are also a lot of wonderful local restaurants and rooftop bars to be explored, sipping on a cold beer or G&T during sun set is magical.
During our stay we did a day trip out to the Atlas Mountains, our driver/guide picked us up from the hotel in an air-conditioned 4x4. As we left the sandy colours of the city behind we were amazed by the vibrant green countryside that led us to the foot of the snow topped mountains. The day consisted of visiting a local village where we got to sample a range of produce made from the kernels of the Argan Tree whilst drinking the very sweet local mint tea. From there we ascended up into the mountains where we hiked along the river and up into the waterfalls. After breath-taking views, it was time to make our way back down the valley for lunch. As we approached the river restaurants we could smell all the amazing aromas and spices of the tagines we had seen slowly cooking on the charcoal fires earlier that day. My husband's pace quickened noticeably! We were given a table by the side of the river and completely relaxed to the sound of the running water whilst tucking into a well-earned tagine.
Our time in Marrakech was wonderful, we felt like we had been away for a lot longer than we had and we loved gaining such a fascinating cultural experience. Just a stone's throw away from home you can be somewhere totally unique and simply magical, I highly recommend a visit.