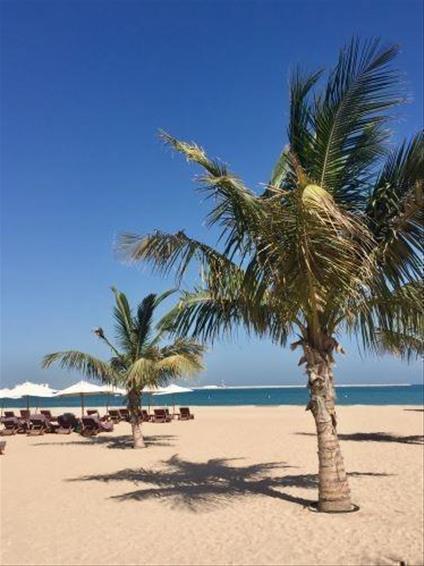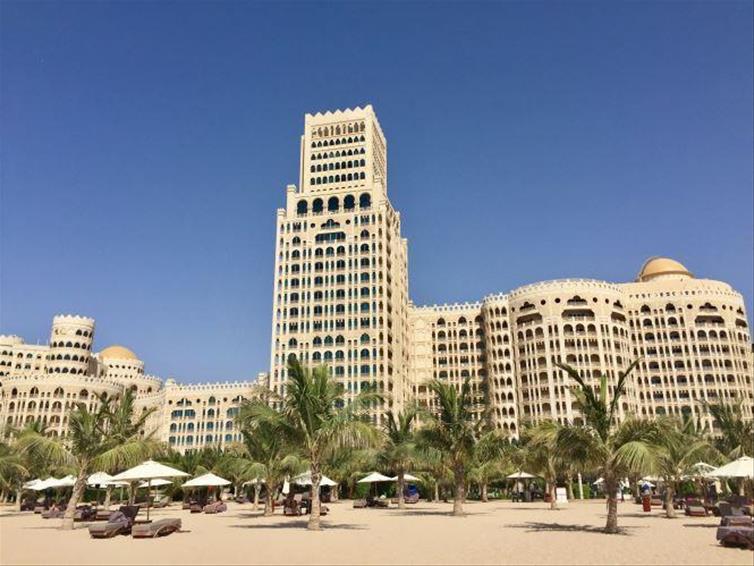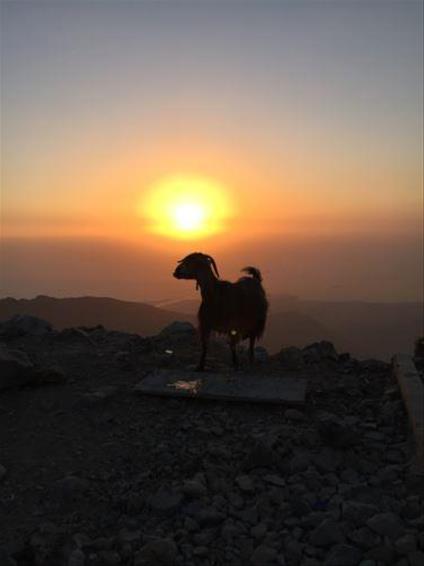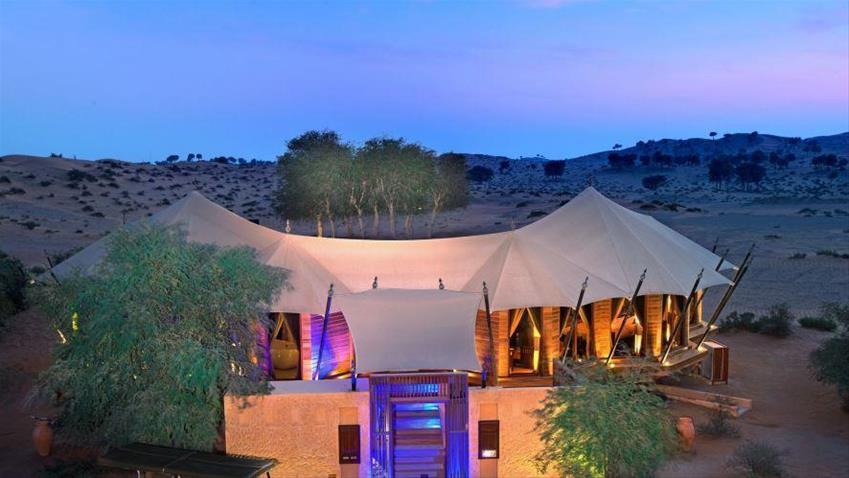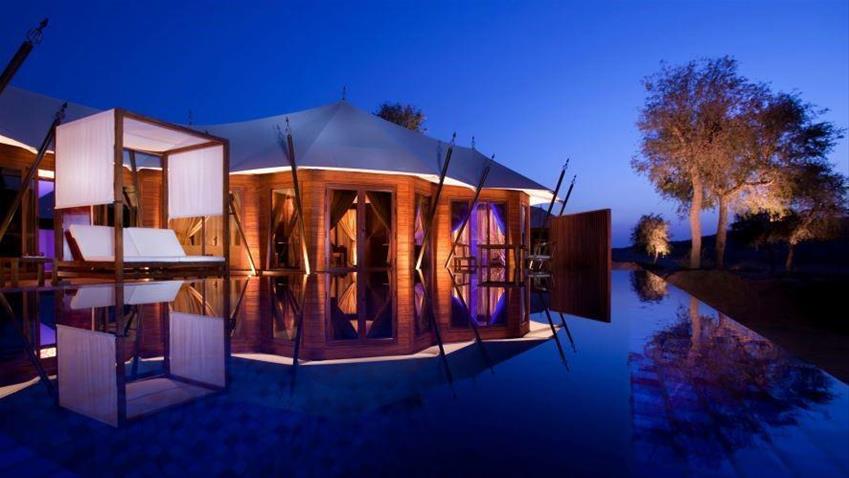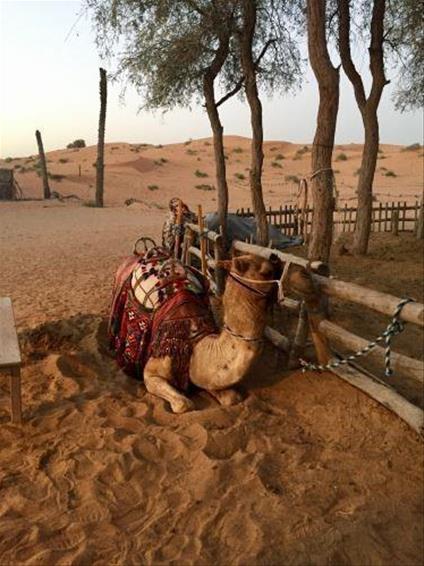 I was fortunate enough to join an educational trip to Ras Al Khaimah, one of the seven emirates that make up the UAE. Flying with Qantas from London Heathrow into Dubai, Ras Al Khaimah was an easy 35minute transfer away.
Offering natural beaches, stunning desert and a range of 5* hotels, Ras Al Khaimah really does have something to offer for everyone. Away from the high rises of Dubai, there is a lot to be discovered, the tourism industry is growing at a fast pace offering many outdoor activities both water and desert based. Many of the hotels offer private beaches with ample space and privacy, ideal for honeymooners but at the same time, incredibly accommodating to families.
For the first half of the trip I stayed at the stunning 5* Waldorf Astoria. From the outside, the hotel looks vast, however stepping inside to the beautifully pristine lobby you soon realise how personal this hotel is. All rooms offer a fantastic amount of space, beautifully equipped bathrooms and your own private dressing room. The hotel spa and gym are on offer to all guests along with access to the outdoor swimming pools where you can refresh and unwind with temperature control and a swim-up bar, or soak up the sunshine on the white sands of the 350m private beach, set against the blue water of the Arabian Sea.
If you enjoy your dining experiences, then you really have come to the right place. The range on offer for breakfast really is worth getting up early for, with fresh juices, pastries, smoothies to traditional local cuisines being prepared in front of you there is something for everyone - and more! With a range of restaurants on offer you can enjoy first-class ingredients in dishes cooked in open kitchens, featuring Arabic classics, Indian tandoori, European-Mediterranean and Asian cuisine.
During my time in Ras Al Khaimah I visited a range of other hotels where I had site inspections along with sampling lunches or dinners in their restaurants. All the hotels differed quite substantially to one another which I felt was a real benefit as there is such a variety on offer to suit individuals needs and preferences. Hotels I visited included, Doubletree by Hilton Marjan Island Resort & Spa, Hilton Hamra Beach & Golf Resort, Cove Rotana, Rixos Bab Al Bahr and the second hotel I stayed at, Ritz Carlton Al Wadi.
An afternoon activity which I highly recommend is to visit the Jebel Jais for a mountain picnic where you can enjoy the sun set. The drive out to the mountains is stunning, suddenly you feel in the middle of nowhere, following the immaculate roads up into the mountains the views are beautiful. Twisting around the hair pin corners you are soon welcomed at the top with a vast view across the barren landscape with the sea glistening below you. Here you can enjoy a lovely picnic and cold drinks whilst waiting for the sun to set, it is incredibly peaceful and relaxing.
Half way through the trip we moved hotels to go and stay at the beautiful Ritz Carlton Al Wadi. Leaving the town behind us we drove through the desert, only a 20minute drive away to arrive at one of the most stunning hotels I have ever been too. It actually takes your breath away, this hotel really is ultimate luxury in the middle of the desert. I struggled to find a word to describe how wonderful it is here, if you are looking to experience somewhere slightly different but with a high level of luxury then this hotel is for you. The accommodation is spread out so to offer privacy and seclusion, rooms can be accessed by golf buggy or if you are feeling energetic each guest is provided with their own bike. I stayed in one of their private villas, wow, simply stunning. The rooms are very spacious, overlooking your private pool and beyond that the sand dunes where occasionally you can spot an Arabian Oryx or gazelle walking past or even a herd of camels.
If you can bring yourself to leave your beautiful room there is plenty on offer here, the spa is open to all guests offering a range of treatments along with their Rainforest Spa experience, a must do relaxation activity. Again, the dining experience at this hotel is excellent, offering a range of cuisines along with being very accommodating to any dietary requirements. There's lots to do and see at this hotel, guests can go horse riding or camel riding along the dunes, watch a fascinating falcon show or if you are feeling brave, 4x4 sand dune experiences are on offer.
Ras Al Khaimah really does tick every box, only a 7hr flight from the UK and you can be somewhere completely different, culturally, scenically and with guaranteed sunshine! I highly recommend adding this to your holiday wish list, it certainly is on mine. Please do get in touch if you would like to hear more, I would love to arrange a holiday for you to this wonderful destination.