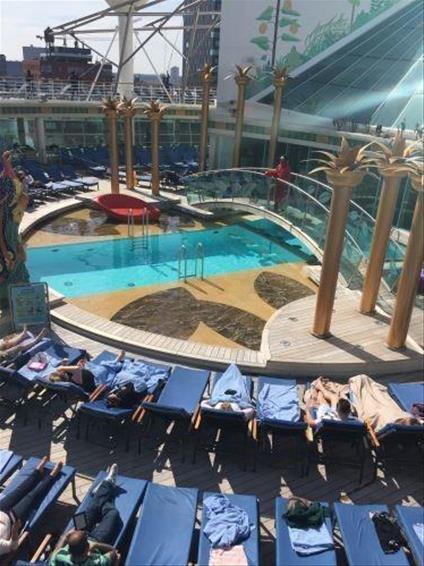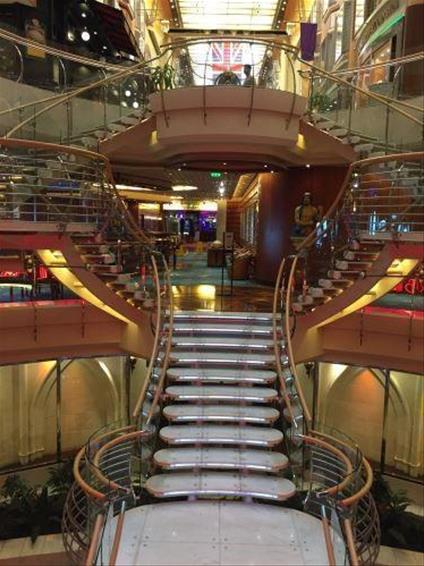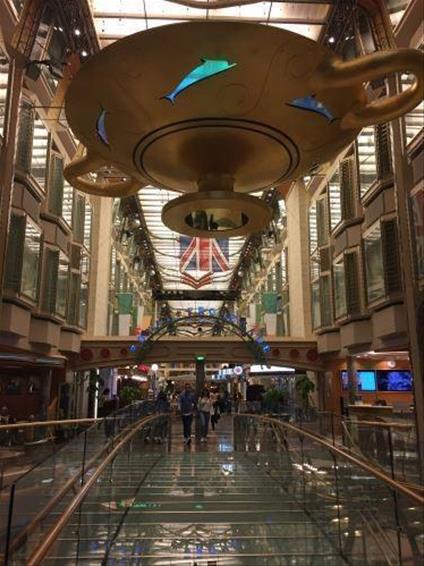 Having never been on a cruise before I opted for a mini three night Taste of Bruges and Paris on Royal Caribbean's Independence of the Seas.
I had pre-booked parking at Southampton and on arrival, we dropped our luggage off with the staff and parked in the car park opposite. It was a 5 minute walk from the car park to the check-in terminal where we went through security. After security, we proceeded to the check-in desks where we were issued with our Sea Passes.
We were then able to get straight on the ship. The whole process was quick and easy with very little queuing. I would say it took no more than 30 minutes to go through security and check-in.
We had booked a balcony cabin which was surprisingly spacious. There was ample wardrobe space with plenty of hangers and room to store your suitcase once you had unpacked. We had a separate sofa and coffee table area and a dressing table and mirror. The bathroom consisted of a shower, WC and sink area. There were lots of cupboards and drawers in the bathroom and bedroom to put everything away keeping the room itself clear.
As we arrived at lunctime and weren't due to sit down for our evening meal until 7.00 p.m, we went to try out the buffet at Windjammer Café for lunch, which of course is all included in the cost of the cruise. It was a large self-service buffet area with plenty to choose from including snacks, drinks, main meals and desserts.
After lunch and a drink, it was time to try out the state of the art gym before getting ready for dinner. We went back to our cabin to get changed and our cases had been delivered. The gym onboard is fantastic with every piece of equipment you could want and both times we used the gym we were able to get straight on what we wanted. It was never overcrowded.
On My Time Dining we could go anytime between 5.30 p.m. and 9.00 p.m. The menu was excellent with plenty of choice for each course and you could order as much or as little as you wanted. You could even order 3 main courses if you wanted and again all included in the cost of the cruise! The service was excellent and we never waited very long between courses and the food was fantastic.
The entertainment in the theatre that evening was a Beatles tribute band, although with an early start the next morning to go into Bruges we didn't stay long.
We opted to have our breakfast delivered to our room the next morning as we were going to be out early to take our transfer into Bruges. The continental breakfast room service was complimentary and there was a cover charge for the cooked option but again you could order as much as you wanted and you selected the time you wanted it delivering. We went for the continental option on the first morning and had a fruit plate, yoghurt and granola, oatmeal and honey, cereal, a chocolate donut and a blueberry muffin. It was all really nice and set us up for the day.
We took a short transfer ride into Bruges on a pre-booked transfer and arrived there for 9.00 a.m. We wandered around the local market and went for a hot chocolate in a lovely café until the shops opened at 10.00 a.m. This was the first time I had been to Bruges and it was lovely. There are so many little shops and cafes and of course lots of chocolate shops. You can take a ride on a horse and cart around the town and there is a boat ride down the river too. The streets are all cobbled streets with lots of side streets going off with individual style boutique shops.
Time flew by but by the time our transfer came to collect us 5 hours later it was getting really busy so I would recommend going into Bruges early to avoid the crowds.
Tonight was a formal night so for those who wanted to dress up they could. There was a complete mix of dress in the main dining room from jeans and a shirt to dinner jackets and bow ties and ball gowns. The menu had changed slightly although a couple of the speciality options were the same as the night before which is great if there are a couple of things you want to try out.
The entertainment was continuous with plenty for people to choose from throughout the day and night and something for everyone from live acts, to quiz's and movies on the big screen.
The next morning we had a late breakfast in the cabin and this time we opted for the cooked option. The perfect breakfast to set us up for the day.
Today we decided not to leave the ship and instead spent some time looking around the ship at everything it had to offer. There are some lovely shops on the Royal Promenade including jewellery and watches, duty free shopping and a Michael Kors shop. There is a pizzeria, Sorrento's which is complimentary, the Cupcake Cupboard, Ben and Jerry's Ice Cream and the Café Promenade. After collecting hot chocolates from Café Promenade, we made our way up to top deck to sit out in the sun.
For lunch today we decided to try out Johnny Rockets. There was an additional charge of $6.95 per person but you could order as much food as you wanted. We went for the onion rings, cheesy bacon fries and a burger each and I have to say it was worth every penny. The burgers were amazing!
Tonight we had booked a table at one of the speciality dining restaurants Chops Grille and again, this was worth every penny. The food was exceptional and the service went above and beyond.
Grease the musical was the main show in the theatre and because we didn't have time to have our desserts and get to the show on time, the restaurant offered for us to go back after the show for our desserts (something to look forward to after the show).
Cocktail in hand, we took our seats for the show which was absolutely brilliant. It was a shorter version (90 minutes) of the West End Show and was really really good and of course we had our desserts to return to afterwards which were divine!
The next morning, disembarking was really straightforward, it took us about 10 minutes to walk off the ship and back to the car park.
The whole cruise from start to finish was fantastic. The process to get on and off was simple, the ship had everything you could ever want, the food was amazing and the service exceptional. I will definitely be going on another cruise and can highly recommend Royal Caribbean. I would encourage anyone who hasn't been on a cruise to try it. The fact that it departs from Southampton is convenient and it's a great way to try it for a few nights to see if you like it.
I think I'm now converted!