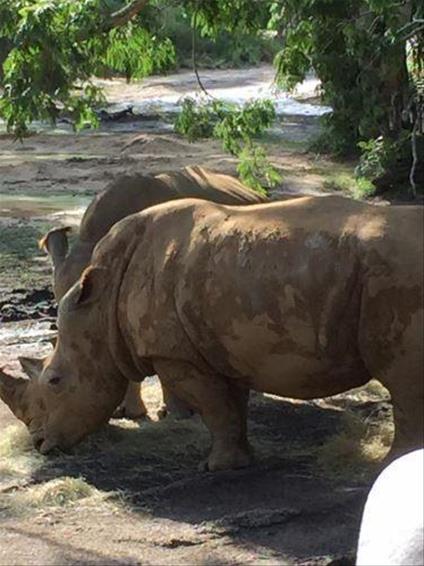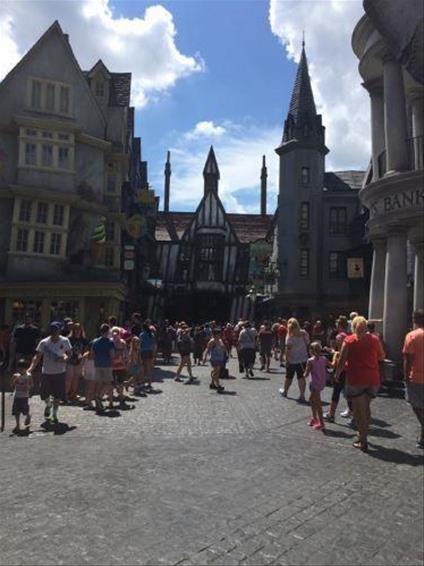 I have just returned from the most amazing trip to Orlando, Florida where I was lucky enough to be one of 50 agents selected for the annual Visit Orlando Super Fam - an educational that takes place every year and is said to be one of the best! Our itinerary for the week was jam packed, showcasing the best that Orlando has to offer.
We stayed at Disney's Animal Kingdom Lodge for the first three nights of the trip which is one of Disney's deluxe resorts. It's an African themed hotel within a real safari park with the animals roaming the grounds.
Our first two days were spent exploring everything Disney at Magic Kingdom, Animal Kingdom, Hollywood Studios and EPCOT. We were lucky enough to experience the VIP guides who gave us whirlwind tours of all the parks and ensured that we didn't have to queue for any of the rides.
The icing on the cake was returning to Hollywood Studios after the park had closed to ride Toy Story Midway Mania as much as we wanted. This is an interactive 4-D ride where you have to shoot at the moving targets in an attempt to beat your team mate. I don't want to brag but I won every time!
And then just when you thought it couldn't get any better, the following night we were treated to a Dinner and Dessert Party on Italy's Terrace in EPCOT which just happened the be the most perfect location from which to watch the Illuminations: Reflections of Earth show. This breathtaking live pyrotechnics and fireworks show brings together the past, present and future of our planet and its colourful nations.
After three nights at Disney's Animal Kingdom Lodge, we then moved to the new Universal Orlando Resort hotel Loews Sapphire Falls. This is a beautiful modern hotel with a relaxed Caribbean style theme.
A morning was spent at the amazing Discovery Cove, where we all took part in a dolphin swim which was unforgettable. Discovery Cove is an exquisite tropical island paradise where you can swim with dolphins, snorkel among thousands of colourful fish, hand-feed tropical birds and unwind on pristine sandy beaches. It offers the perfect balance between adventure and relaxation.
However we couldn't relax too much as our afternoon was full of thrill rides at Busch Gardens in Tampa. As well as lots of high speed rollercoasters, we also got to try out the brand new family spin coaster called Cobra's Curse.
After another jam-packed day, it was time for our free night to do as we pleased in Orlando. While some of the group were brave enough to go to Universal Studios Halloween Horror Nights, myself and a few others decided to try out a new restaurant at Universal City Walk called The Toothsome Chocolate Emporium and Savoury Feast Kitchen. This is a 19th Century steampunk themed restaurant with an amazing chocolate shop to go with it. I would definitely recommend this restaurant to anyone visiting City Walk, the food was fabulous and at reasonable prices too.
Our next day was spent at Sea World with a fantastic behind the scenes tours of their rehabilitation centre which is fascinating and lots of great shows and rides and then after a quick freshen up back at the hotel we were back to Seaworld after the park had closed for an exclusive ride on the new rollercoaster Mako. Not for the faint hearted! Tonight we were treated to the most amazing meal in Sharks Underwater Grill which has been recognized amongst the best of the best restaurants in Orlando and this was followed by exclusive access to Antarctica: Empire of the Penguin.
Over the next two days we got to discover Universal Studios and Islands of Adventure including everything that is the Wizarding World of Harry Potter World, riding the Hogwarts Express, visiting Diagon Alley and drinking Butter Beer as well as riding some of the best rides that the parks have to offer. One of my absolute favourite rides was the new Skull Island Reign of Kong which is a must for anyone visiting the park.
Tonight we headed to International Drive where we drank champagne as we rode the Coca Cola Orlando Eye and had lots of fun with the wax work models in Madame Tussauds. Our dining venue for the evening was a Greek Restaurant called Taverna Opa which was lots of fun. The food was fantastic and there was plenty of music and dancing on the tables!
No trip to Florida would be complete without some shopping so on our last day we had a few hours at the Orlando Premium Outlets followed by a few hours at the Mall of Millenia before having to make our way back to the airport. This was a fantastic trip and one that will probably never be beaten and I would say that anyone who hasn't been to Orlando Florida should give it a try. There really is something for everyone there and families of all ages will find something they enjoy.
If you want to know more about Orlando then please don't hesitate to get in touch with me.