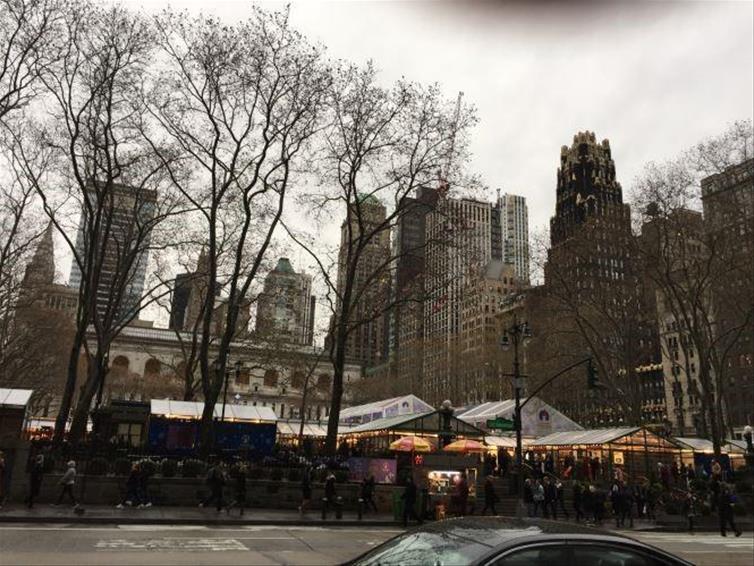 We visited New York on the 16th December 2017, It was a lovely experience, enhanced by the Christmas Lights.
Fantastic hotel called the Langham Place, 5 Star luxury with very large rooms, walk in wardrobe, deep soak bath and separate rainfall shower. 5 huge floor to ceiling windows with remote control blackout curtains. We were on the 17th floor with an Empire State Building view, well worth the upgrade and so quiet.
Our weather was mixed, a few days it was -4 with blue skies and them we had snow and rain and 15 degrees on one day.
We found eating out was generally quite expensive, breakfast was my favourite of our meals, we tried Penelope's with was a very busy little place, always had to wait for a table, but good food and atmosphere. We also went to Persian Square which is quite a famous eatery that the rich and famous used to frequent, it is under the bridge going into Grand Central Station.
We tried to fit in as much as possible in our 4 nights and walked miles, as soon as we arrived we went walking to the Rockefeller Centre to see the tree and ice skating, then we looked at St Patricks Cathedral which was next to Saks department store which had a brilliant light show across the whole of the building.
We visited all the famous department stores, Macy's, Bloomingdales and Lord and Taylor (which other than Saks, had the prettiest Christmas light display).
The highlight of the trip for me was visiting Ground Zero, which was so moving, we did a tour first with a very knowledgeable guide, then we visited the museum and lastly the amazing observatory, the elevator itself was a fantastic experience.
We will definitely visit again at a different time of year as to experience more of Central Park and do the things we couldn't fit in.