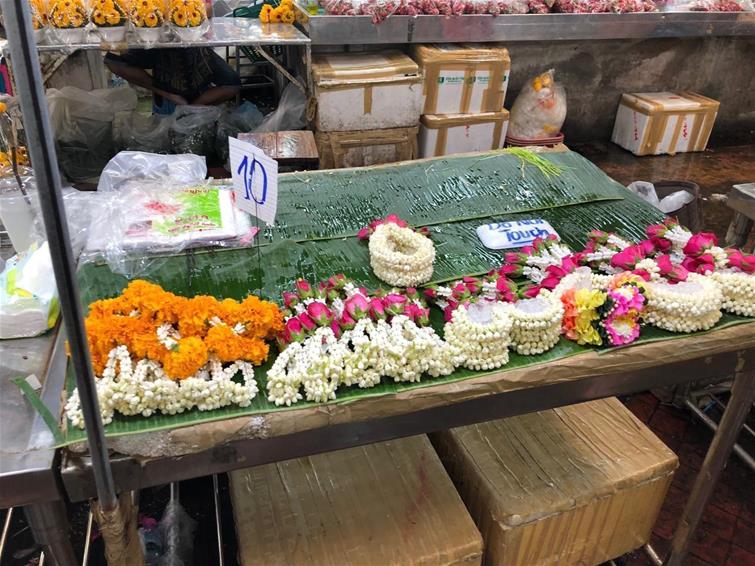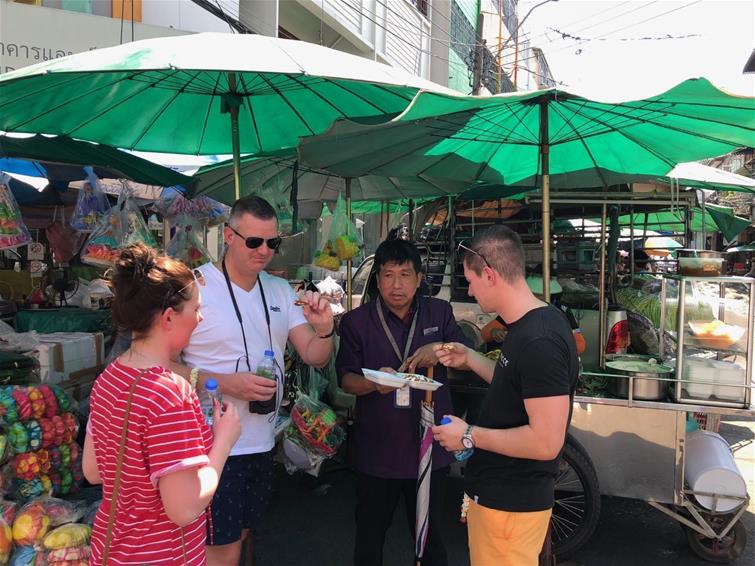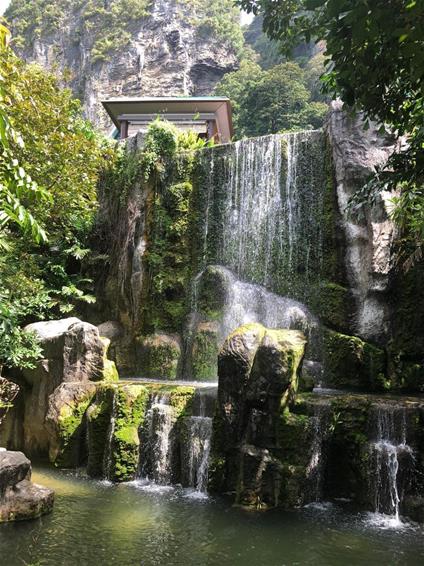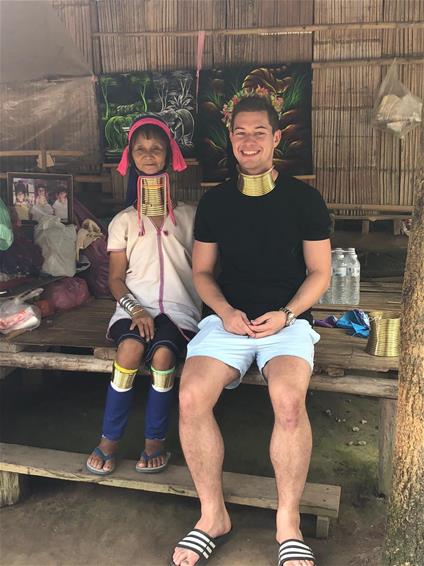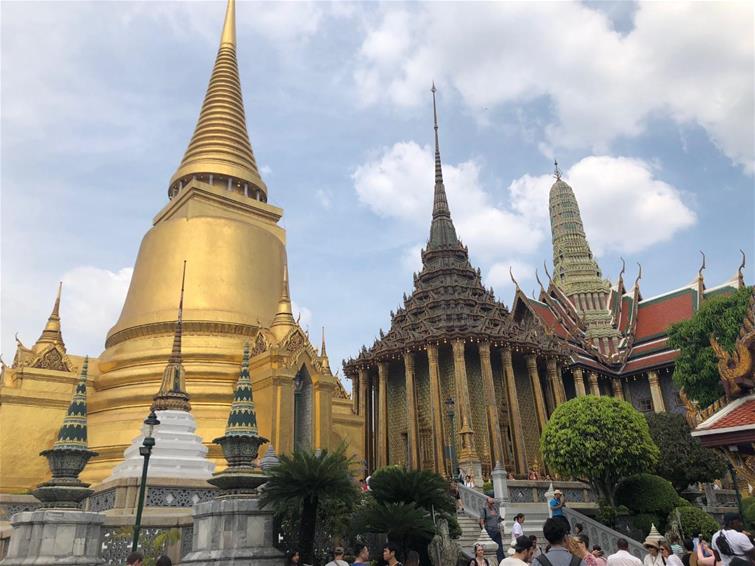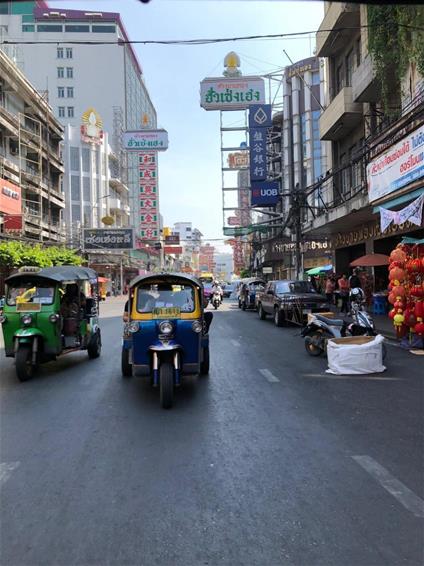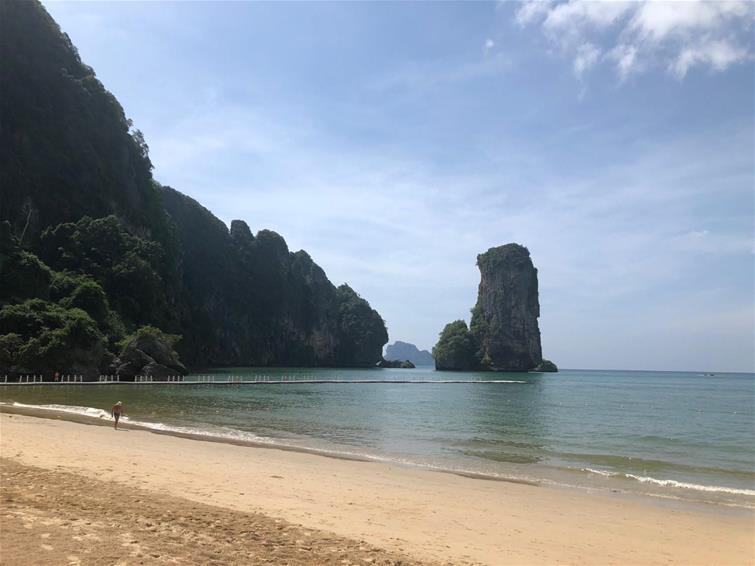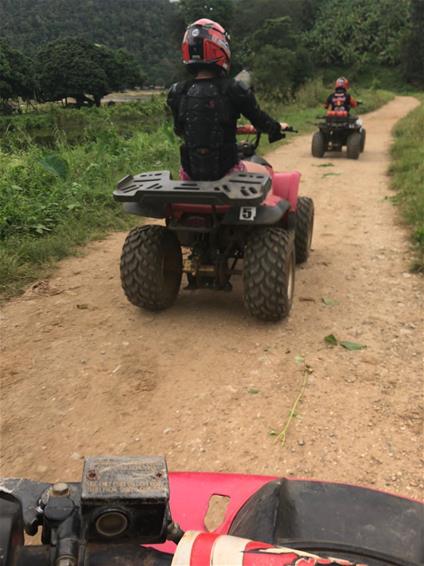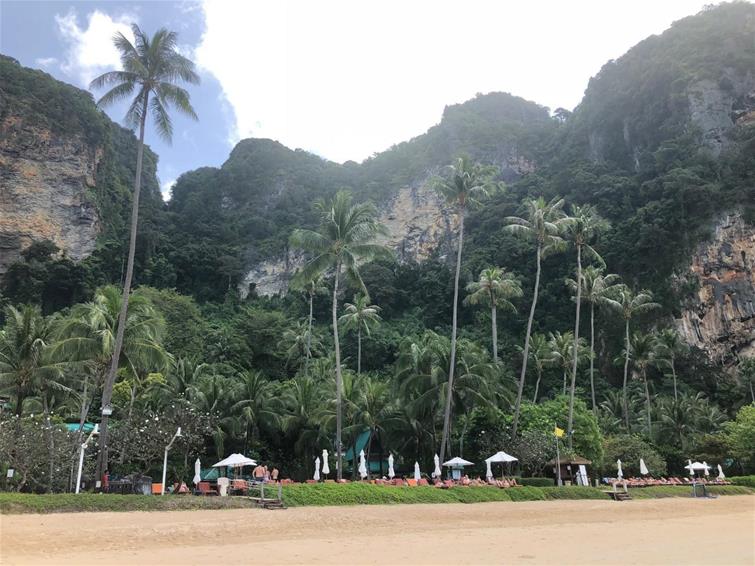 Thailand is one of my favourite destinations and we have visited several times!
Flying from Heathrow direct with Thai Airways we arrived at Bangkok Suvarnabhumi Airport early in the morning and were on our way to the Banyan Tree in Bangkok. Although it is a little way out of the city, it's within walking distance of Pat Pong night market and the Sky Train and of course tuk tuks are so cheap! We were greeted with cold flannels and Butterfly Pea Flower tea (not my favourite!) and shown to the Club Lounge for check in. Our rooms weren't ready, so we had breakfast and explored the hotel and then freshened up before we hit the streets! We had pre-booked a half day tuk tuk tour of Bangkok for the afternoon, so as not to waste any of our time there! Our tuk tuks raced us around the city and we visited the flower market, tried some street food and a few temples. Our rooms were ready when we returned, and we were on the 49th floor, what a view!
After a good night's sleep, we left the hotel and transferred to the river for our long tail boat cruise. Seeing the city from the river shows a different side of Bangkok, from the high-rise buildings to the wooden shacks on stilts.
We dined that evening at Vertigo, the roof top restaurant at the Banyan Tree, the views of the city are amazing, and we arrived early to enjoy a cocktail at the Moon Bar beforehand. Be prepared to spend more money on drinks here than you would spend all week in the bars on the street!
Our last day in the city was spent visiting the temples and the Grand Palace, where everything that glistens is gold. You must dress respectfully to visit all the sacred places and I would advise a long-sleeved blouse to pop on top of your strappy top as its very hot. We also visited the Reclining Buddha, the Jade Buddha and the Golden Buddha, all must see's if you are visiting the city.
We left the hustle and bustle of Bangkok the following day on the lunchtime flight arriving into Chiang Mai an hour later and were whisked off to our next hotel, U Chiang Mai.
The 'U' is in the heart of the city on Ratchadamnoen Road. At weekends the night market runs right along the road, so bear this in mind if you are arriving in the evening as the road is closed to vehicles! We were shown to our rooms, both overlooked the pool area, great for cooling off after a hard days sightseeing! The hotel offers an all-day breakfast, so you can enjoy a late night and not worry about missing breakfast. Also, there is no check out time, just let the front desk know what time you are leaving, and you keep your room until you leave, a real bonus if you have a late flight.
Chiang Mai was a first for of us and we wanted to see as much as we could. We had pre-booked an elephant camp and a visit to the hill tribes. Elephants are a way of life for the Thai people and many of the elephants we saw were originally used in the teak logging camps. We then visited a mixed hill tribe village called "Baan Tong Luang" where different ethnic groups were brought together as one community with the idea of maintaining their way of life and culture together.
It was a busy day and we stopped for lunch and a quick tour of the Orchid & Butterfly Garden, before heading for the Elephant Poo Poo Paper Park! This turned out to be the highlight of the trip, you have to visit it to appreciate the enthusiasm of the guide for paper made from elephant poo!
Our final stop of the day was at the Tiger Kingdom, where they aim to educate via conservation. I was concerned about visiting this place as we visited Tiger Temple 7-8 years ago and the animals were clearly drugged. They were not drugged here, we had the most amazing interaction with a baby white tiger, 'Whipped Cream' she was bright eyed, alert and very playful!
We spent lots of time exploring Chiang Mai's Old City on foot and by tuk tuk. It's really easy to get around by yourself but our final organised tour was one that we booked via our hotel, it was an ATV tour.
8Adventure's 3-hour ATV Chiang Mai trip is set up for beginners to intermediate drivers. We started out with detailed instructions and a training course to get you comfortable with your vehicle. It covers roughly 40 km in distance and is a mix of on road and off-road jungle terrain. The kids and my husband loved it, I was a bit nervous but was OK once I got going! We travelled through some really rough terrain and parked up alongside an elephant sanctuary for some amazing photos, before heading further up into the mountains to visit a waterfall which my son slid down with our guide! I definitely didn't do this!
5 nights was enough in Chiang Mai and we left for our final destination, Centara Grand Beach Resort in Krabi. We took the afternoon flight from Chiang Mai so by the time we arrived at the pier for our speed boat transfer it was dark. We checked in and were shown to our rooms, which were next to each other with a shared balcony. I would advise that this resort is not for anyone who struggles with walking, the rooms are set against a cliff face in a bay that is only accessible by boat or the Monkey Trail and it was hard work at the end of the day climbing up that hill!
When I opened the blinds in the room the next morning the view was stunning with the limestone rocks that you only see in this part of the world! We spent most of our time relaxing in Krabi, we enjoyed the beach and ventured into Krabi town a few times, this involved a boat trip and a tuk tuk ride! We took two boat trips, one with a long tail boat and one with the hotels speed boat. Both trips were amazing, we went Island hopping visiting unspoiled sandbanks and the coral reefs of Koh Poda, Koh Kai, and Koh Tap where we snorkelled with Nemo!
Our two weeks passed too quickly, and it was time to come home. We flew from Krabi via Bangkok directly to London. Until next time……