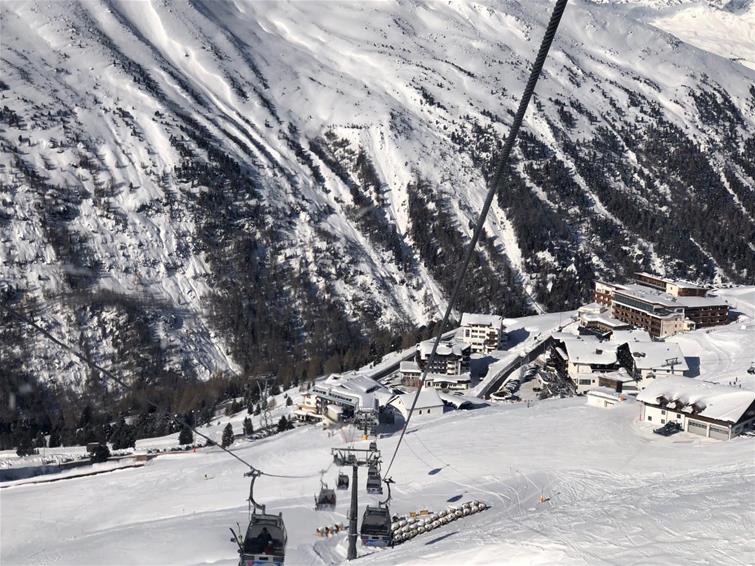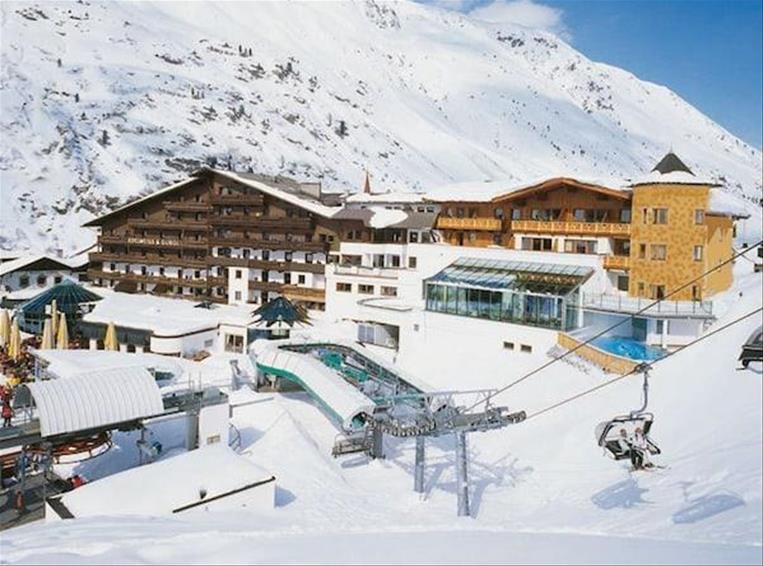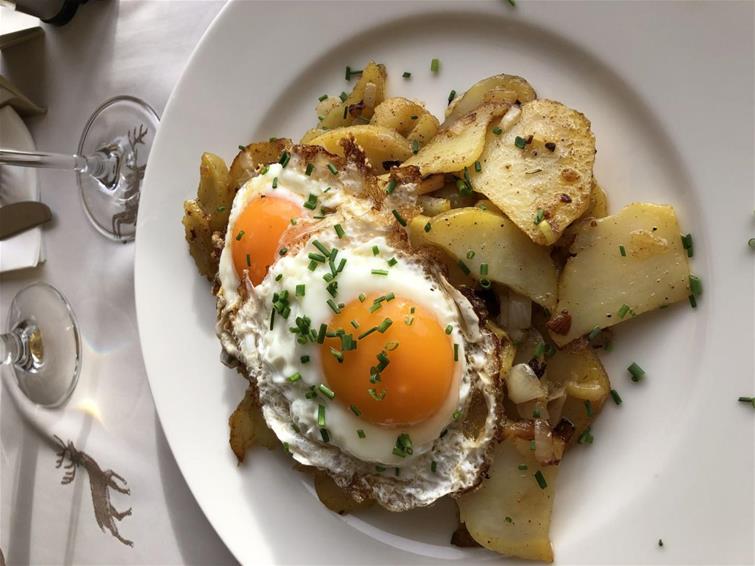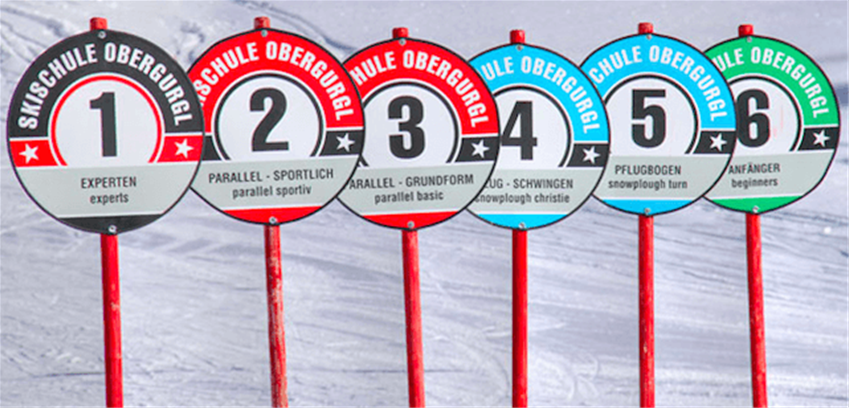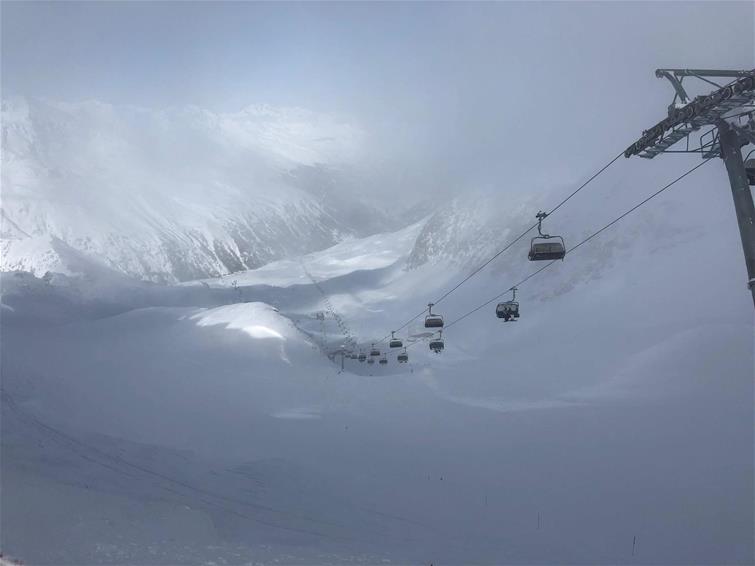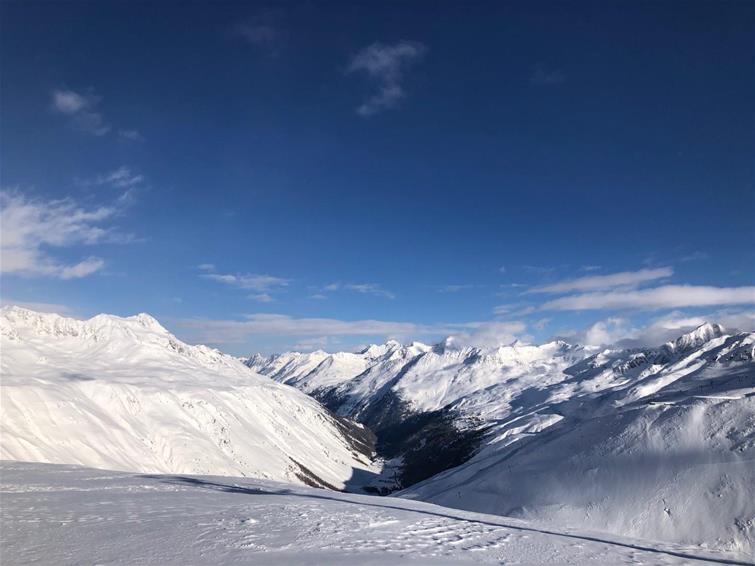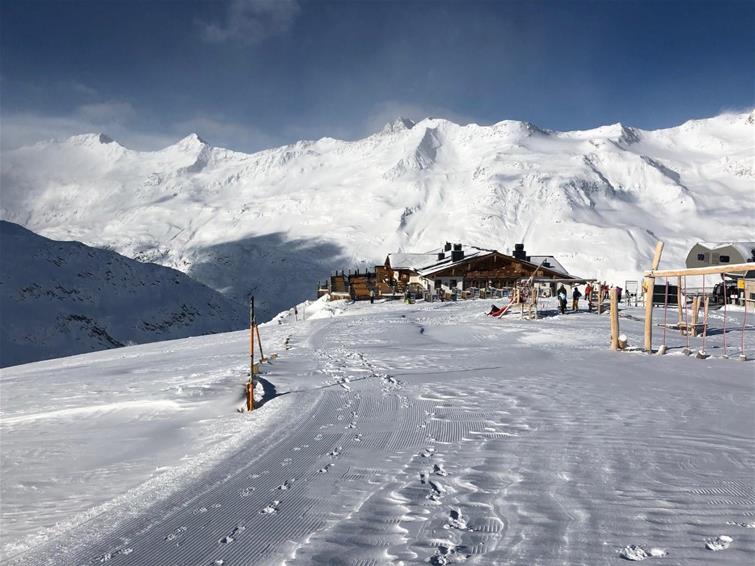 This was our second visit to Obergurgl and having stayed higher up in the village previously we made sure that we stayed in the Edelweiss & Gurgl this time! With direct access to the slopes and the gondola only steps from the boot room it made life a lot easier!
The village of Obergurgl is the highest church village in Austria at 1930m, set in the Otz Valley – close to the frontier with Italy, and an easy drive from Innsbruck. It shares its ski area with Hochgurgl and the two are linked by road and by gondola.
Do those altitudes sound high? They should! With a lift system that extends up to 3080m, Obergurgl offers some of the most snow sure skiing in the Alps. That makes it a reliable choice for early-season skiing, or an Easter family holiday.
I am not a natural skier, in fact I would go as far as to say I'm NOT a skier at all but I love the mountains and this beautiful little village so I decided that I would give it another go and I'm so glad that I did! For any first timers or families this resort is brilliant with children's skischule, kids' clubs and babysitting facilities in most hotels.
We flew from Heathrow with British Airways on Saturday morning, staying the previous night at the Sofitel at Terminal 5. It's an easy 5-minute walk to the terminal from the hotel, made even easier by the luggage drop service for BA in the hotel lobby! Our flight was on time and we landed in a very snowy Innsbruck at 11.35am. Be prepared for a bit of a scrum on arrival, there are usually 5-6 flights arriving at the same time and the airport is tiny and luggage takes a while to unload.
Having retrieved our bags, we were greeted in the arrival's hall by our Ingham's rep and he took us to our private transfer. We had travelled in the group coach on our last trip, but it took much longer, and we had to wait for another flight before we could depart from the airport, so we opted for the private transfer this time.
Within an hour and a half of beautiful snowy views we were checking in to the Edelweiss & Gurgl Hotel in Obergurgl. The hotel is very traditional in appearance with lots of wood panelling and log fires burning. The reception staff were all in traditional dress and we were warmly welcomed and given the key to our room.
Our room was fabulous, slope facing, with a balcony on the top floor! We didn't unpack but headed straight out for lunch at our previous local, The Jenewein. It offers lots of local Austrian dishes as well as burgers and chips!
We opted for half board at the Edelweiss & Gurgl, this seems to be the norm in this resort. Having explored the village and visited the local Spar shop for supplies we headed back to unpack and freshen up for dinner.
Dinner each evening consisted of 5-6 courses, with salad, soup, cheese, dessert and three choices for main. You also have the option to dine in the a la carte restaurant and the Fondue restaurant. We didn't bother with the a la carte, but I can highly recommend the fondue, it was amazing and well worth the €30 supplement per person.
Sunday dawned and this is usually where the fun stops for me, we have to ski! Last year we both went to Skischule and my husband loved every minute and I didn't! I spent three days on the nursery slope with a variety of different instructors before I was put in a group with three other nervous ladies whilst he was whizzing down the slopes in a different group! This year I pre-booked four days of lessons with a private instructor and it was worth every penny! I spent the morning with Sam, my instructor, on the nursey slope, but at the top using the button lift, whilst waving at my husband who was further down the slope on the travellator! We broke for lunch and Sam told me that we would be on the main slope after lunch.
I had lessons from 10-12am each morning, had lunch with my husband and then resumed lessons from 1.30-3.30pm. This worked perfectly and my confidence has improved so much from the one to one instruction. I did fall over several times but picked myself up and carried on and I only cried once!
Tuesday night in Obergurgl is the night ski show and we walked to the other end of the village to catch the gondola. It was bitterly cold, -18 degrees but the show is fantastic and if you're brave enough the slopes are lit so you can ski back down. Night skiing and tobogganing is available on Tuesday and Thursday nights throughout the season.
We took a day off on Thursday and went exploring, your ski pass covers Obergurgl, Hochgurgl and Solden for over 254 km of slopes and 55 lifts and the ski bus. We went to the top of the Hohe Mut after breakfast, you can see 21 imposing peaks above 3000 metres and play on the swings if the snow isn't too deep!
We then visited the Top Mountain Star, located at the top of 3080-metre-high Wurmkogel. This panoramic restaurant serves a mean Bombadier with great views of the Otzal Alps and the Dolomites.
We fancied a change on Thursday evening and bundled back into our snow gear and had dinner at Salt & Pepper, a steak house at the bottom of the village. The steaks were great, and I would definitely return.
Friday came around too quickly and we got ready for our last skiing without instructors! Feeling very brave I managed to ski down my favourite (only) blue run with my husband four times! Visibility was poor, it snowed most days, but it was so hard to see where we were going that I decided to call it a day and we went for our last bowl of goulash soup in the Jenewein! I booked a massage for that afternoon and enjoyed a lovely pamper session, whilst my husband relaxed in the spa. He tried the sauna, but that's another story!
We left Obergurgl on Saturday morning, it was snowing heavily, and I half hoped that we wouldn't be able to get to the airport, but snow doesn't stop anything in Austria!
We loved our week in the snow, and we've booked next year's ski lessons directly with Skischule to ensure that I get Sam again, although I need to get on and book the rest of the