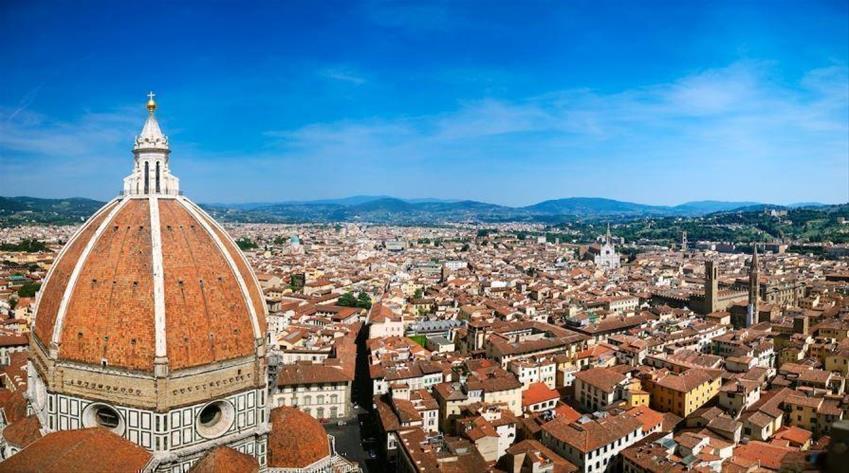 To visit Tuscany was a dream of mine as I had never been to this area of Italy. I have to say it did not disappoint. We flew with British Airways from Heathrow and this was a very quick flight with good service on board.
We stayed at the 3* family run Hotel Ville Ricci in Chianciano Terme, which is a great base for visiting nearby hill towns as well as Florence, Rome and Siena. This was a very nice base with a good spa and great views.
On the first day we visited Pienza, Montepulciano (made famous in the Twilight film) and the wonderful small spa town of Bagni Vignoni, of which the town square is a thermal spring. This was very popular with artists painting the great scenes.
The whole region of Tuscany is famed for its wonderful wine, cheese and cured meats. The people are very proud of all of them and there are many shops selling all local produce. The scenery is truly breath-taking and there are some wonderful churches.
On our second day we were lucky enough to visit Florence which is a beautiful city. It is small enough to get around on foot in a day and it is like a living museum with great shops and ice cream parlours everywhere. We saw the beautiful Santa Croce church and the Duomo.
The third day was another highlight as we went to the medieval town of Siena, one of the best preserved in Europe with its spectacular Piazza del Campo where they hold the famous Palio horse race twice a year. This is a must see town and I thought would be an ideal place for a short honeymoon. There were some great restaurants here and, once again, great shopping and ice cream!
In the afternoon we went to the hill town of San Gimignano known as the "town of beautiful towers". Once again it was the ice cream that got me! Here at the top of the hill is the famous ice cream shop where they have the best in the world in my opinion…and I have tried many!
On our last day we had a morning to sightsee in the "Eternal City" of Rome. This was not long enough sadly as it was jaw dropping and I will return soon for a longer stay as I think you would need about four days here to do it justice. We did a fast walking tour and got to throw a coin in the Trevi Fountain. The Vatican City will have to wait for my next trip as the queues to get in were too long but what I saw from the outside again made a return visit a must.
A truly great trip for many reasons; the scenery, food, wine and the ice cream (of course). I think the months of May and June are probably the most beautiful but our guide said she loves September too. Don't forget comfy shoes and an umbrella as it does rain sometimes.