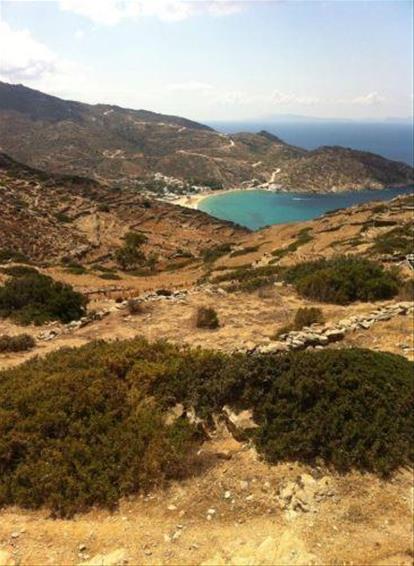 Ios is a neighbour of Santorini, in the Cyclades group of Greek islands. Its popularity as a party island for young people should not deter you from visiting it. It is a Greek island of much beauty, un-commercialised in most areas, with beautiful sandy beaches, mountainous hillsides, windmills, history and myth. The fact that it is on the main backpacker route around the Cyclades does mean in July and August it is popular with young people but in June and September it is much quieter and offers a very reasonable alternative to its neighbours of Mykonos and Santorini.
We loved hiring a kayak for the afternoon and finding our own cove with no one else on it. We loved chilling out in hammocks in beachside tavernas, the way the hippies would have done in the 1960s and 1970s. Certainly an island for chilling out and kicking back. Loved it!
Tip: Before sunset climb the hill at Chora (The Village) of Ios Town, past the churches with the whitewashed walls and blue domes and pick a place to watch the amazing sunset, very romantic!
Restaurant Recommendations: For a special occasion try Grandma's at Liostasi Hotel & Spa above Ios Town harbour – excellent food, service and views, to be expected at one of the small leading hotels of the world. For rustic Greek, Sally & Nicos Arhondiko in Chora, is great after the sunset walk. It has a lovely roof terrace. Also, the Nest is very busy but very reasonable with great hearty, local food.