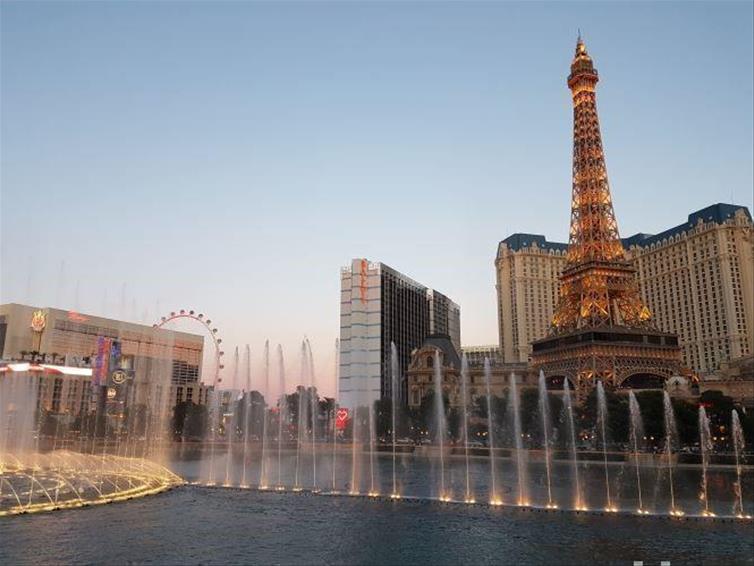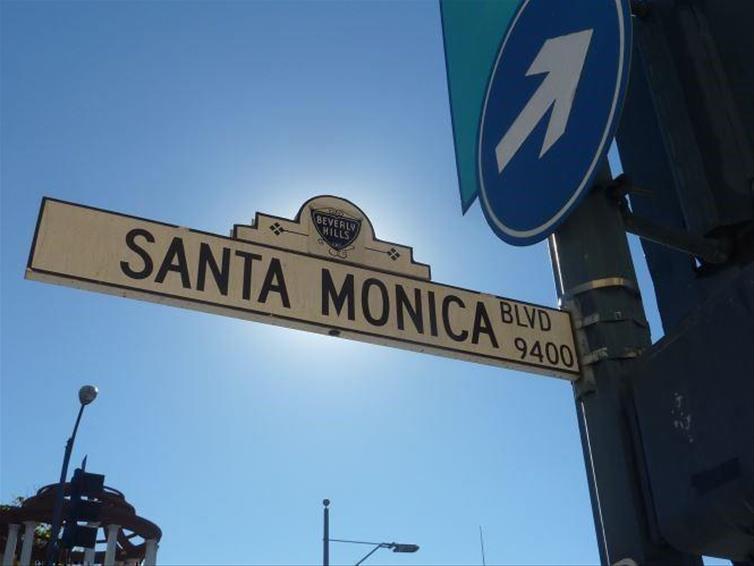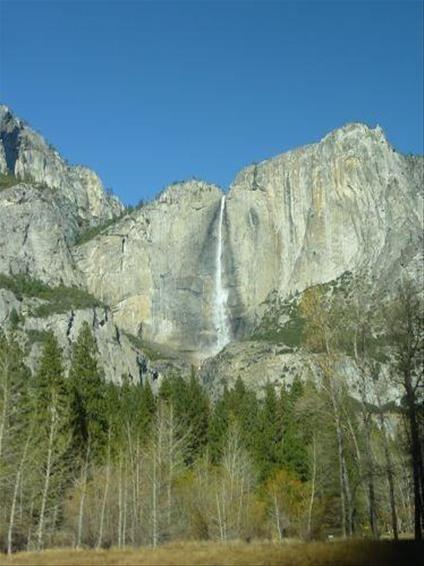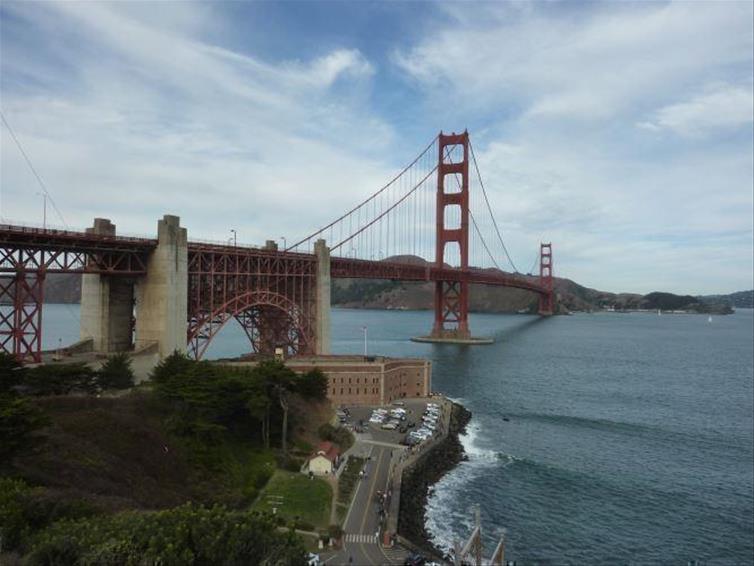 A very quick road trip! I started by flying from Gatwick to Las Vegas. On arrival we checked in at the Paris hotel on South Las Vegas Boulevard, with a quick visit to the Bellagio across the road with its lively fountain display. In this area, all the hotels, generally, have casinos within the locale, or adjacent to the hotel lobby.
In the evening we went to downtown Vegas to the north of 'Paris' at Fremont St. This district features the more historical Golden Nugget Casino and indoor shopping arcade and for the lights alone, it is well worth the visit. A bustling area at night with all sorts of entertainers wandering around - singers, showgirls, and also in our case, the USA's second tallest man (7 foot 8 inches) for example!
Fremont Street has a free hourly light show which is played on the arcade ceiling, backed with great acoustics. Green Day were the featured band for the evening that I was there. That was fine!
Despite Las Vegas' fantasy feel, children are not so prevalent, as under 21 year olds are not permitted in the casinos as such.
On the first full day in the USA, we set off for the west rim of the magnificent Grand Canyon, 125 miles drive east of Las Vegas. When reaching the area everyone has to park up and pay an entrance fee. This gives you access to a shuttle bus (hop on/hop off) which can take you to a ranch village and a couple of viewing areas, Eagle Point and Guano Point.
Eagle Point has a stunning view of the Eagle Rock and access to the now famous skywalk, which opened in 2007. It is a 10-foot-wide, glass floored walkway that extends out 70 feet from the edge of the canyon and 4000 feet above the canyon floor. From this vantage point you can see birds flying beneath you! There are magnificent vistas here, it is just breath-taking.
Our route back to Vegas was via the Hoover dam, at Lake Mead. A major feat of engineering, that opened in 1935. It was built to tame the Colorado river and control and supply irrigation to the local lands and cities and also to provide hydroelectric power for more than a million homes.
The evening in Vegas ended with a visit to one of the twelve Cirque de Soleil shows showing in Vegas, Mystere - very, very impressive. We departed to Los Angeles on second day and arrived in Hollywood mid-afternoon.
Checked out Hollywood Boulevard and Grauman's Chinese Theatre with its celebrity handprints, footprints, and autographs impressed in the concrete of the theatre's forecourt. There are over 2600 five-pointed terrazzo and brass stars embedded in the sidewalks in this district, the Hollywood Walk of Fame. I found Stan Laurel's star, so that was splendid! After this, we went to Long Beach to visit the Queen Mary. This ship is now a permanently docked floating hotel and tourist attraction. Built in the UK in 1930's this historic liner has Art Deco and wood panelling in abundance.
After a night in Torrance, we set off for Rodeo Drive in Beverly Hills for some morning 'window shopping'. However, there weren't any glaziers amongst Aston Martins and Ferraris, to be seen! This was followed by a long afternoon of travelling the 310 miles to Modesto for the night.
The next day we went out to the beautiful Yosemite National Park. We stopped briefly in pretty Mariposa, a quaint mining town in the foothills of the Sierra Nevada on our way through. Yosemite Valley is surrounded by towering 1000-metre-high granite peaks and hanging valleys including El Capitan, Half Dome, Yosemite falls, Bridalveil falls. For us, the route into the park, via El Portal Road was quiet, but it does get very busy at peak times. Fresh air, lovely walks and stunning vistas. Then back to Modesto for a thanksgiving dinner in a local restaurant.
Next day we were on our way to Napa Valley, passing abeam of Stockton and Travis AFB before arriving in a slightly misty Napa Valley. We visited Jamieson Ranch Vineyards where five wine samples went down before 11am - very pleasant. Then to San Francisco, arriving there via the Oakland Bay bridge.
I had not been to San Francisco for many years, but it took very little time to be reminded how special it is. Staying near Union square, I took the hilly two-mile walk to Fisherman's Wharf via Powell Street. The city just buzzes. Fisherman's Wharf has so much: shops, restaurants, a WW2 submarine, the USS Pampanito, and the now ubiquitous sea lions draped over Pier 39! I also popped along to Ghirardelli's to get some local chocolate. From here you can look out over Alcatraz Island and the Golden Gate Bridge. In the evening, the Christmas tree in Union Square was illuminated for the first time this season. I viewed this from the 46th floor of the Hilton hotel as the sun went down...superb.
The final day and a sightseeing tour including Twin Peaks, Sutro tower, Golden Gate park, Presidio, Aquatic Park Pier and the iconic and rather beautiful Golden Gate Bridge. The park is very pretty and very expansive. The bridge is over a mile long and can also be accessed by pedestrians and cyclists as well as cars.
A fabulous, whistle-stop trip...it was lovely to return to the region after more than 22 years away.