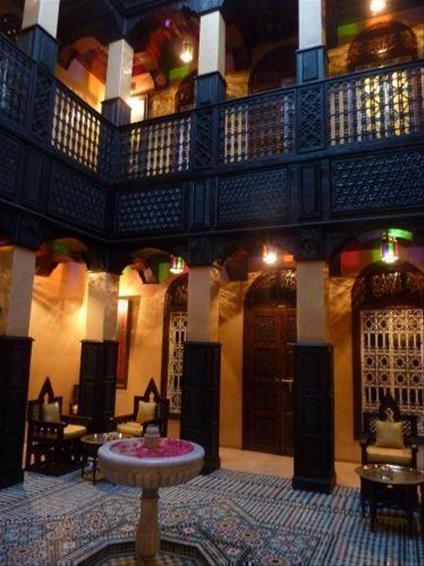 The flight from Heathrow to Casablanca is surprisingly quick - less than 3 hours flying time to another continent! I was travelling with a group of fellow travel agents and the Moroccan National Tourist Office.
After we arrived our first stop was Mazagan Beach Resort, a stunning five star property that opened in 2009. It is 100 km from Casablanca and has a courtesy airport transfer service from the airport. Restaurant food there was fantastic, traditional Moroccan cuisine as well as a huge selection of other culinary delights. We then popped to El Jadida, a local town seven kilometres away, which has a fortress and is a UNESCO World Heritage site. The markets are as ever are a fascination here; watching the locals plying their trade in fish, fruit, vegetables, spices and live chickens along with a myriad of other items.
Then it was cross country to Marrakech. Fairly desolate in places, the fields are seemingly well irrigated by open pipes suspended alongside the road. A three hour journey (with a flat tyre en route) and the building landscape colours turned to ochre as we got closer to Marrakech.
The city embraces a large surrounding area, however the central part with the major hotels is still fairly compact (20-30 minute drive in some cases). There are many hotels all built in the local reddish ochre stone sourced from the local quarries, many in typical local style. There are many boutique hotels here too, so one can enjoy the sensory stimulation of the city before chilling out by the pool. I did just that at the Palm Plaza hotel...lovely.
Marrakech is also home to over 500 riads, traditional courtyard centric accommodation. I visited one for dinner, La Sultana, which was sumptuous, opulent and tastefully furnished in Moroccan style. It provides accommodation with a rooftop restaurant serving superb food and great views! The impressive Koutoubia Mosque stands 69 metres high and is the dominant focal point in the city of Marrakech. It has similarities to, and was used as the model for the Giralda in Seville.
Adjacent to Koutoubia is the famed Jemaa El Fna square, which during the day was reasonably quiet...but at night time it is bustling; alive, with street sellers, acrobats, dancers and snake charmers to name but a few. The souk and surrounding Medina borders on this square too. The souk is under cover in many areas and is a warren of workshops spilling out onto the narrow thoroughfare producing many artefacts such as metalwork, ceramics, leather and carpets for the local traders to sell. There is a so much hidden from view too, we had to watch out for the odd moped going past, on passages sometimes no wider than...a moped.
A motorway links Marrakech to Casablanca, the largest city and business heart of Morocco and a 2.5 hour drive away from Marrakech. A white colonial city, it seemed rather busy with traffic whilst an underground train system is being constructed there (due by 2017). My visit to the city was brief but enough time to see another stunning edifice, the Hassan II mosque, which has the tallest minaret in the world standing a massive 210 metres high.
Overall Marrakech is a must for anyone, a fabulous city I personally must revisit with more time in the future. Further to my return I now have really got the taste for Moroccan Baklava...an acquired taste, naughty but very nice!