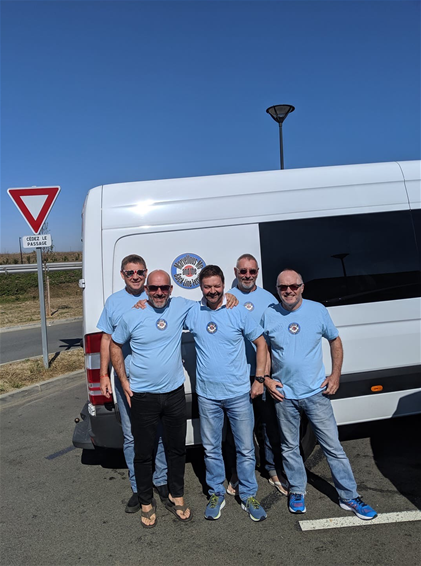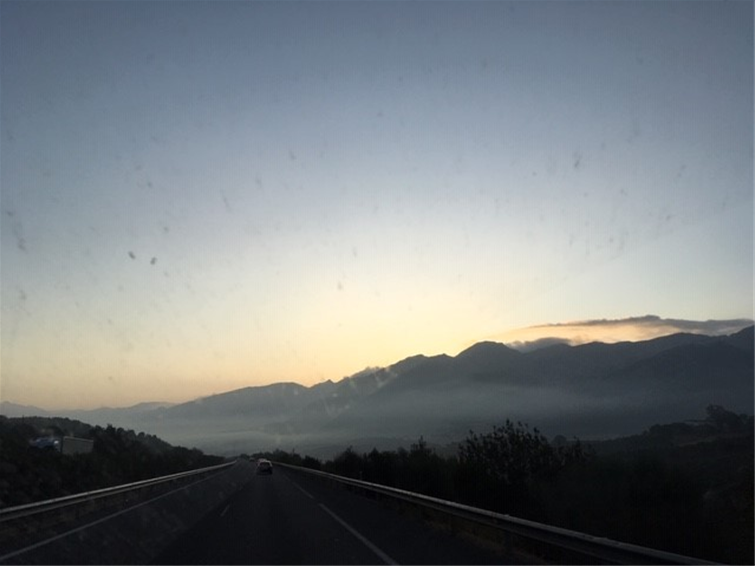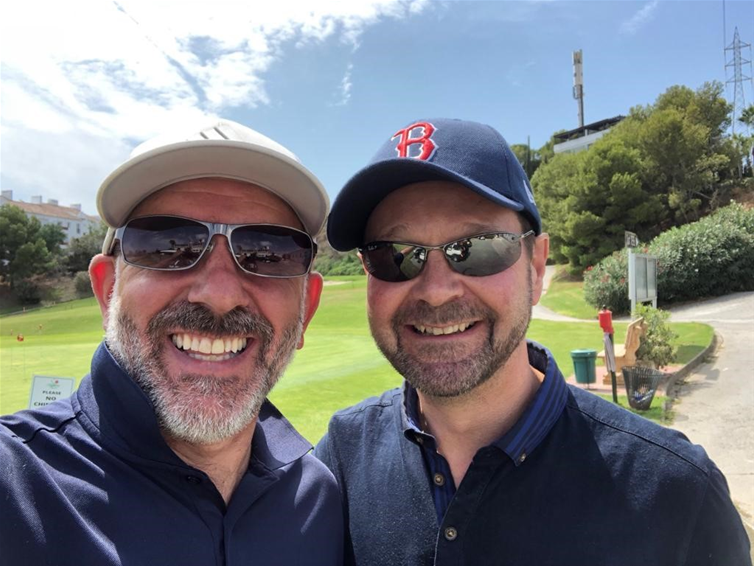 Our band (Marvellous Mo and the Back Line Ferrets) decided some time ago it would be a great idea to pop down to Spain and do a few gigs - simples!
It took a lot of planning from Marvellous Mo as we needed firstly to secure the gigs and then to hire a suitable vehicle that would convey 5 of the 7 "Ferrets", plus all our instruments, amps, etc - in the end we used an excellent firm called "Vans for Bands" who hired us a lovely extended Merc Sprinter van which was just the job! Due to work commitments, the 2 other Ferrets flew to Malaga on easyJet to join us down there.
We set off from home in Kent, drove down to Folkestone, went across on EuroTunnel, and joined the excellent French motorway system for the first leg of our journey. We travelled all day down to the French/ Spanish border at Saint Jean du Luz in the Aquitaine region. We stayed at a great Campanile Hotel I had booked in advance, ideal for a one night stopover, with a very nice restaurant next door. 5 bières s'il vous plaît mon garçon!
The next day, we quickly passed through the automated border control into Spain and joined the Spanish motorway network, and after a days travelling, arrived happy, but exhausted, at Ferret base camp (lovely apartment complex with swimming pools), in Sitio de Calahonda, which lies about halfway between Fuengirola and Marbella.
Although we didn't spend a huge amount of time there, we had a brief tour round and found the beach area with a robust elevated boardwalk running along the long beach, with many cafes and restaurants.
We had 3 gigs lined up, one in the mountain town of Alhaurin El Grande, and another 2 in the seaside resort of Torrox Costa.
Alhaurin lies in a quite spectacular location, surrounded by mountains. It was even more spectacular when we had finished our gig in the excellent and extremely hospitable Zeppelin Bar; as we made our way in the van down the mountains, we witnessed a terrific electrical storm which actually caused quite a bit of damage to the South East coast of Spain, we found out the next day from various news items.
Torrox Costa was a completely different kettle of fish, being right on the coast with a beautiful seafront, lovely beach and plenty of cafes and bars, including the wonderful O'Leary's bar where we played an evening gig and a "Lazy Sunday Afternoon" set the next day. Torrox Costa is a resort populated by many ex-pats, and less package holiday makers, so it had a very laid back vibe.
We had a great time in both Alhaurin and Torrox and were very well received by the owners, staff, and clientele at both Zeppelin Bar and O'Learys'; they all really made us feel extremely welcome and came away with a really positive buzz from both places.
If you are thinking of doing a road trip across France and Spain, here are some "top tips":
* If you are in a hurry, make full use of the toll roads; they are so much quieter than UK roads - typically 3 lanes in France, and 2 lanes in Spain. You can make full use of cruise control, due to lack of traffic.
* Invest in "Tags" that automate the toll booth process; they will save you a lot of time and also you do not have to worry about keeping a large stock of coins! Tags can be purchased at www.emovis-tag.co.uk €10 application fee €6 annual fee €20 refundable deposit €5 per month that tag is used (capped at €10 per annum) + toll usage.
* You require hi viz vests for all occupants as well as a warning triangle and a set of spare bulbs.
* Fuel/food is cheaper off of the motorway network in France. Fuel is a lot cheaper in Spain.
* Speed limit is 130 km per hour in the dry 110 in the wet/adverse weather in France. 120 km per hour in Spain.
* Avoid Paris unless travelling at night but be warned they often shut large sections of the ring road for maintenance.
* Waze is a great free sat nav app you can download, which has excellent local knowledge as users can share road conditions, road works, and other hazards - also speed cameras and speed limits.
* If you are a golfer, you can hire clubs, trolleys, buggys etc, locally at some excellent courses.
* Learn the Spanish word for ham and cheese sandwich - we somehow ordered Omelette and Chips in a Baguette!
* Learn the Spanish for Tomato Ketchup (to avoid putting raspberry jam on your fried egg)!
Three fantastic but very different gigs to very varied crowds. A great tour, great memories made with great friends. Ferrets in Spain September 2019!
If you would like to learn more about our roadtrip, or you would like to discover the joys of the open road yourself, wherever it is around the world, do not hesitate to contact me any time to assist with any aspect of your trip!