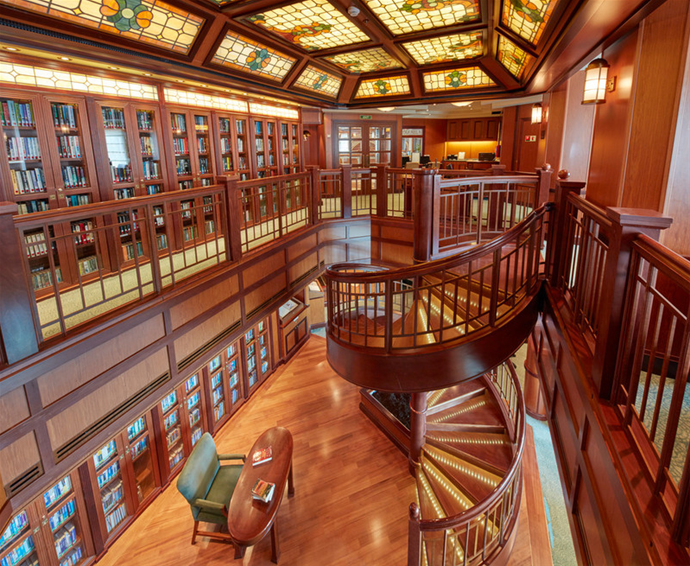 **I recently sent Linda & Grant on their first cruise with the amazing Cunard. They sailed two nights from Southampton to Hamburg in a club balcony cabin. This is a guest piece written by Linda about their experience on-board**
What a fabulous way to start the year! It's early January and we have just got back from a mini taster cruise that Thea arranged for us on Cunard's Queen Victoria. Everything was perfect, even the weather was kind!
We arrived at Southampton cruise terminal slightly early, but after handing our baggage to the porters we found a seat and some coffee and got settled. Embarkation was far quicker than we thought and no sooner had we sat down we were called for check in. All nice and smooth and we were handed key cards and walked the ramp to the ship.
Once on-board we had a short walk around the ship and then went to find our cabin. Our cases had already been put in our cabin and within 15 minutes our cabin steward knocked on the door to introduce himself and ensure everything was to our satisfaction and to ask if we had any questions. The room was much bigger and nicer than I had anticipated. We had a clear view from the balcony - and had it been summer we could easily have spent time on the deckchairs, with our feet up on the foot rests, sipping a glass of sparkling wine, it even had a small table out there to put your glasses on with a book. It was a lovely welcome finding the bubbly in a wine cooler filled with ice in the room. The day planner which was put in our room showed there to be plenty to see and do on-board (although we planned to mostly rest and relax).
Although there were tea and coffee facilities in the room we decided to pop up to the Lido restaurant for a coffee and some nibbles, even though we would be eating later! Everything was fresh and there was a large selection of hot and cold food, catering for all dietary needs, on view for you to help yourself.
At 4.00 it was the safety talk, which everyone attends, and then sail away.
That evening we stopped at the Compass Bar where we sat and had a relaxing drink before walking next door to the Britannia Club Restaurant for our evening meal, where we enjoyed freedom dining (our main reason for picking the club level). The request for a table for 2 was accommodated in the restaurant and the service was impeccable. Marina our waitress was professional and engaging, and we were also served by Jose the waiter. I was assisted in my choice of wine by the sommelier who was very knowledgeable and ensured my wine glass was replenished when necessary. The Britannia Club was available for breakfast, lunch and dinner however we also popped up to The Lido on our sea day for a coffee, snack, and afternoon tea.
The planner was even more busy come sea day where there was so much to keep you occupied! We opted for the more sedate library for a quiet read and spent time in the main lobby where there was classical music playing almost all day. If we had felt more active though dance classes, quizzes, crafting, live music, a theatre and talks were all on offer.
On our second evening there was Gala Night – a wonderful evening with all guests dressed up to impress and a fantastic reason to dress up for a lovely evening meal. What was great though is the flexibility of dining options – if we hadn't fancied dressing up then we quite easily could of gone to the buffet and eaten there in our casual clothes!
The next morning when we woke up we had reached Hamburg and it was time to depart back to the UK. A coach was provided to the airport and flights included. Flying from Hamburg Airport was so easy, there were no queues to check in, plenty of shops to look around or places to have coffee. The bathrooms were clean and tidy, again no queuing. On going to the Boarding Gate there were plenty of seats available with a cafe in the boarding area where we were sitting. Even better there were no flight delays and after less than 2 hours flying we landed back at Heathrow.
Although only a taste of the cruising life I can quite easily see how it can be addictive! Great service, comfortable surroundings, fantastic food and drink, everything you need to relax and unwind, or immerse yourself in all the activities on offer. You could dress up, or dress down, whichever you felt more comfortable doing. Talking of comfort the beds were amazing. What tickled us was the ability to phone your steward and have your choice of pillow. We settled with what was in the room as it was so comfortable.
I've travelled with Thea many times now having been to Mexico, The Gambia, Scotland, New York and Iceland over the years and using her expert knowledge and booking through her has made travel far less daunting and hassle free. Her recommendation of Cunard for our first cruising experience was perfect and certainly suited our taste. I wonder where we will head to next?
**Linda & Grant travelled on the Queen Victoria on the 6th January for 2 nights**