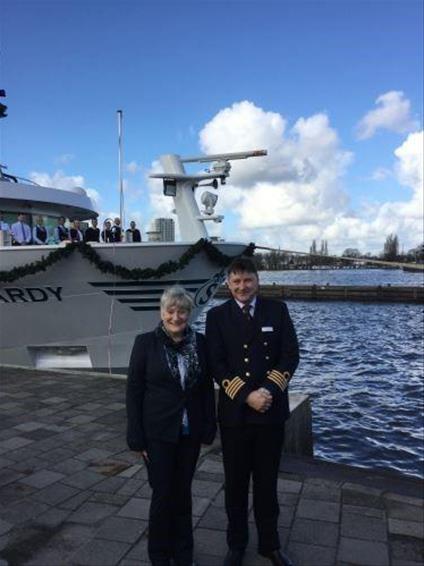 This February I was excited and honoured to be chosen to be Godmother to Riviera Travel's new river cruise ship - the MS Thomas Hardy.
When the big day arrived, I was flown to Amsterdam for the naming ceremony, arriving around 9.30am. There were a number of other agents and travel press at the meeting point. We were then taken by coach to the port. There were two ships to be christened that day - the MS Thomas Hardy and the MS Emily Bronte. They were floating proudly together.
The christening festivities were being performed on the Emily Bronte. We walked up the red carpet and were shown into the lounge. After a welcoming drink, I was given a tour around the Emily Bronte. She is beautiful; the cabins are a good size, very comfortable and offer everything you need. There is even a small spa and gym on the lowest deck! There are 2 restaurants - a larger à la carte and a bistro bar. Both ships have exactly the same layout, but the decors are a different colour. I am a bit biased and prefer the MS Thomas Hardy.
At midday, we sat down for a lovely lunch. Smoked salmon, beef tea, rack of lamb and crème brûlée - it was amazing and just melted in your mouth! After lunch, we had speeches followed by the cutting of the ribbon and actual naming ceremony. I had to say my speech in German. It all went well and both champagne bottles smashed!
Fortunately, it was a nice sunny day, although a little bit windy. The chefs had made a fantastic cake. Christina (the other godmother) and I cut the cake, which we then enjoyed with a glass of champagne. Christina and I were presented with a bouquet of flowers, a Thomas Sabo pendant in the shape of an anchor, and the scissors we used to cut the ribbon. The scissors are inscribed with the name of the ship.
We then had a look around the MS Thomas Hardy. The colour scheme is brown, beige and burgundy - very warm and inviting.
I'm really looking forward to sailing on the MS Thomas Hardy in December. I had booked my trip along the Rhine visiting the Christmas Markets before I knew I was going to be the Godmother. I will feel so proud to show 'my ship' to my husband and friends!