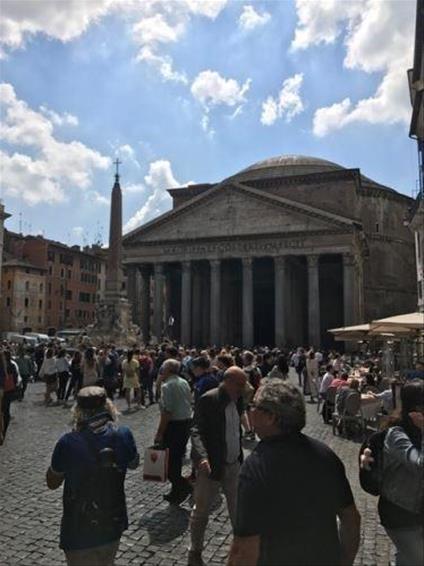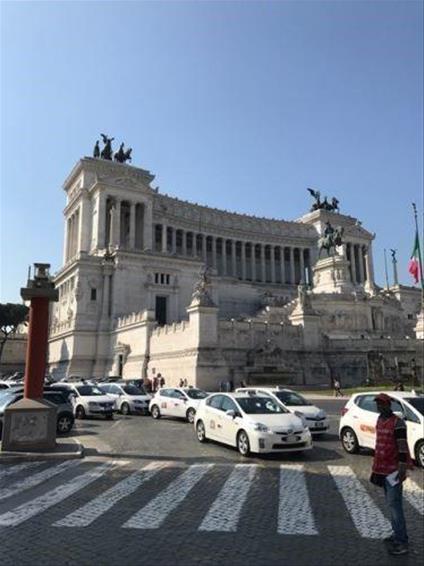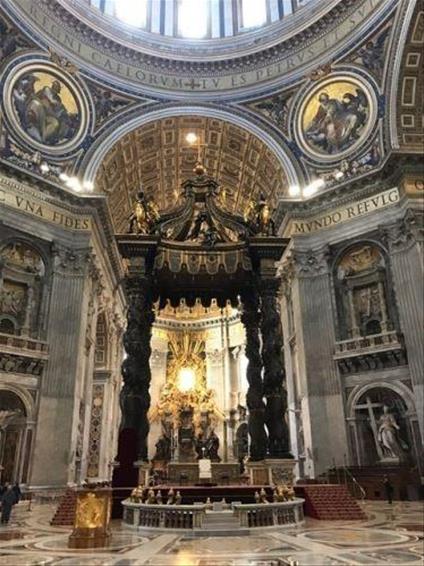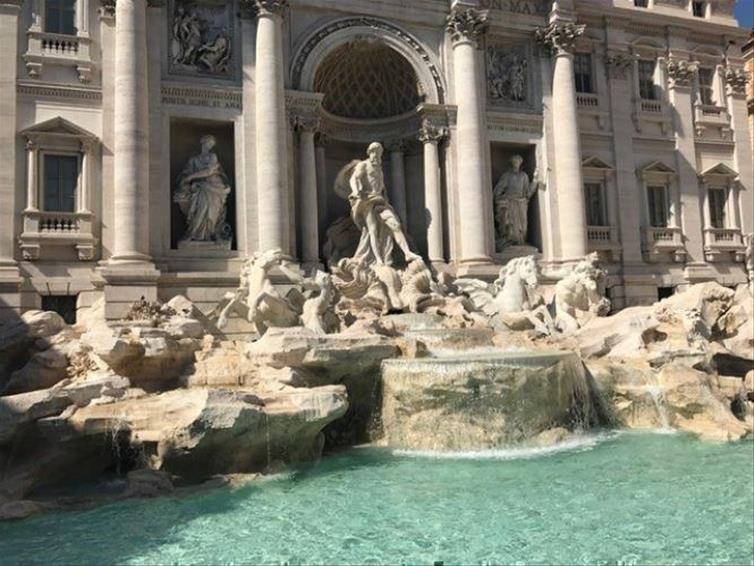 Hotel On arrival into Rome, we were met by our Travel Counsellors transfer and whisked off into the city center heading for our hotel The River Palace which took around 45 minutes. The hotel was very well placed by the Fontana del Nettuno which leads straight into the main shopping area of Rome on the Via del Corso. The hotel style was classic Italian with small rooms but very comfortable for a city hotel. They ran a lovely breakfast with plenty of choices and between 5 pm and 10 pm the bar had lots of lovely complimentary snacks and nibbles which went down very well after a full days sightseeing and a big lunch!
Places to visit On our first day, we dedicated it to seeing the Vatican and the surrounding areas as it was Easter week and we thought it may get very busy. We set off from the hotel for a 20-minute walk across the river towards the Vatican and with the weather being so lovely around 24 degrees and bright sunshine it was a lovely first sight of Rome. After a lunch by the river, we headed to meet our tour guide for the afternoon to show us around the Vatican and it was simply stunning all round especially St Peter's Basilica church at the end, the work that has gone into these buildings was amazing and you really do need to see it! The following morning myself and my children got up nice and early and headed for a Bike tour of Rome whilst my wife and in laws took some time out. We met our guide and fellow riders 6 in total and headed off, we had 3 stops in total having an Italian coffee and croissant for breakfast, enjoy a slice of Italian Pizza in the market square and to visit an original Gelato ice cream along the way, this took 3 hours and the information provided was a real good insight into life as a Roman through the years and YES the bike was very comfortable and an easy ride so do not be put off doing this tour! We decided to book the 48-hour hop on hop off sightseeing Bus and it was perfect, we took the ticket with the skip the line at the Colosseum and took some great advice from our bike guide to go after 3.00pm when it was a lot less crowded. The bus allowed us to visit all the good sights at our pace which was good for my In-laws as we visited the Colosseum, Spanish Steps, Trevi Fountain and the Pantheon square to name a few!
Food
I could not talk about Rome without mentioning the Food. As you wander through the cobbled streets of the city center with lots of streets car free there are so many different types of places to sit down to grab a coffee, a bit of lunch or early evening dinner. We particularly enjoyed lunch in Pantheon square at Gruppo Di Rienzo to watch the world go by and our favorite restaurant for Dinner was AdHoc Via di Ripetta 43, the food here was amazing and such good value!
Shopping The girls wanted to spend our last morning going into the lovely shops that we had been walking by every day so we set off for a morning of shopping and lunch before heading to the airport, we found lots of the designer makes on show and offering good value compared to London prices, the birthday boy got the jacket he was looking for so it finished a lovely trip for us all. As a family we all loved Rome and will definitely revisit at some stage again, I would suggest 4/5 days is the ideal first visit but next time I would definitely stay longer and head out into Tuscany to see so much more of this wonderful country.