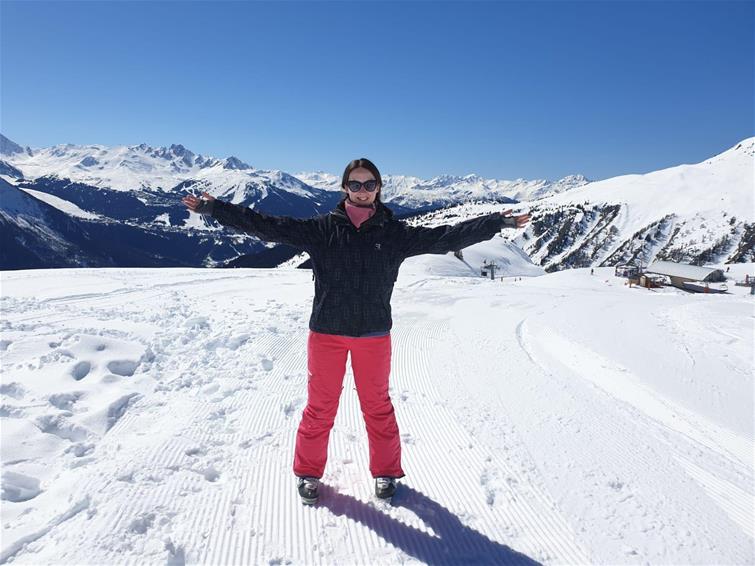 The dream vs. reality
It sounds incredibly middle class, but my husband and I have skied almost every year since our teens. Both working in travel, we could head out to the slopes fairly cheaply, so it was always our 'thing'. We'd often even prioritise it over a sun holiday and it's fair to say that I couldn't wait to take our future kids to the mountains to help them find their own ski legs.
Two small people later, and reality well and truly kicked in! Suddenly a stress-free week in the snow became an expensive logistical mission. Would it all be worth it, and would it still be fun?!
As you may have guessed, skiing with young children is a faff. The flight times are often antisocial, the transfers can be long and arduous, it feels like you are taking everything but the kitchen sink with you, and the weather and snow conditions are far from guaranteed. But the minute I'm in the mountains, I remember with absolute clarity why we bother to do this, year in, year out.
The rationale
At first, I thought it was a case of me trying to hang onto my youth. Perhaps it is still partly that, but I've also come to realise that we need a week in the mountains as an antidote to modern family life. It's all about the simple pleasures. Opening the curtains to a piercing blue sky, sipping overly-sweet hot chocolate in a deck chair, the sheer joy on my kids' faces as they finally master their 'pizza' skis (snowploughs), or collapsing into a well-worn sofa beside a roaring fire after day of full-on fresh air.
Of course, I'm a sucker for the beautiful scenery, but also find myself addicted to the feeling of wellbeing and headspace I get from the slopes. I always feel so peaceful and disconnected that stresses from home simply pale into insignificance. It's six whole days almost tech free. My phone is with me purely for taking photos or being contactable for the kids. Navigating the slopes using piste signage and a paper map feels positively retro! And I get a nice smug feeling from knowing that while skiing is fun, it is still technically 'exercise' (and it means I can indulge in huge amounts of bread and cheese guilt-free, and ignore the fact that every hot chocolate comes with a massive topping of cream).
The icing on the cake
It's a good thing there's no ski diet as such because the 'perfect piste body' doesn't exist. I'm more than happy to hide under several layers of thermals, fleece and a pair of padded salopettes. Another reason not to stress! I find no fashion snobbery on the slopes either, in fact a neon all-in-one is something of a statement these days! Since anything goes, we enjoy having some fun with fancy dress. We've done retro ski gear before and superhero masks and capes (which look great when you're flying down the slopes).
But why take the kids? I'd still find my headspace without them right? Maybe, but I want to share my happy place with them and show them that fun is not found purely on a screen or at commercialised theme park. They are learning something new, getting fresh air and exercise and being immersed in foreign language, culture and cuisine. And they get to go on an aeroplane, which for my son is almost as exciting as the skiing itself!
What we've learnt
We've picked up a few tips and tricks about skiing as a family over the last few years. Consider flight times, transfer durations, and the elevation of the resorts. Ensure any childcare locations and ski school meeting points are not too far from where you are actually staying. It's best to pick up all your hired gear on the day you arrive in resort if possible. Just in case, look for a resort with non-ski activities such as ice skating or swimming. Prep your kids before you go: try on the kit, watch ski school videos, build some excitement. And don't forget to plan in some time for sledging and building snowmen!
A final word
I don't think I'm alone in finding a week in the mountains superbly restorative. And I know that many other holidays can give you the same feeling and may be cheaper than skiing. But I know that every time I'm guaranteed to come back invigorated, grounded, brimming with precious memories and most importantly, feeling just that little bit more alive. And surely that's what a holiday is all about? For me, it's a definite no brainer: roll on next year!