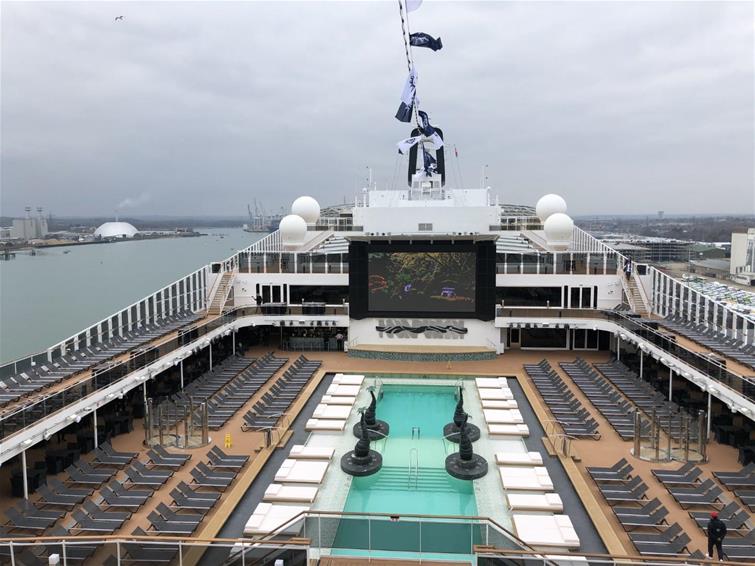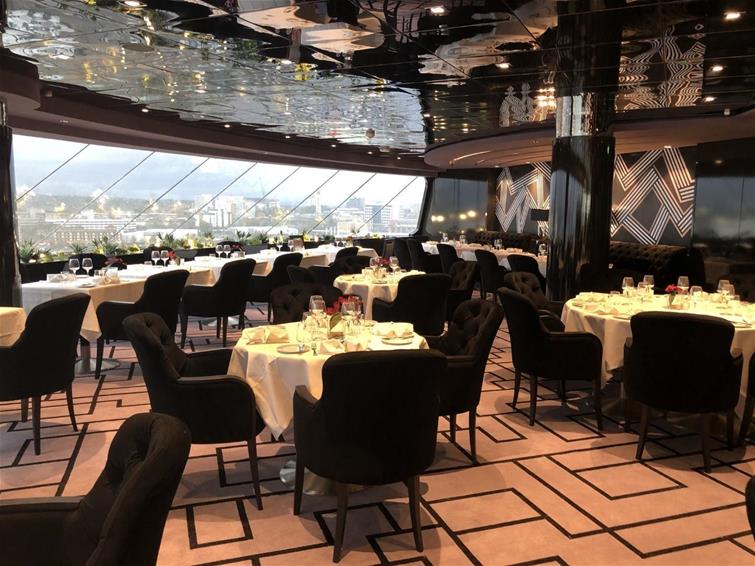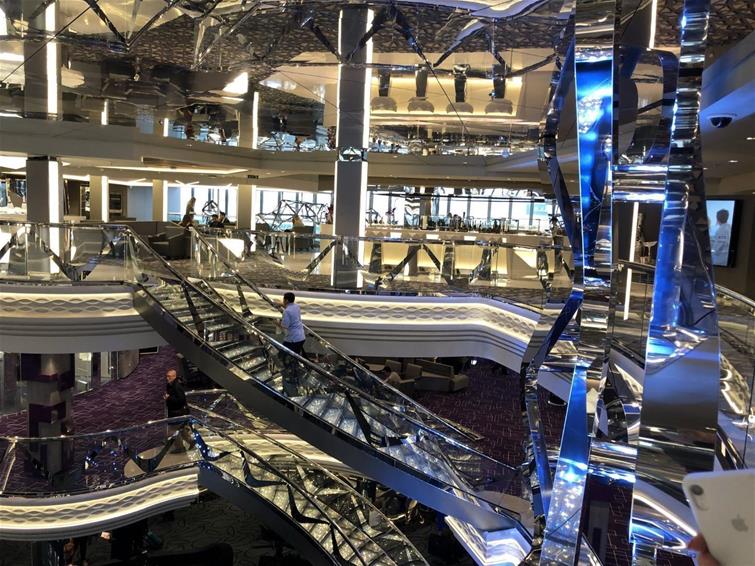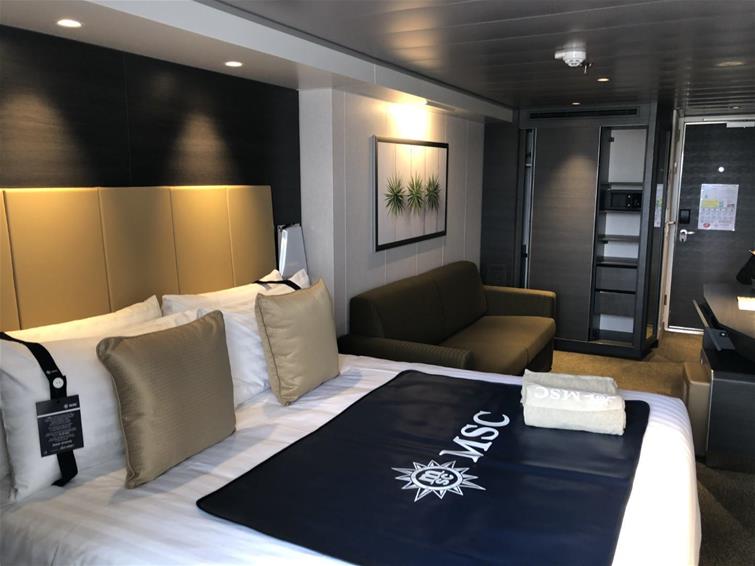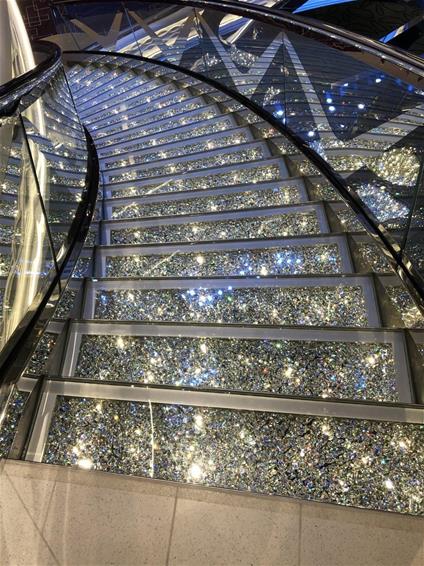 I was delighted to have been invited to MSC Bellissima's star studded launch event last weekend. Arriving at the port of Southampton by car, I speedily proceeded through security and on to the ship, leaving my suitcase in my well-appointed deluxe balcony cabin.
Wow! What an amazing spectacle. The ship is seriously glitzy with a fantastic Swarovski staircase in the middle of the ship, linking decks 6 and 7. There are 10 restaurants to choose from including 5 speciality restaurants; I sampled some amazing food at the wonderful Kaito Teppanyaki restaurant where the food is cooked in front of you. The Marketplace Buffet Restaurant is open 20 hours a day so if you become peckish late in the evening after a show or boogie in the disco, then you can pop in for some late-night dining! There are an impressive number of bars, cafes and lounges, 20 in total including 5 outdoor bars, so there is sure to be something to satisfy every mood and taste. Many of the venues have live music or comedy so are the perfect place to catch up with friends and family, or perhaps just a quiet drink with your travelling buddy. I have to say that two of my favourites were the Champagne Bar - it is located on deck 7 close to the central Swarovski staircase and there was a great atmosphere and lots going on around, and the Sky Lounge - a fantastic place to sip a cocktail or enjoy an after-dinner aperitif.
I went on a fact-finding mission and saw some amazing entertainment venues. These include the world-famous Cirque du Soleil at Sea where artists perform 6 nights a week in the Carousel Lounge and the London Theatre where Broadway-style shows are presented twice nightly. There is also an indoor promenade, the Galleria Bellissima which is 96 metres long and houses, at 80 metres, the longest LED screen at sea showcasing amongst other things monuments, natural beauty and space travel. Here you will find many boutiques offering watches, clothing and beauty products, to name but a few.
What about the children and the 'big kids' amongst you? MSC Bellissima offers 5 children's clubs ranging in age from babies and toddlers up to 17-year olds, the latter having their own dedicated area allowing them independence. Additionally, there is a bowling alley, a Formula 1 simulator, a virtual games arcade and an interactive cinema - all designed for the family to enjoy together.
If you are looking for some 'me time', there is an incredible spa offering more than 150 massage and body treatments as well as a thermal area. Ladies, and gentlemen, can be coiffed and groomed in dedicated rooms ensuring that you are always looking wonderful! There is also a fully equipped gym.
I was able to see a variety of cabins, 70% of which have a balcony. Some cabins have a shower over the bath whilst others have a shower only. Each cabin has ZOE, an interactive intelligent assistant designed to help guests by answering hundreds of frequently asked questions, in seven languages. She can also help reserve restaurants and excursions and you can also check your bill.
On board MSC Bellissima there is an exclusive area, the MSC Yacht Club, where guests can enjoy the luxury of being part of a private club whilst also enjoying access to the rest of the ship and all the facilities that the ship has to offer. Each of the 95 Yacht Club Suites have their own 24-hour butler service and have exclusive access to the Top Sail Lounge, a private restaurant and a large outdoor area with pool, whirlpool, bar and cabanas.
MSC Bellissima really does have something for everyone, including three different cruise experiences allowing you to choose base on your requirements; Bella is for guests looking for a pleasant stay and good value for money, Fantastica is for those wishing for extra comfort and flexibility with dining times whilst Aurea is for passengers wishing for a truly relaxing experience and all-inclusive comfort.
I would recommend this wonderful ship to families, as there is so much to do, and to those looking for a more relaxed experience offered by the MSC Yacht Club.