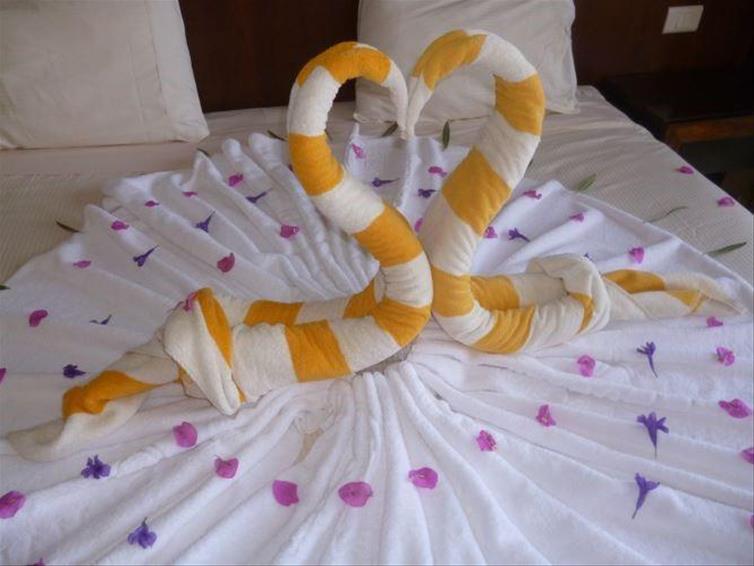 If you are looking for guaranteed sunshine, crystal clear waters and world famous diving sites, Egypt is an obvious choice! Sharm El Sheikh is a popular holiday destination to enjoy luxury resorts and sunshine all year round at affordable prices and we had the pleasure of enjoying this Egyptian hotspot in July 2012. We were sadly reluctant to come back!
Now, the first thing to say is that July is HOT!!! We were desperate for warm weather, but the peak of the Egyptian summer is definitely not for the faint-hearted. Temperatures were close to 40 degrees Celsius every day with little difference at night. If you are looking for milder weather, select a different time of the year to visit. Egyptian winters are very mild with an average of 26 degrees Celsius, but overnight temperatures can drop significantly.
STELLA DI MARE During our visit we stayed at the Stella Di Mare Resort & Spa for two weeks, which was absolute bliss! This is one of my favourite locations and hotels ever, and we have promised ourselves to go back again.
Stella Di Mare is ideally located on the edge of the famous Naama Bay but not in the town itself, which means you have the perfect balance of peace and tranquility versus the hustle and bustle of shops and restaurants. The hotel has a private beach with an amazing house reef for snorkeling immediately off the hotel jetty. You have a choice of numerous restaurants, bars and evening entertainment, and the hotel provides a free shuttle into Naama Bay if you prefer to explore elsewhere. Whilst you enjoy luxurious cocktails and food every day, you can stay healthy in the wellness centre and spa. During our stay, I had my first ever Thai massage, and am now a converted fan! My days of aromatherapy massages is something of the past ;)
NAAMA BAY The shuttle service from Stella Di Mare is great and we have made use of it more than once. Should you do the same, be sure to visit these great little treasures during your time in Naama Bay: • Little Buddha, for amazing sushi and cocktails • Camel Bar, for rooftop views and after dinner drinks • Local markets with stalls full of inviting merchandise
DIVING Whilst Stella Di Mare hosts their own diving centre onsite, it is worth doing your homework to compare prices for scuba diving day trips. Most diving sites require a boat trip, so it is a good idea to plan a full-day outing and most companies will pick you up from your hotel.
Ras Mohammed is a popular diving spot, and absolutely stunning! We were lucky enough to see a hammerhead shark, whale sharks, turtles, crocodile fishes, a lion fish, a stone fish, big schools of colourful angel fish and many more. The water clarity is unbelievably clear, one of the best I have seen.
If you are a scuba diver and have not yet been to the Red Sea, pack your gear and head over to Sharm El Sheikh for an unforgettable experience, it is well worth a visit.