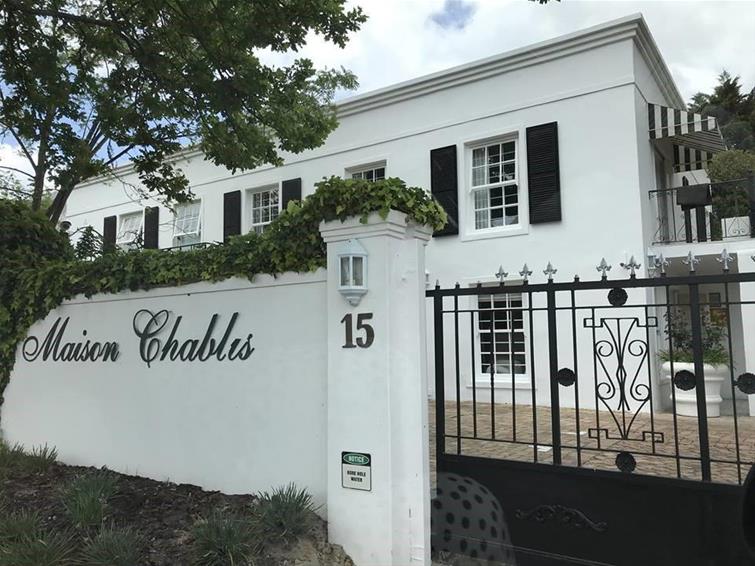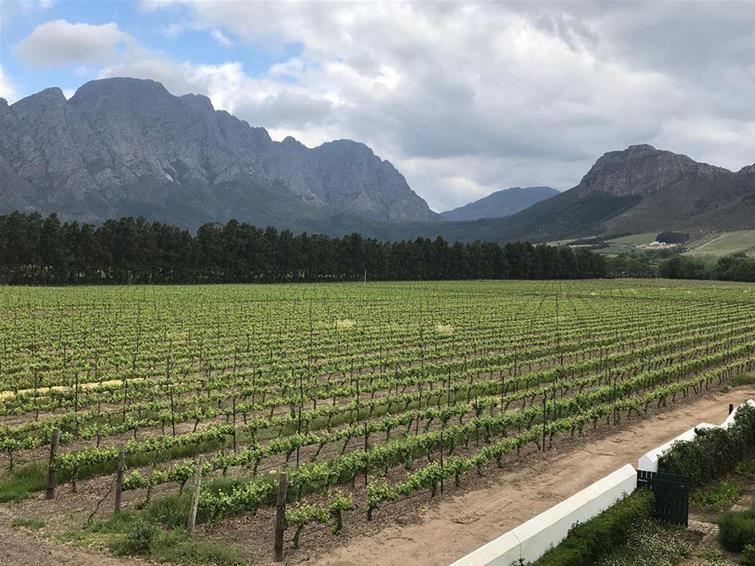 Having picked up our car from Cape Town we began the drive around an hour outside of the city to the Winelands where we would be staying for two nights. Stellenbosch is the larger of the Winelands towns, being a University town, and a little livelier, but there are also towns such as Paarl that you can stay. We opted for Franschhoek, knowing that we prefer the sleepier, quainter village feel, and we were delighted that we did.
On arrival you feel the sleepy, frozen in time atmosphere. The charming architecture on either side of the quiet, village streets contrast with the imposing mountains that surround them.
We checked into our guesthouse, the amazing Maison Chablis, and were immediately struck by the incredible level of care and service that this family run hotel offered us. It felt in keeping with the town, where you genuinely feel like you have stepped back in time, there is an undertone of Deep South hospitality about the place, added to by the almost colonial style buildings that are everywhere. This could easily be the French Quarter in New Orleans minus the electric atmosphere and party vibe. That's not to say there is not a wonderful atmosphere in the air here, there is, just a far more laid back one, very welcome after the relative hustle and bustle of Cape Town.
Of course, the main event was the wine, and it is on every corner. We opted to take the Wine Tram along one of the many coloured tramlines to visit a few of the estates and sample their delectable liquid delights, free from the shackles of a car. Initially the various options seemed a little overwhelming, as you could pick any number of routes. It is worth speaking to those who know best at your guesthouse or at the tram ticket office for advice, to ensure you pick the most appropriate route for you and do so in advance so that you are able to pre-book any additional services you may wish. We decided to pre-book a picnic at one of the estates and it proved to be a real highlight.
The tram takes you along several local estates where you pay a small fee at each to sample an array of wines, with about an hour at each estate. Then you simply hop back on and head to the next one. It is a great social event and we got chatting to some other tourists as the wine flowed but were able to get a little privacy for our romantic picnic and stunning it was too! We managed about 4 or 5 estates (the memory is a little hazy) before heading back to our guesthouse to recover before dinner.
Food was another theme of our time in Franschhoek, with one meal a standout, Foliage restaurant on the main street in the village. This was another thing to pre-book as it is a popular restaurant, but it was one of the nicest meals I have ever had. It is fine dining, so maybe not for everyone but the menu changes daily based on what the chef finds (yes...finds!) that day on his foraging trips. Some of the flavours were pretty out there but each plate was like a work of art and we couldn't believe the value we got from a 4-course set menu with drinks for under £30pp! Definitely a must visit if you ever stay in Franschhoek.
It was with a heavy heart and a mild hangover that we departed, and once again I felt like I could have stayed much longer, but we packed our bags and headed for our next destination on the coast, Hermanus.