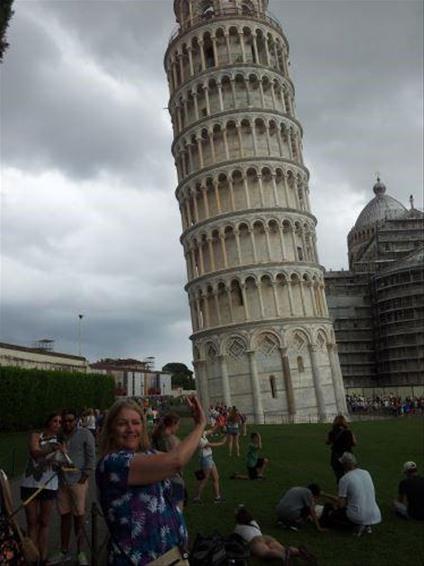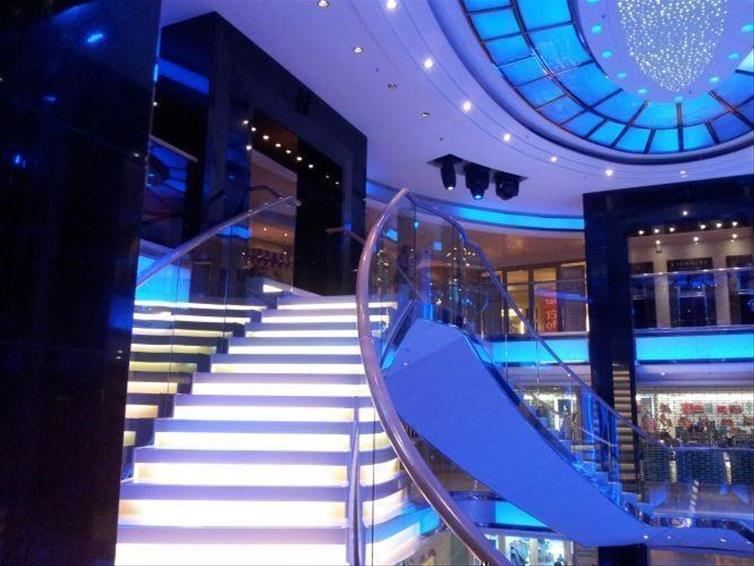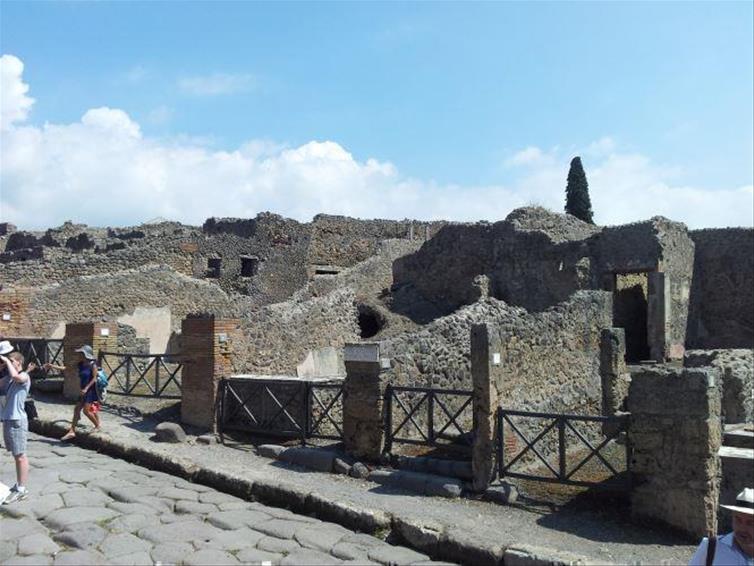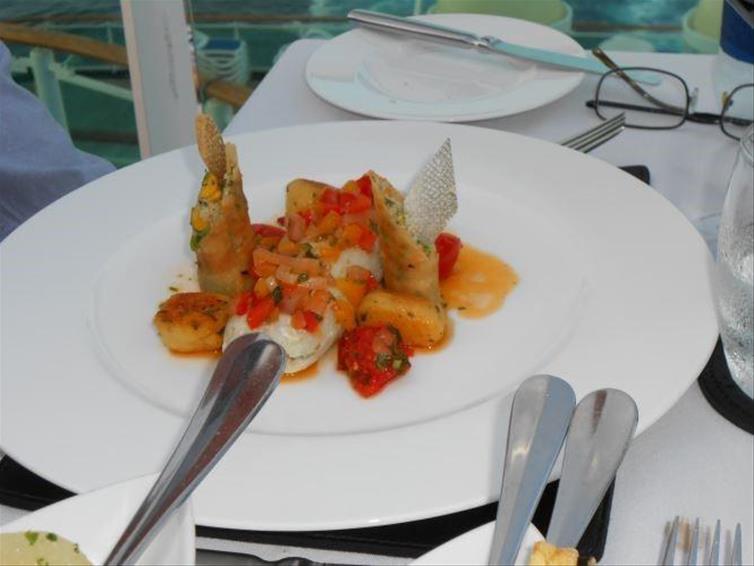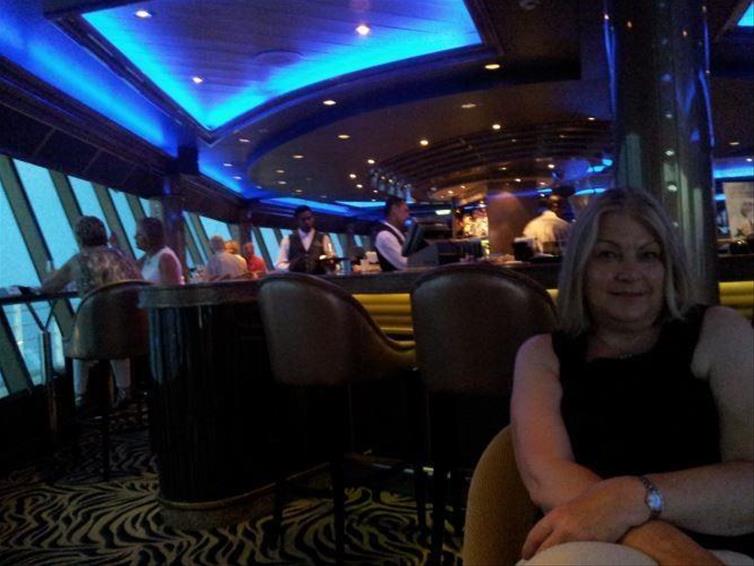 P and O Mediterranean Cruise – Ventura – 14 days – June 2014
This was the first cruise I had been on, so I was very excited to see if it lived up to my many expectations. I was travelling with my husband, and it was our first proper holiday alone without our two teenage daughters.
I boarded in Venice, having made my own flight arrangements. First impressions of Ventura were impressive – what a magnificent ship. The balcony cabin was very spacious - with loads of storage space and a glass balcony.
The sheer choice of dining options is wonderful on Ventura. There is a silver service breakfast, lunch and afternoon tea, followed by two dining times 16.30 and 8.30. Or you can try Freedom dining which is more flexible. I ate in the Baytree restaurant and the service was fabulous. The wine waiter, Justin, remembered my wine and it was always on the table when I arrived. I was on a table with three and made good friends. Also there are buffets and pizza areas and of course room service. The food is amazing, I am a vegetarian, but this was no problem and I had a choice of 4 or 5 main courses each day. Although there are drinks packages available, we chose to buy individually. The drinks are reasonably priced, same as at home. Tea, coffee, juice and water are always available in the buffet.
There are also specialist dining options – such as East – by Atul Kochar, and the White Room by Marco Pierre White, for a cover charge. I chose to eat at the White Room for my birthday treat. I was not disappointed! I ate outside with beautiful views of the sunset - a night to remember! My favourite bar was the Metropolis that had moving views of different cities.
We had a total of 4 days at sea. It is on the sea days that the formal dinners are arranged. This was a lovely chance to dress up. Don't worry about having to take too many outfits as there is a free launderette on board so easy to wash a few items. The other nights are usually more casual or smarter casual.
The entertainment was out of this world. The standard of the shows was amazing. The in house Headliners group put on four fabulous musicals – as good as or better than I had seen in some West End shows. I also saw some fabulous comics, singers, and magicians. As well as the shows, the nightly magazine, "Horizon" lists the events for the following day – as many as 60 per day – including exercise classes, dance lessons, films, bingo, quizzes – all sorts for all tastes. There are kids clubs too -Tumblers - a parent supervised play area for under 2s (doubles as a Night Nursery), Toybox for 2 -4 yr olds, Jumping Jacks for 5-8 yrs, The Den for 9-12 yrs and Decibels for 13-17 yrs.
There were four swimming pools on deck - a good mix of family pools and an adult only pool which was lovely and peaceful. There are loads of sunbeds so no need to worry that they will run out. There is also a "retreat" area near to the spa and gym that can be booked, (for an extra charge) which has a shady area and a sunny area, which also serves snacks. This would be a good option if you did not have a balcony.
I visited Kotor, Corfu, Civitavecchia (Rome), Corsica, Genoa, Livorno (Pisa), Naples, Dubrovnik and Venice. Kotor was the only port that required the use of a tender to get ashore.
Rome is about an hour on the train from the port of Civitavecchia. I had read that it was "easy to get there by train" but this did not prove to be the case. The walk to the station took half an hour, the trains were only one per hour, and due to a train cancellation it caused a delay getting into Rome. I still managed to get around the main tourist attractions – Colosseum and Trevi fountain. A valuable lesson learned! I would recommend a tour next time.
In Genoa I walked a short distance from the port, which initially looks a bit featureless, but nearby is a lovely marina and a fantastic aquarium where I was able to see dolphins, penguins and sharks. Again if you wish to travel further there are other options.
In Corfu, I took a glass boat trip from the harbour and watched a display of performing sea lions. If you wish to go further afield there are excursions to beaches and boat trips to swim off the boat.
Corsica has a gorgeous little port, Ajaccio, with a lovely market selling fresh olives. I took a trolley train round the town and saw the birthplace of Napoleon.
Livorno was the port for Pisa or Florence. I chose to go to see the famous leaning tower, and of course had to take the "cheesy" photos holding up the tower!
Naples was the base for my excursion to Pompeii. Wow what can I say? Unbelievable that there are such well-preserved remains. I stood on an original roman road complete with wheel marks made from the Roman chariots!
Dubrovnik was one of my favourite places. The walled town is very easy to walk around, very steep steps in places but amazing views of the coast and everywhere you look there are hidden shops and cafes and beautiful churches. The currency is the Kuna, but a lot of places will take Euros. If you have enough energy you can climb up and walk along the walls. Croatia is definitely on my return list.
And so, that leaves me with Venice! How can I describe the feeling of being on the top deck of Ventura as she sailed into Venice along the Grand Canal? Breath-taking views and ones I will never forget. I took a fabulous boat tour around the islands then up to Murano to see a glass blowing demonstration. In the time it would take me to make a cup of tea I watched a craftsmen make a spectacular glass vase! Next I went to Burano, famous for lace making and beautiful painted houses. Legend has it that the houses were painted bright colours so that when the drunken sailors tried to get home they knew which house to go to!
St Marks square is a must see, if a little crowded The remainder of the evening was spent wandering along the various back streets and bridges getting hopelessly lost! However, I was never too far from a nice cool beer which certainly helped.
I was fortunate to spend an extra night in Venice at the end of the trip – stayed about 10 minutes' walk from St Mark's Square, in the lovely naval district, near to the Giardini Park. From there I sat and watched Ventura sail away – happy in the knowledge I would return one day.
So if you want to experience the holiday of a lifetime - give me a call.