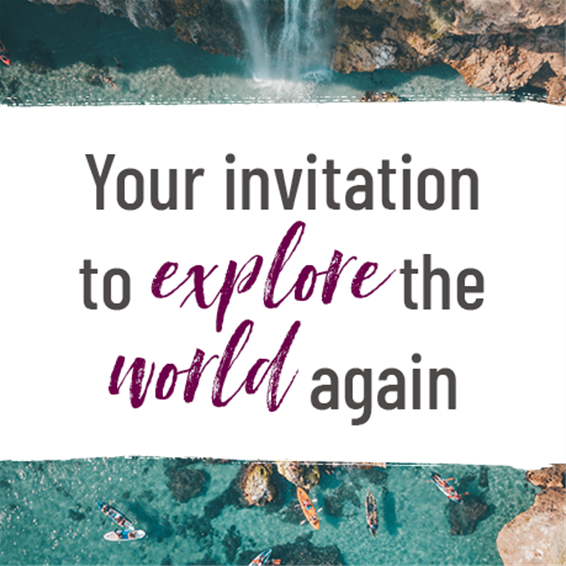 As the world opens up again and we invite all of our customers to continue to explore the world, I thought now would be a good time to get in touch with this letter to you all, in the hope to spark a discussion about where you are dreaming of going, with no obligation to book or enquire. I just love to chat about holidays!
As I sit and write this letter, I am supposed to be in Las Vegas! Who else has had a holiday cancelled throughout this pandemic and do you intend to rebook the same holiday if you haven't done so already? I had every intention of re-booking, but my Mum and Dad were taking our boys to Tenerife whilst we were in Vegas and like us, their plans were cancelled too. When we started looking together about re-booking both holidays, we came to the idea of saving the money and booking something bigger together. So, for 2022 we're all very excited about going to Florida!
What with everything going on I didn't think I would be too bothered about Vegas being cancelled. Ultimately it was cancelled due to the Coronavirus, but then there were all the riots in America and hey, we've had great whether here this summer. But when they day came and a notification popped up on my phone to say that traffic to Heathrow was light and our journey would take 2 hours 30 minutes, I was devastated. Of course it is lovely to have beautiful UK weather, but it's not the same in the garden when you don't have a pool to jump into and cocktails on tap! Alongside that, I was really looking forward to a week of eating out, seeing the sights of the Grand Canyon, exploring the themed hotels and maybe a little flutter in the casinos!
What have you missed about not being able to go on holiday this year?
As the world now begins to open up again, I'm excited about future travel and I'm sure that you can imagine, I have a lot on the bucket list….
- I'd love 3 or 4 nights in Iceland. Seeing the Northern Lights, a visit during twilight hours to the blue lagoon, a whale watching trip and maybe squeeze in snowmobiles or a 4x4 through a glacier - Borneo is somewhere that's been on the list for quite some time. I'd love a few nights in Kuala Lumpa and then 10 nights in the Shangri La Rasa Ria, which backs onto a 64 acre nature reserve, home to my favourite animal. The Orang Utan. I'd pick a garden view room overlooking the forest to wake up to the exotic birds and animals - Las Vegas is still on the bucket list and maybe we'll sneak it in later this year or early next, but I'd also love to visit San Francisco. A perfect multi trip. I'd like to cycle over the golden gate bridge and visit Alcatraz. Where is on your bucket list for the future?
This year has definitely been a tough one for the travel industry, but I love searching for people's dream holidays and can't wait for everyone to start exploring again. I've still had a few enquiries, particularly for honeymoons for 2021, so it's been amazing looking at safaris, Zanzibar, Maldives and Mauritius just lately. What I love about being a travel counsellor is the flexibility it gives me and my customers to allow us to plan perfect trips together, whether it means chatting in the evenings or via email on your lunch break. I have access to 100s of suppliers, meaning no holiday opportunity is off limits and everything I book is 100% financially protected for airline failure and we're currently offering our TC flexible promise. Meaning that you can book that bucket list holiday and if it needs to be amended due to Covid-19 or any other personal reason, it can be done, free of charge, up to 8 weeks before travel. So overall, you're in safe hands with me!
I can't wait to explore the world again, but I also can't wait to help you do the same. It'd be lovely to here you answers to some of my questions about your travel plans from this year and the future. Drop me an email, comment on my Facebook page or even better, feel free to pick up the phone and just have a cuppa and a chat.
Speak soon