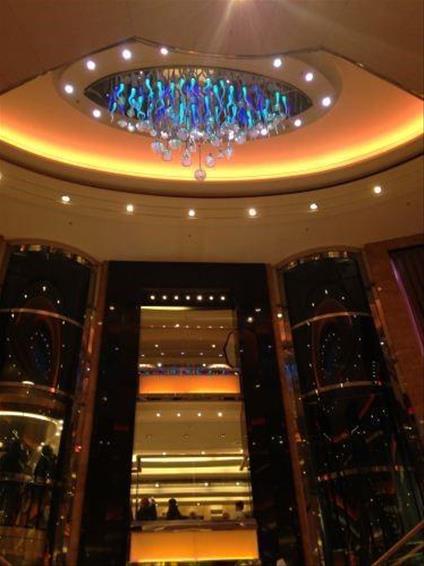 We set off on our journey to Southampton ready to board P&O Cruise ship the Azura, one of the largest of P&O's fleet. On arrival into Southampton, we were quickly shown to our car park, where we parked up, grabbed our bags and proceeded to the check in area ready for embarkation. The check in was smooth as it was so well organised, staff were all really friendly and cheerful and in no time at all we were sat on board having lunch in the restaurant, looking out to see. We had a quick look around the ship before being called to our cabin. It was now ready for us to unpack, our luggage sat outside waiting for us! We unpacked just in time to be back up on deck to join the sail away party with a glass of bubbly!
We had an inside cabin for three. There was ample space including storage, with twin beds and a bunk for my daughter. Our cabin steward introduced himself and was always on hand if we needed him.
The meals on board were good. You could choose the silver service restaurant, the buffet or a select dining choice, Michelin starred restaurants. There was always something, even a midnight buffet!
Entertainment on board was fabulous, there is a playhouse theatre with west end style shows, bars, nightclubs, kids clubs, library, spa, pools, casino, gym, wine bar and more! We were never bored!
After our first night on board, we woke up in Belgium where we ventured into Bruges for a day of sightseeing. It is such a lovely, historic city, known as Venice of the North! With cobbled streets, traditional shops and cafe bars, churches, museums and not forgetting the chocolate shops we had a day filled with sightseeing and wandering around this delightful city!
After a busy day in Bruges, we were back on board and in the spa for a treatment or two before our evening began again! This evening's dress code was black tie and ball gown, how lovely it was to see everybody dressed up ready for the evening. After our evening meal, there was time for a bit of retail therapy before heading to the theatre to watch the evenings show. This was our last night on board our two night taster cruise and it definitely left me wanting more!
After breakfast, the disembarkation was as efficient as the embarkation and we were soon back in the car, homeward bound.
This two night mini cruise was a great insight into the world of cruising and would also be ideal for a special occasion or hen party. There was plenty of fun on board and you could escape to the quiet wine bar or the retreat spa if you wanted some peace and quiet! Definitely something for everyone!
If you have a special occasion or would just like to experience cruising for yourself then get in touch and I can give you more information.