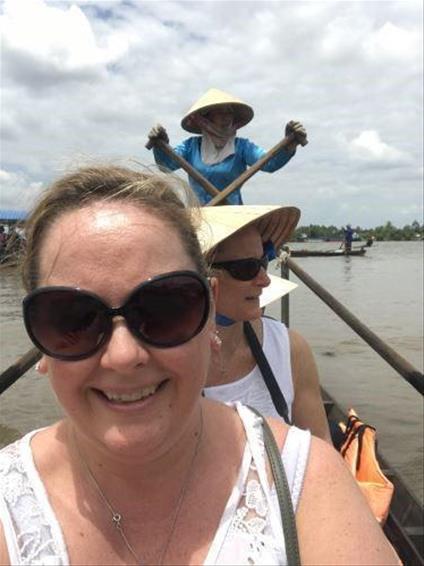 On arrival in Ho Chi Minh City I was transferred to our fabulous Hotel The Reverie Saigon. The hotel was amazing and perfect for a 5* city break. The transfer was an experience in itself as the vespas (the most popular mode of transport) weaved in and out of the traffic.
The next day we travelled to Cai where we took a cruise along the Mekong. We also experienced a ride on a traditional Sampan boat and a bike ride where we stopped at a local house and watched traditional rice paper being made with a chance of trying it ourselves!
The next morning was an early start as we took a boat to Cai where we visited the floating markets where the small boats are selling the local produce of fruit and vegetables.
The evening tour was Saigon by night on a vespa! This was the highlight of the trip, travelling in and out of the crowds and traffic, watching the locals travelling home from work. We travelled through the side streets and back alleys where the locals gather together for their evening. We stopped at two local restaurants for some local Vietnamese food and a couple of music bars.
Next day was a trip to the Cu Chi Tunnels which we travelled to by speedboat. We learnt all about the Vietnamese war and got to go down a couple of the tunnels which were built for hide outs during the war.
On the final day we spent the morning at the Vietnamese Cookery School which started with a tour of the local food market where we bought some produce to take back to prepare and cook for our lunch! We made spring rolls, fish soup and a lovely banana dessert.
Ho Chi Minh City is an amazing place and I would love to go back and experience more of this wonderful country!