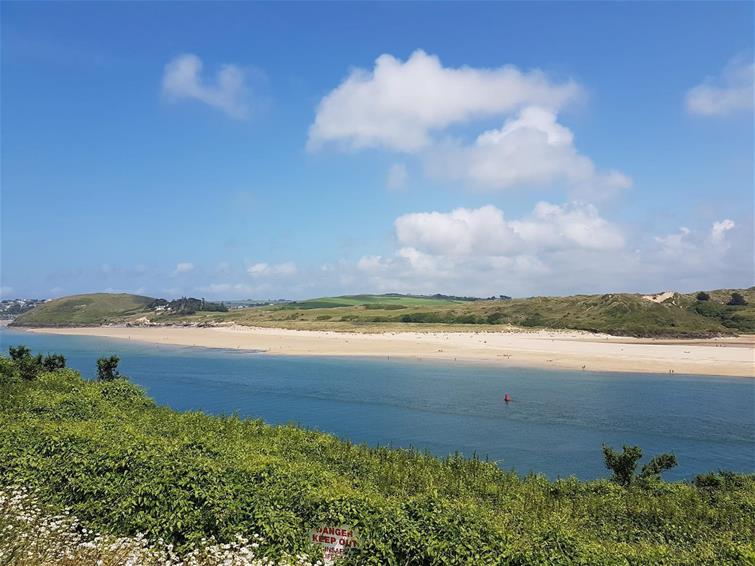 Day 1: Leaving London at 9.00am the aim was to arrive at the Cottage by 3pm but no that wasn't happening it was 7.30pm before we got here the traffic was horrendous and stressful with 3 dogs in the car. But it was worth the wait the Bull Pen is an amazing cottage, the host Kate is fantastic and so helpful. The cottage has everything you need and very dog friendly the garden is amazing Doris, Bill and Ernie think they are in a park!!! The hot tub is a real bonus. I ordered an on line shop with Tesco's would recommend this as you don't have to worry about finding shops when you arrive.
Day 2: We just chilled out, went for a walk with the dogs and enjoyed the hot tub and football, what a result for England.
Day 3: We took the dogs to Par Beach which is dog friendly all year round, I'd say it's a local beach, the seaweed can be a bit of a problem but the space where the dogs can run and enjoy the beach is amazing. There is a coffee pop up (need to check if seasonal) that serves amazing coffee. This was about 25 minutes from our cottage. The car park is cash only or the JustPark App (subject to change). From Par we drove to Fowey (3 miles) again car parking cash only or the JustPark App. Lovely fishing port however, quite limited on eating and drinking as a lot of places are still closed. There are a lot of steep hills to get to the village not disabled friendly. Fowey is the home of Dapahnne de Maurier. John enjoyed his first Cornish Pastry from the Pastry Shop…. Would recommend. You can take the boat from Fowey to Mevagissey cost approx. £9.00 each way. If you want a feel of a real Cornish Port/Village would recommend.
Day 4: Its Bill's birthday today so we are celebrating! Weather has been grim today with continuous rain, but we did head off to Newquay, which is about 30 mins from the Bull Pen. For me, personally I think the main New Quay area is overrated and expensive, £6.00 for 3 hours car parking. The little beach down by the harbour isn't that exciting, crowded and not very dog friendly although from here on a good day you can often see Dolphins sadly, not today, but I wanted John to see it .The best beaches in my opinion are Fistral & Porth. We had lunch at The Boathouse – Street Food on the beach, although the food was nice we felt it was quite expensive for 1 squid and 1 cod bite, 2 coffees and 2 dog ice creams it came to £28.00. We walked around the high street still some places not open and not as busy as I have seen it in the past.
Day 5: Weather was slightly better today however, we decided to have a day at the cottage just chilling out, enjoying the large enclosed garden and the lovely hot tub. This was followed by a steak dinner home grown beef from Treway Farm which is where we are staying…. They were amazing so thank you Kate!
Day 6: Today we went to the lovely fishing village of Mevagissey, I've always loved this place however, it is busy and pretty full on. Parking is £5.00 for 4hrs (subject to change). However, in my opinion there should be some traffic free zones here especially if you have dogs and small children. Weather wasn't much better today but we made the most of it walking around and watching the fisherman with "their catch of the day". Some great little shops here and another pasty shop tested by John the Fowey pasties get the thumbs up though! We had lunch at the Fountain Inn, I have eaten here before and would definitely recommend for food, service and dog friendly atmosphere.
Day 7: Sadly its our last full day in Cornwall so we headed to lovely Padstow, this is one of my favourite places in Cornwall. Would suggest that you park just outside the town it takes about 5/7 mins to walk into town however it is quite a steep walk wouldn't recommend for people with mobility issues. The car parking prices are quite expensive but well worth it as the town offers such much. After walking into the town we headed to the beach it was amazing the dogs loved it the water was so clear and it was the best day we had, weather wise. We had lunch at the Old Ship Hotel great dog friendly pub serving great fish and chips. There are lots of places to eat in Padstow with fish being the specialty as well as lots of cute shops, coffee bars and pubs most are dog friendly. Without a doubt would highly recommend a visit to Padstow.
Day 8: Today we say goodbye to the Bull Pen we have had such a good time, would definitely recommend a stay here. We drove to just outside Yeovil which should be approx. 2 hours 25 min drive however, due to a major accident on the A30 where the road was closed it took 6 hours. Tonight we are staying in a Shepherdess Hut at the Mason Arms. I have stayed here before and totally recommend it. So dog friendly they even have a little dog park where Doris, Bill & Ernie could run around without any worries. Definitely eat at the pub as the food is really good.
Day 9: The drive back to London was a bit of a nightmare! A fantastic holiday had by all ??