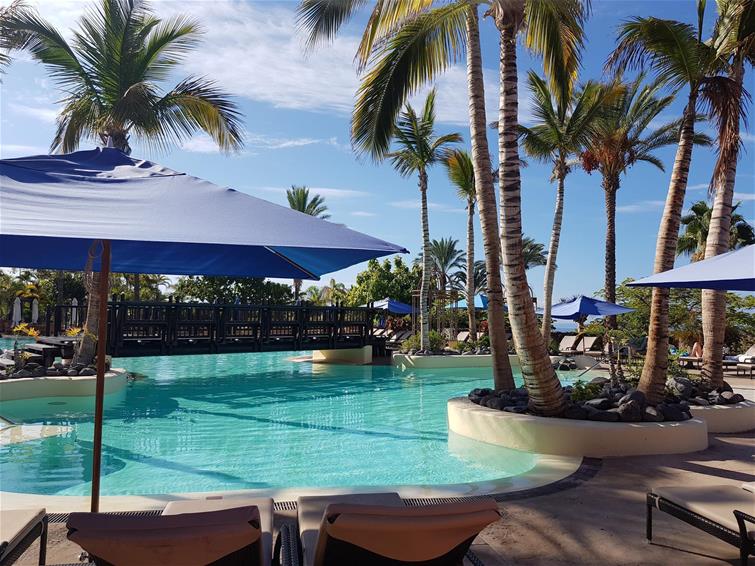 In October 2019, I travelled with my husband and three-year-old daughter to Tenerife for a much-needed pre-winter break. I could have picked almost anywhere in the world to travel to, so why Tenerife? Well, it's easily accessible from the UK with plenty of direct flights every day and flight time from London is only 4.5 hours. It's warm all year round with average October temperatures in the mid-20s.
We went for a week's holiday, split across two resorts on the southwest of the island. The nearest resort town was Costa Adeje and the area, much like the rest of Tenerife, is rich in Spanish culture and Moorish influences. Lots of typical Spanish cuisine on offer but remember that Spaniards tend to eat later in the evening so if you have young children in tow, be sure to check opening times as you're not likely to find a restaurant ready to serve you before 8pm – this is certainly true of towns and beaches but not so in resorts.
Tenerife is a volcanic island in the Atlantic Ocean, and the landscape in the south matches that. The area is quite barren-looking and desert-like, and there are quite a few black sand beaches, so don't expect lush greenery in this part of the island. The weather is amazing though and a big draw!
RITZ-CARLTON ABAMA
The first two nights of our stay were in the luxurious 5* Ritz-Carlton Abama resort. It is located on the outskirts of Costa Adeje and certainly not within walking distance of anywhere. But it is an incredible resort with so much on site that there's no need to leave! It is quite a size, set over several levels and areas. There are 12 restaurants (two of which are Michelin-starred) and 7 pools, all of which are heated year round. There is also a state-of-the-art fitness centre, a spa and an 18-hole championship golf course.
The accommodation at the Abama is beautiful. There are 459 rooms, suites and villas, with options for families and adults-only. Every type of room is extremely well furnished and equipped, with marble bathrooms and generous-sized beds. Some have balconies and gardens, and some have their own pool. The attention to detail is impressive. My daughter was particularly taken with her own age-appropriate toiletries which she insisted on packing when we left.
The food throughout the resort was incredible. We had the best Chateaubriand in the 20/20 Steakhouse that we have ever tasted. There is so much to choose from, from the two Michelin-starred M.B. and the Michelin-starred Kabuki (Japanese fusion), to the Verona (Italian) and the Beach Club and Sports Bar. Two nights wasn't nearly long enough to do it all justice! The views from some of the restaurants were particularly stunning, overlooking the Atlantic, and the seafood restaurant, El Mirador, is set on a cliff top. The perfect view for sunsets.
Food-aside, there is a beautiful adult-only spa offering treatments, classes and wellness activities. A good opportunity to make the most of the brilliant Kids' Club and enjoy some quiet time. There is also a secluded beach, only accessible through the resort. Private beaches are not allowed on Tenerife and this is as close as it comes. Guests can take a funicular down to the beach from reception and there is even a Beach Club which serves directly to the sun loungers. Or with 7 pools to choose from, all catering to different needs, you may not even venture to the beach! I particularly liked the infinity pool which is only open to those over 14.
As well as the 5* luxury for all guests, there is a private club, a feature of Ritz-Carlton resorts. The Club programme is a service exclusive to Club guests with privileges including a special lounge on the 10th floor with complimentary meals and refreshments and beautiful views, as well as a separate check in area on arrival.
Our two nights quickly vanished and it was soon time to move on to our second stay.
BAOBAB SUITES
We didn't have far to travel to our second destination. The Baobab Suites are nearer to Costa Adeje, situated on the hill looking down to the bay, a 10-15 minute walk to the beach or a free taxi ride from the resort. The Baobab Suites form a 5* complex of fully serviced apartments with hotel facilities – quite an unusual arrangement but offering the best of both worlds. You can opt for self-catering, or a variety of board basis. Breakfast can either be enjoyed in one of the restaurants (with Cava) or delivered to your room for you to enjoy on your private terrace.
There are 4 restaurants on site, one of which is particularly amazing – Sucas. The chef there, Lucas Maes, has worked in several Michelin-starred restaurants and I highly recommend the Taster Menu. Absolutely delicious.
The apartments themselves are really well thought out. Ideal for families as they all have 1 – 3 bedrooms and offer a variety of sleeping options. Some are suites, some have private pools – these are either raised or sunken so it's worth checking beforehand, especially if you are travelling with a young child.
The Baobab Suites has a great Kids' Club with a disco every evening. And possibly its most attractive feature is the fitness centre, the Activate Sports Club. It is a superb facility with so much on offer – yoga and Pilates, padel tennis, personal training sessions, a suite of fitness machines, a beach area with sports, as well as meals and drinks - and more! For anyone looking to stay active on holiday, this is a great option as there is so much to do indoors and outdoors.
SIAM PARK
We went for a trip one day to the local waterpark, Siam Park, voted the best waterpark in the world on Trip Advisor. It's certainly impressive! I was a bit concerned that there wouldn't be enough for my three- year-old, but I needn't have worried. She loved the Lost City which is tailored towards younger children. Jumping over the waves at the Wave Palace was a big hit as well. There are some incredible adrenalin rides and slides too, so well worth a visit.
By the end of our week, I had thoroughly enjoyed my time in Tenerife. Both holiday experiences had real plus points. The Ritz-Carlton Abama was undoubtedly the most impressive and luxurious. If money was no object, that's where I'd stay for an entire holiday. The Baobab Suites provided great value for money, especially for a 5* venue, so for families looking for a good location and that extra bit of room space, but with an eye on budget, I'd recommend it.