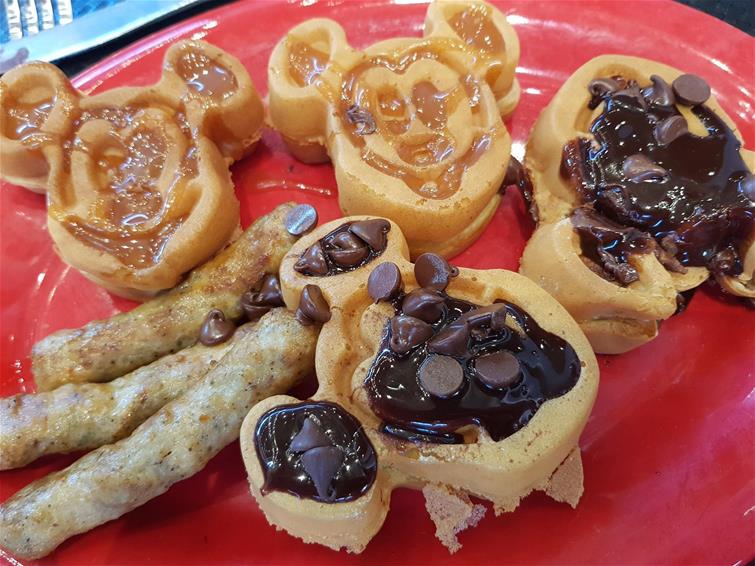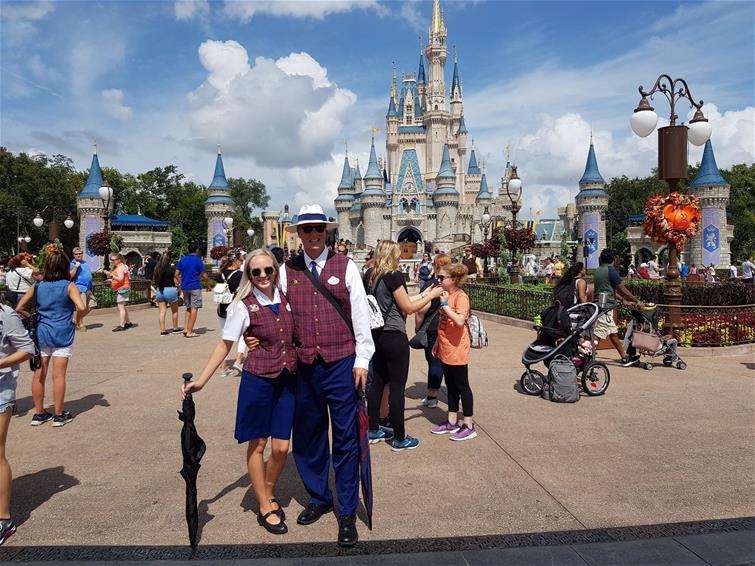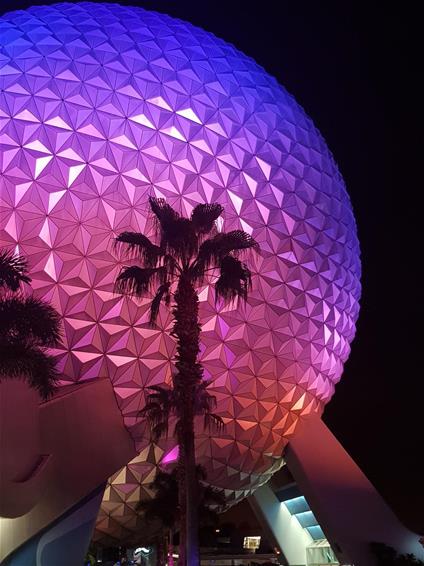 Following on from our first two days in Disney, read on for my next diary instalment
DAY 3
In my free time in the morning, I went back to Hollywood Studios to meet all the characters and get my autograph book signed. Anyone staying in a Disney resort hotel gets Extra Magic Hours which allow guests access to the parks earlier and later than the general public on certain days of the week. I highly recommend getting to the parks early to make the most of this benefit. I packed in 10 character meetings before meeting up with our hosts again!
The rest of our day was spent in the hallowed Magic Kingdom, where all the original Disney World delights started. Here is where you'll find the first-ever Disney ride, the Prince Charming Regal Carrousel, and the legendary Main Street parade and fireworks at the castle. Our guides had reserved space for us at Main Street station, so we had prime seats for the superb parade.
Halloween was in full swing in the Magic Kingdom and that evening we went to Mickey's Not-So-Scary Halloween party. We knew about this in advance and so brought our Halloween outfits with us – strictly no Disney character costumes allowed! Once dressed and ready to party, we went back to the Magic Kingdom with our Trick-or-Treat bags. Lots of treats were available in specially themed bags and there were themed characters galore and many nods to Halloween on the rides and attractions. Even the firework display was Halloween inspired as was the evening's parade. A Halloween never to forget!
DAY 4
I spent my morning free time at Disney Springs, a mecca for shopping fans as well as offering 61 restaurants and more than 20 daily shows and events. Don't forget to take your wallet – you'll find everything Disney-related you can dream of!
Next stop was incredible Epcot, which features 11-worldwide activities and attractions along with seasonal festivals. When we visited, the Epcot International Food & Wine Festival was in full swing. We had tokens to exchange for food samples and visited the stalls which were set out in their respective countries. Keeping on the food theme, we were next taken to the China Pavilion for a dessert buffet followed by the spectacular Epcot Forever fireworks, viewed from prime lake-side seats.
DAY 5
Animal Kingdom day. We went on safari through the Harambe Wildlife reserve and I was pleasantly surprised by the variety of animals we saw; rhinos, wild dogs, giraffe and zebra amongst others. We then spent a good deal of time in Pandora – The World of Avatar which was stunning. For any fans of Avatar, it is a must-visit. It was just like being part of the movie. There are floating mountains, a bio luminescent rainforest, mountain banshees – all the Avatar touches that fans will appreciate.
The Avatar-themed rides are simply incredible. Flight of Passage is a virtual reality 4D experience where you taste life as a Na'vi and ride an ikran across Pandora's moonscape. It is the most amazing ride I have EVER been on. I could feel the banshee beneath me, breathing. I could smell the forest, feel the spray of waterfalls and it felt like I was actually flying. It is a 4.5 minute ride and the queue is always between 2-3 hours. Thanks to our VIP guides, we skipped the line - and went on it twice. Don't miss this one!
After the delights of Pandora, we were taken to the Festival of the Lion King live theatre show which includes all you could wish for from this favourite tale – acrobatics, fire, Broadway songs and characters galore. Our day of exploration continued with dinner at Tiffins Restaurant, delicious food inspired by far-flung places. The evening's entertainment was River of Light: We Are One, an extravaganza of music, lights and fireworks. Imagine the circle of life unfolding on a lake before your eyes!
To finish off this unbelievable day, we returned to Pandora to experience the Na'vi River Ride, a boat trip through the rainforest with incredible lights, sights and creatures and the most complex robot in the park, the Na'vi Shaman of Songs.
What an end to an amazing day.
DAY 6
Our last full day at Disney World. I made the most of my free time with a revisit to the Animal Kingdom where I enjoyed the Expedition Everest rollercoaster ride and It's Tough to be a Bug, a 3D film and show with 4D special effects.
In the afternoon we went back to Epcot for some more rides. This time we drove around Test Track, an attraction where we could design our own car and then go for a thrilling ride around a track and try and beat the times of other drivers.
Soarin' Around the World came next, a superb IMAX experience where we virtually flew all over the world, seeing the wonders on offer. Truly breath-taking. Then to the complete opposite and under the Seas with Nemo and Friends – don't worry, you will find him! We kept the watery theme for Frozen Ever After, a boat ride through the frozen forest to Arendelle. Of course, Let it Go featured.
Our day ended with a rooftop dinner at the California Grill in the Magic Kingdom where we were treated to a perfect view of the Happily Ever After fireworks display. The only way to end our perfectly magical and extra special Walt Disney World experience.
MY KEY TAKEAWAYS FROM THE TRIP:
- Stay on site at a Disney hotel to get the most from your time & dining plans. - Use your Magic Hours, if you have them, and get out to the parks early. Plan to be at the characters you want to meet or the rides you want to try, as they open. - Take a break for lunchtime when the parks get super busy and hot. Head back in later in the afternoon, in time for the shows and fireworks. They're superb! - VIP tour guides are expensive but so worth it. They take up to 10 people at a time for a minimum of 7 hours and will give you such insights to the wonderful world of Disney. - Prebook your main FastPass tickets and make sure you get to the fabulous rides in Pandora as well as Oga's Cantina! But don't stress about getting everything pre-booked. I managed to book a FastPass to meet Tinkerbell the night before I met her!
I hope you can tell from this that I am an absolute die hard Disney fan and love to share my knowledge. If you'd like help or advice booking your perfect Disney trip, I would really like to be the one who helps you make your Disney dream come true. My trip was an extreme VIP adventure, but I now know so much more about Disney than ever before. And the more I know, the more I love the magic!