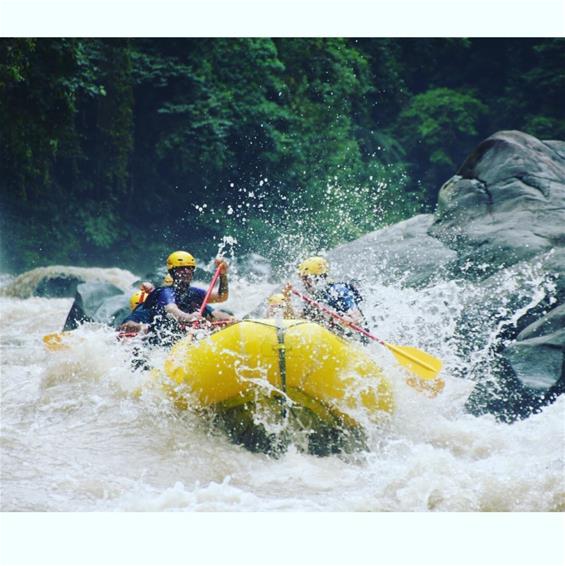 In November 2017 I was lucky enough to do a full tour of Costa Rica. We started by staying in the capital city of San Jose where we explored the city centre and took trips to the coffee plantations and La Paz Waterfalls. It was a long way up the mountains but travelling through the rain and cloud forest was amazing!
Next, we began our journey to the Caribbean coast resort of Puerto Viejo Talamanca. What an experience, listening to the howler monkeys at night from our lodge. The beach has a real laid-back feeling and the Creole food is to die for! We visited the Cahuita National Park where we saw sloths, monkeys, snakes, racoons and also lots of sea life with a snorkel in the warm Caribbean Sea.
The highlight of the trip had to be our transfer to our next stop. This was called an 'adventure transfer'. We were collected from our hotel and travelled up to the Pacure River where we began our 3-hour white water rafting experience that took us closer to our next hotel stay in Arenal. Having never rafted before I was very nervous, but the guide was very experienced and settled my nerves and boy what an experience. Afterwards we had lunch provided and then continued on a mini bus to the next resort of Arenal where we relaxed in the natural hot springs in our hotel getting ready for the next day of walking hanging bridges and zip wiring!
Our next stop was Monteverde which was a lovely quaint town with some lovely gift shops, bars and restaurants. On the evening we went back to our hotel for a meal and drink around the large open pit fire.
Our final stop before heading back to San Jose was the Pacific beach resort of Tamarindo where we had a gorgeous hotel situated right on the seafront. It was a scorching 31* here which was a shock after coming from a cool 19* in the cloud forest of Monteverde! This was a lovely relaxing stay where we could wind down after a holiday full of activities. We would just laze around the pool and watch the Iguanas passing by the sun loungers!
All in all, it was an amazing holiday with lots of activities and an equal amount of relaxation. It really is a diverse country with so much to do and see. Get in touch for more information on this fabulous part of the world!