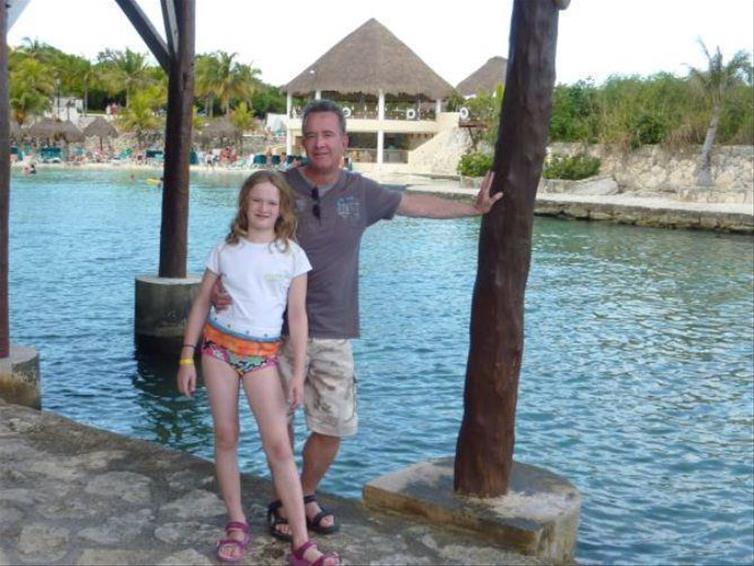 My first long haul holiday for 3 years. Started perfectly, with an on time departure on BA from Gatwick to Cancun. The in flight entertainment kept us occupied, my young daughter enjoying total control of her seatback TV.
Arrived mid afternoon and took a pre-booked transfer down to Xcaret to stay at the Grand Occidental Hotel which is adjacent to the fabulous Xcaret eco park.
The hotel, is very much a 4 star resort hotel located in lush vegetation with, 5 pools, 11 restaurants, and a small man made beach bay area. Scarlet Macaws fly in everyday to the hotel, and resident iguanas and coatis wander around which makes it a little different...
The 'problem' with Mexico is the fabulous food, and being all inclusive this property stretched one's resolve to not tuck in to the highest degree.
The hotel is located close to Xcaret and to Delphinius, a dolphin encounter experience. The Xcaret park provides discounted admission rates for those staying at the hotel. And you can walk there..a great day out, jumping into the undeground river is a fabulous little adventure for young and old alike. There are plenty of creatures to see: parrots, butterflies, jaguars, rays, sharks, turtles, to name a few.
We did a side trip to Coba and Tulum, the coach tours were rather hefty pricewise at the time, so we elected to rent a car locally and do it ourselves, very straightforward. The roads are well signposted and the admission prices to these sites are low. As of October 2011 you can still climb the tallest pyramid in the Yucatan region, Coba's Nohoch Mul at 42 metres in height. It is steep and worth the effort, just watch your footing as you go!
Up to Cancun for 7 nights on a stunning beach at the Grand Caribe Resort and Spa, again all inclusive, and again with superb food. It has 2 pools, kids entertainment (2 water slides and a Galleon to play on) and a gorgeous long stretch of toe-teasing sand. The 2 pre-bookable restaurants, Maria's and the Sunset Grill are a must. The former for great Mexican food, and an entrancing liquor coffee presentation...and the Sunset Grill for sumptuous steaks. Not so many animals to be seen here, however, we did have the chance to release turtle hatchlings into the sea...a thought provoking thing to to do...the big wide ocean beckoning for a 4 inch long turtle.
The highlight was watching my daughter swim with dolphins. All in all a great holiday.