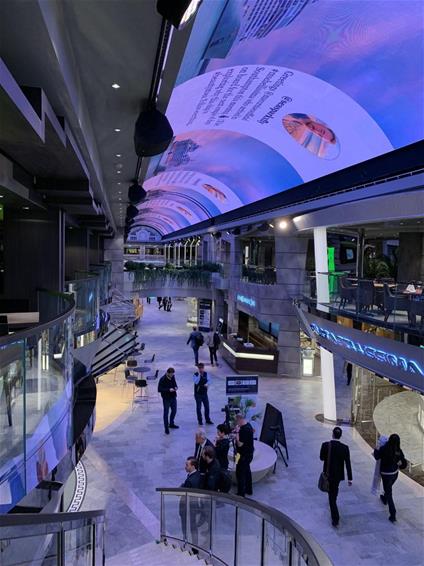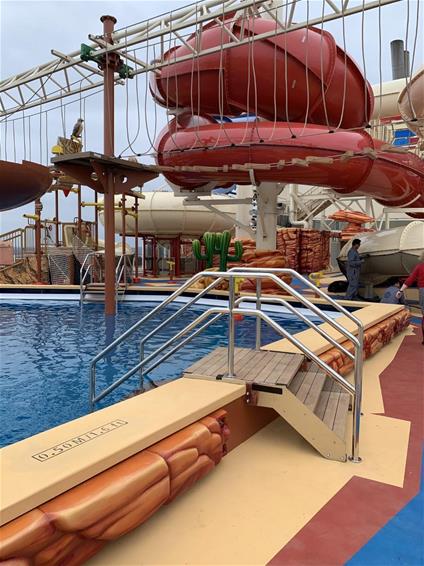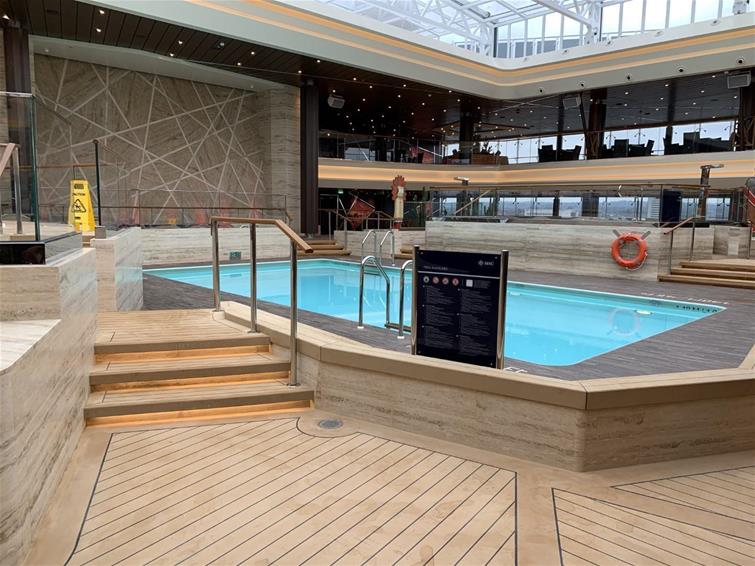 I was lucky to be invited to one of the launch days of MSC's brand new ship Bellissima, sister ship to Meraviglia. The ship was christened by Sophia Loren in Southampton in March 2019 and I was fortunate to spend a night on board to see what the ship has to offer my customers. The ship accommodates 4488 passengers but with over 33,000 square meters of space for public areas, the ship is generously designed.
We were welcomed onto the ship and were straight onto the indoor promenade which spans two decks and houses many great places to eat, drink and ship. This is very much the social hub of the ship illuminated by a dazzling 260ft long LED sky dome which displays atmospheric visuals and digital magic. In the evening this promenade came to life with street party vibes and a lively community spirit.
On board there are a variety of different cabins and suites with options and budgets to suit everybody including family options for interconnecting cabins or cabins with bunk beds for the children. Furthermore, there are the duplex maisonette suites with private whirlpool on board as well as an extended MSC Yacht Club with numerous solariums, Jacuzzis and a separate member-only restaurant. One of her fantastic features is ZOE, the in-cabin, voice-activated cruise assistant. Simply say 'OK Zoe', and follow up with just about any question about your cruise and the equipment will deliver up your answer.
MSC has forged a relationship with several big-name chefs, including renowned French chocolatier, Jean-Philippe Maury, who has his own chocolate shop along the Promenade, or Galleria Bellissima. Spanish Michelin-starred chef Ramon Freixa, who has his own restaurant, Ocean Cay, on sister ship Seaview; has a new-to-the-line, for-fee tapas bar onboard Bellissima, Hola! Tapas, on the main promenade.
Specialty dining options include Kaito Sushi Bar and the Kaito Teppanyaki Restaurant serving sushi during the day and in the evening and offering a traditional Teppanyaki experience in the evenings. An American-style steakhouse Butcher's Cut, which has specialty meats from around the world and from Seaside and Seaview, popular French restaurant, Bistrot Atelier, makes its debut on Bellissima, again in the main promenade, replacing Eataly. The main dining room is divided in two by a corridor which features a stunning mirror and glass-encased wine cellar. The Marketplace Buffet is open 20 hours a day and will serve Mediterranean specialties and international cuisines - including world food, cuisine based on where the ship is and healthy options.
On board there is a huge entertainment area which features a huge water park as well as a sports area, the Sportplex. Here, you can do sports during the day and during the night, the Sportplex will be changed to a disco. At the F1 simulator you can take part in exciting races and challenge the other travellers. At the bowling alley onboard, you can find out who is the best in throwing "strikes". Another highlight is the new and unique cooperation with Cirque du Soleil. Six nights a week, the artists of Cirque du Soleil will perform two unique performances for about 413 guests each.
The main Pool Deck will feature a 25-metre pool and will have one of the most generous poolside spaces at sea (along with its sister). At night, the pool will be illuminated with special lighting. There is a 10-meter indoor pool with a dome that can be opened when the ship is in port or when the sun is out. The Aft Pool on Deck 16 will be an amphitheatre-type space with tiered seating surrounding it in a semi-circle; at night it is transformed into a dance space. The ship also has a large outdoor water splash park for kids.
In my opinion Bellissima would suit multi-generational families as there is so much to do and with the option to interlink "cluster cabins" for family groups which can accommodation up to as many as 10 passengers this would be ideal for those larger families and groups.
If you would like more information, please get in contact with me.