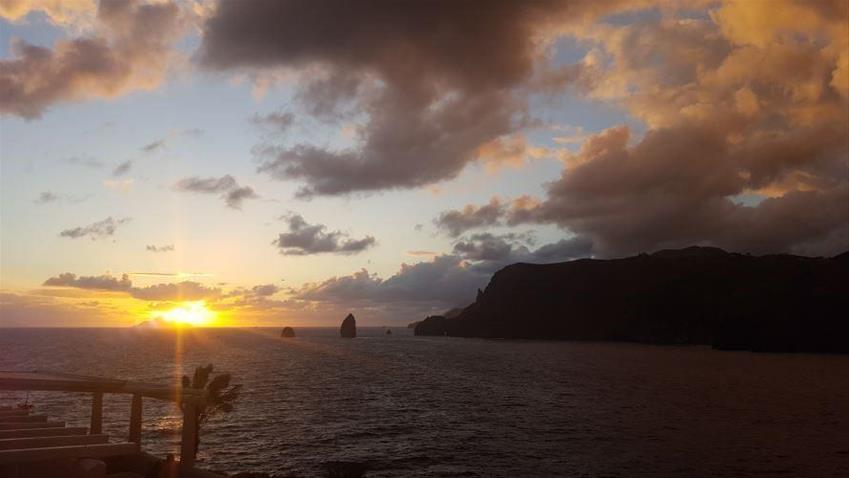 I set foot on Vulcano, quite green in the face after a 40 minute hydrofoil journey from Milazzo. After a week on mainland Sicily, we were heading over to the Aeolian Islands for another week of relaxing. Named after the god of winds, Aeolus, the Aeolian Islands are a volcanic archipelago off the North-East coast of Sicily and comprise of 7 islands: Vulcano, Lipari, Salina, Filicudi, Alicudi, Panarea and Stromboli.
From the moment you arrive at the Vulcanello port you know you are close to nature as the sulphur smell of the nearby mud baths hit you in the face (not helping with my sea-sickness at this point!). The islands are of volcanic origin and have two active volcanoes on Vulcano and Stromboli. The islands attract about 200,000 visitors every year, from nature lovers to adventure seekers, mostly British, German and French. There is something for everyone on the islands…relaxing on a black-sand beach, hiking up a volcano crater, enjoying the glittering blue sea with boat excursions, diving and wine tasting.
Each island offer a unique experience, so if you plan to see them all, a week should give you sufficient time to do that. Vulcano is the easiest to get to from Sicily, with healing mud baths, black sand beaches and a massive volcanic crater to explore. Lipari is the biggest island and most inhabited. Salina is the greenest, known for its olive and wine produce. Stromboli is probably the most popular (although difficult to get to) with a volcanic eruption happening almost every 15 minutes. Panarea is the most fashionable attracting celebrity visitors, whilst Filicudi and Alicudi are giving you complete isolation to get away from it all. So whatever your preference, one of the islands ought to be a perfect base for your Aeolian holiday.
Vulcano worked perfectly as a base for us and I particularly liked the view you get of the other islands from here. On a clear day you can see all 6 of the other Aeolian islands from Vulcanello (or from the popular viewing point at Capo Grillo), and in the South of the island you have a clear view of mainland Sicily and Mount Etna. We had a guided tour of the island which I cannot recommend enough. The local guide was amazing, with a lot of knowledge about the history of the islands, volcanic activity, as well as the fauna and flora. Keeping in mind that he probably speaks about 4 or 5 languages, his English was really very good. But I had to laugh when we got stuck with my question over sharks…he was not familiar with the word so I eventually described it as a "dangerous fish" which he immediately understood checking whether I'm talking about the type you get in Australia! Apparently there are no dangerous sharks in the Tyrrhenian Sea, but he said we could definitely see dolphins off the coast.
Whilst on this tour, our guide showed us a picture of the submerged volcanic system, which I found fascinating. It puts everything in a different perspective when you realise what lies beneath and that the pretty islands we are taking pictures of are really just the very tips of what looks like a massive volcanic mountain range underneath. I used Google to find this picture after we got home, which is included in the pictures for this blog (Source: www.mbpost.com, with the picture a kind courtesy of Eolie freelance reporter).
But once again, it was time to board the hydrofoil and leave these lovely islands behind, starting our journey back to a rainy UK.
Until our next adventure…