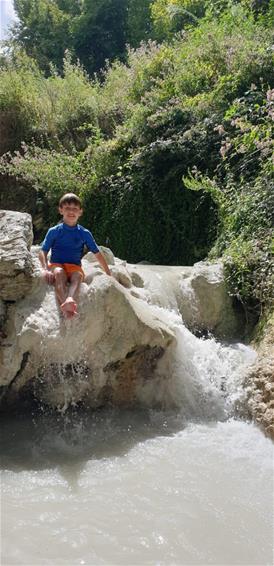 We then collected our car and drove up to a little village South of Siena in the Tuscan hills where we spent 8 nights in a beautiful converted Farm House. Tuscany is just as I imaged after seeing pictures over the years. Fields full of olive trees and vine yards and beautiful buildings everywhere.
The farmhouse was stunning. It had 5 apartments and an onsite restaurant which was a major hit with the locals, it does not depend on residents which is always a bonus (we could not get a table on our first night as it was booked up). As it was so quiet with other guests staying in the apartments, we had the pool completely to ourselves for most of our stay and my boys had a blast. Our apartment which was on the ground floor with our own little courtyard was spotless and had everything we needed to cook evening meals and give us space and tranquillity after 4 nights in the capital city. They even had a resident Donkey (I absolutely love donkeys, so this was a major bonus for me??)
Siena was beautiful and worth a visit (I know this is a general well-known tip but make sure you step back from the main square for the restaurants, there are some great quirky places to eat away from the main drag) but for me Montepulciano tipped it. Maybe it was the delicious red wine that did it! We had had major storms overnight but even in the rain it is a beautiful town and one I would love to spend more time exploring. It is somewhere I will now recommend for a weekend break. You could happily spend all afternoon sampling the local wine offered in pretty much all shops/restaurants and enjoying the meat samples. The views are breath taking!
We also have had a Favager first, a day spent in some natural thermal pools. There are many thermal pools in Tuscany and a lot have been purchased and taken over by private companies. You can book full "spa" days with full facilities and treatments available. However, we decided to do as the locals do and experience a fully "natural one". We decided on Bagni Di San Fillip Terma Pools and they were fantastic! We walked down the river for circa 20 minutes and had 3 pools all to ourselves. Do not be put off by the colour of the water in my pictures, it is like that because we had been playing in the mud which is said to have healing powers. It was like stepping into a warm bath. The natural waterfalls coming down from the hills were bordering on being hot! It was such a wonderful experience and something I highly recommend and will do again.
After 8 nights in our Farmhouse we reluctantly said goodbye. There were tears from my boys as they did not want to leave, it was that idyllic and I must admit, we were a very subdued car as we drove away and headed to Florence to spend out last night in a hotel there.
If you spend any time in Florence and have a car, make sure you have a hotel that has parking. We were fortunate that ours did but the hotelier remarked that typically in the height of summer you really do struggle to get any as most are reserved for residents inside the towns walls. Florence is beautiful, and I am so glad we decided to spend a night there rather than just a day. Seeing the Cathedral of Florence, Basilica di Santa Maria del Fiore during the day and then lit up in the evening was fabulous and there was a great family vibe as we walked around after our evening meal.
Our flight was not due to leave Pisa until 10.30pm on our last day and I was worried that it would end up being a day of clock watching and wishing the hours away. How wrong I was. We spent most of our last day in Lucca. Another stunning city that really impressed me. Hire a bike and cycle the castle walls. It was brilliant to see the locals out enjoying their Saturday and we got a quad bike which was great fun. The streets are like a labyrinth so make sure you take note of where you are parked as you can easily become disorientated. Another gorgeous Galetto was consumed before we headed to Pisa to take "that photo" before heading to the airport.
There is not much to do in Pisa apart from visit the Leaning Tower, so I would never recommend spending a significant amount of time there, especially when there are so many other stunning towns and cities to visit nearby. However, you must go and see the Tower if you have not done before as the area where it is lovely. We once again benefited from minimal crowds and had no problem getting the shot of us holding the tower up.
The car was dropped off with no issue, check in and we were on our way home. A perfect end to a perfect holiday and I am once again faced with the task of trying to find something next year that is equally as good. So far, I am drawing a blank!
Please get in touch if you would like any further information on our Italian Escape or would like to plan your own adventure x