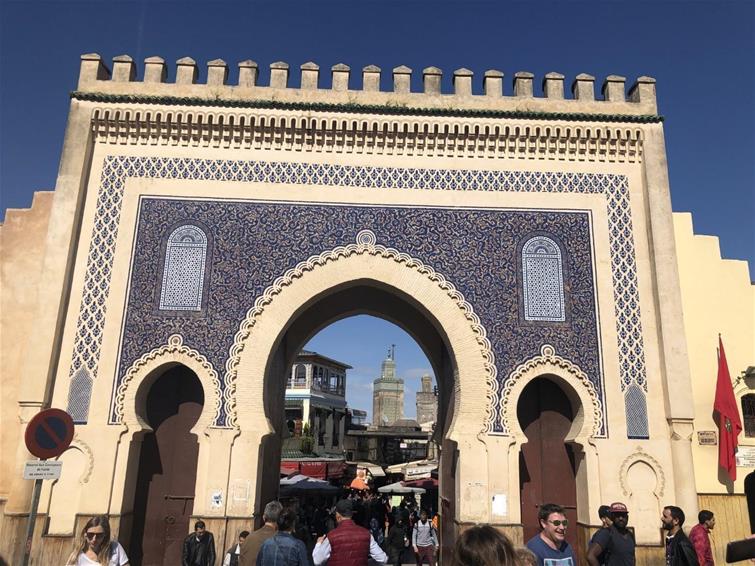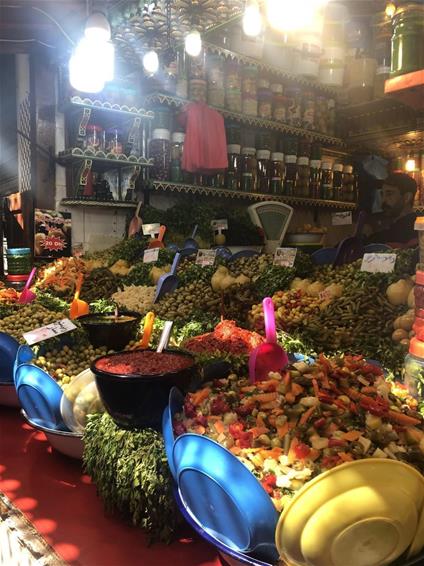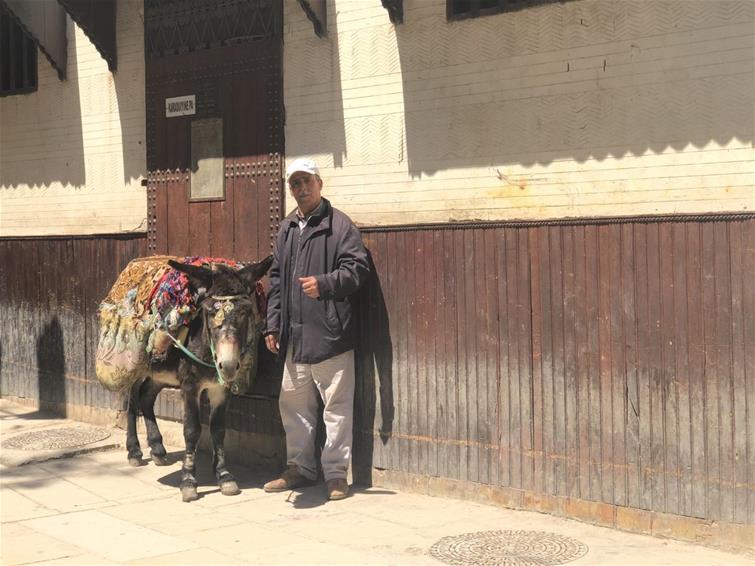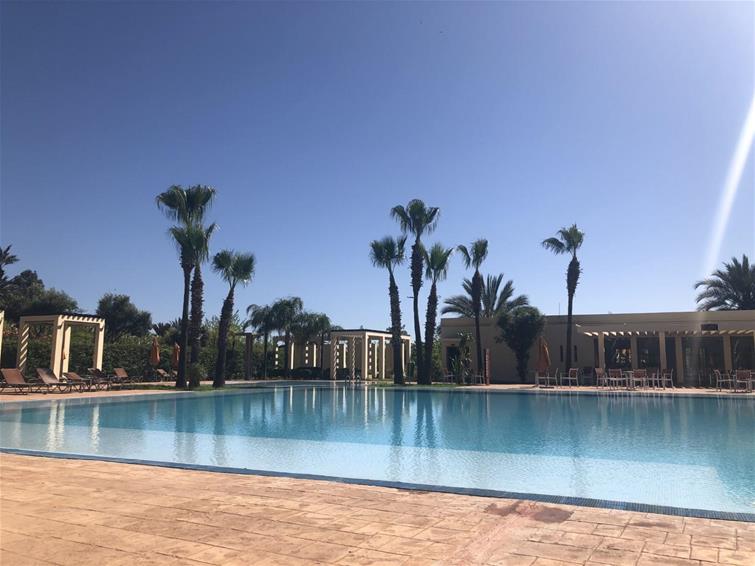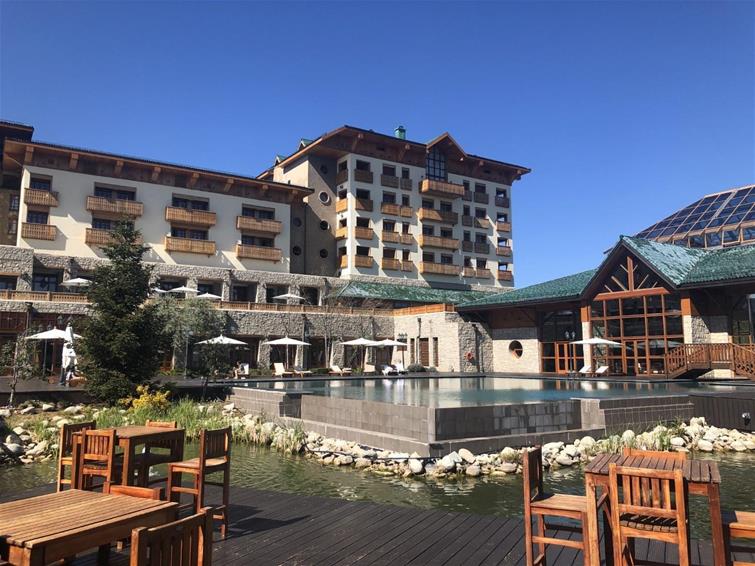 I was very lucky to be invited by the Moroccan Tourist Board to visit Fez for three nights last week. Having never been to Morocco I was keen to see what Fes has to offer!
We flew direct from London Gatwick to Fez Saiss airport with Air Arabia. The flight is just over 3 hours and flies twice a week on Wednesday and Saturday making it a perfect short break destination. The plane was comfortable and the service good, we left on time and arrived into Fez at 11.50pm. We had to complete a landing card before passing through passport control and this was available at the entrance to the arrival's hall, but all was straightforward and didn't take too long.
The transfer to our hotel, The Palais Medina & Spa was short, and we were checked into our rooms in no time at all. The Palais Medina is a 5-star hotel set in a prime location in the centre of Fes. The Royal Palace and Jewish Cemetery are not far from the hotel and it has a fabulous pool when you've walked your feet off all day in the Medina!
We began our first day by visiting the Medina.This UNESCO World Heritage Site is the largest non-vehicular area in the world, and a unique living and universal museum.
We had a fantastic guide who took us through a main gateway and warned us to keep sight of each other as it's too easy to get lost in the medieval labyrinth of narrow streets. The Medina buzzes with colour and life, with stalls catering for every need, from olives and spices to ornate copper work with donkeys and mules carrying their loads as there is no other transport!
Make sure you visit the artisans' shops: coppersmiths, potters, weavers, tanners, turners, goldsmiths etc. It is a fascinating experience watching them working with skills handed down through the ages. We visited the famous Tanneries, where every day the tanners work hard to produce fine quality leather using methods that are hundreds of years old.
We took a break for lunch at Riad Myra. Built at the beginning of the last century the Riad was converted and renovated in 2006. It's located within the Medina and has 12 rooms and suites. We dined on delicious local food in the central courtyard, which is decorated with ornate archways, intricate stucco work and colourful zellijs (mosaics). We spent more time in the Medina after lunch before heading back to the hotel to get ready for dinner.
Dinner was at Riad Palais Amani, where we were treated to a traditional Moroccan dinner and lots of wonderful Moroccan wine. This opulent eighteen-bedroom riad provides luxury accommodation and delicious dining. It has a roof top bar that gives fantastic views over the city and you can sign up for a cooking class or a traditional Hammam experience.
We returned to our hotel for a good night's rest before we set off for our second day of exploring!
The Atlas Mountains are one of Morocco's best-known features and they are a great destination for walking and trekking, whether you want to spend a day in the foothills or a full week's holiday exploring.
We visited Ifrane, easily accessible from Fez and the most popular destination of the region, it is known for its cooler summer climate and its Alpine-style village. It's one of just a handful of ski resorts in Africa and many Moroccans holiday here for the snow sport opportunities from December to February.We spent most of the day at the Michlifen Resort which really does feel like you are in Switzerland, however we didn't ski, we enjoyed a balneotherapy treatment which was so relaxing!
We enjoyed lunch out on the patio and enjoyed some more Moroccan wine, before heading back to Fez via Meknes, one of Morocco's Imperial cities and a UNESCO World Heritage Site. It's a modern city with a relaxed atmosphere and a lot of historical monuments that are worth seeing such as Bab Mansour, the enormous Agdal Basin, the Dar Jamai museum of Moroccan Arts and the Mausoleum of Moulay Ismail, who was the second ruler of the Moroccan Alaouite dynasty.
Our final evening was spent as guests of the Palais Faraj where we had a tour of the beautiful accommodation before enjoying a gourmet Moroccan dinner at L'amandier which offers breathtaking views of the old Medina.
Our last morning was free and we relaxed by the pool and enjoyed the sunshine! Lunch was scheduled for 12.00 and was served after 1.00pm…. I don't think there is anything hurried in Fes! We only made small inroads into the last Tagine of the trip, but it was delicious!
We headed back to the airport just after 2.00pm for our 4.00pm flight back to the UK, it was an interesting journey, especially the roundabout just before the airport, but we made it with plenty of time to check in! You do need to complete another form that you show at passport control, but again everything was straightforward, and the airport is nice and modern with a few Duty Free shops once you are through security.
I loved the whole Moroccan experience and would love to return to spend more time in the Medina, it's definitely on my 'To Do again' list. It's a really unique experience and I felt that I had travelled much further than 3 hours to get there. If you fancy doing something different, please get in touch and I can help you plan your trip.