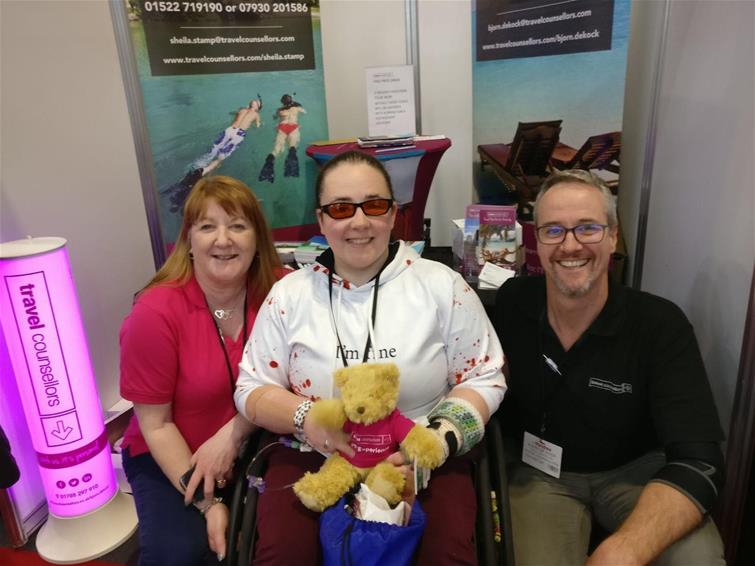 Accessible/Inclusive Travel – Why booking with me will be different
Being confident enough to continue to travel, have you found one of the biggest problems is trying to get travel agents to understand that you are unique to me. Being treated as a 'disabled traveler' rather than a traveler with unique problems.
This may have meant missing out on travel experiences and limited the locations that were being advised by the travel agent. Instead of asking me my specific requirements.
Having undertaken further specialist training this allows me to open so many doors for people to explore the world, no matter what their barriers are. Whether it by via land, sea or air, adventure or relaxation, I can help keep the well-travelled, travelling well.
When your life changes beyond any expectation, a lot of people get around to thinking about how they would love to go back on holiday. Then doubt sets in: 'Where do I start to plan this kind of trip?' 'Is it even possible?' 'How can I do it?' The short answer is yes you most definitely can! Here are a few things to consider helping you on your journey.
Whether it's a country cottage stay in the UK, a culturally enriching city break in Europe, soaking up the Spanish sun, cruising around the Mediterranean or an exotic distant shore, skiing in the Alps, arranging your much-deserved holiday should be an enjoyable experience packed with anticipation of visiting places new. Historically, for many with additional access and mobility requirements it has rarely been anything like that! But it doesn't have to be that way and with appropriate planning and preparation, arranging your time away should be a pleasant and stress-free experience.
So how best to achieve that? Well, a crucial start point is to create a check-list to ensure you are being asked all the right questions by your travel organiser. And you should be armed with a list of important questions that you should be asking them.
QUESTIONS AS YOUR TRAVEL COUNSELLOR I NEED TO KNOW:
I will ask you also to complete a form that provides me with all the information I need to complete to the airlines.
Where would you like to go? When would you like to go and for how long? Best UK departure airport or cruise port for you?
Who will be travelling (adults/children and their ages). Details of party member/s with additional requirements to include: sensory problems, mental/emotional needs, nature of condition (e.g. amputee).
Details of any mobility aids to include prosthetics and how they may be carried if not worn during the journey? Wheelchair make and model/height/length/width/weight for powered wheelchairs – battery type and if Lithium-ion, its wattage per hour. Type of assistance you may require at the airport/cruise port/station such as wheelchair, airport buggy, use of an Eagle Hoist, which will seat you in your seat and this avoids the use of manual handling, making it more comfortable for you as the traveler. An ambulift to aircraft door (to avoid steps), carry-on to seat using special chair designed to access aircraft aisle Boarding and in-flight requirements – aisle chair/cabin class.
Accommodation requirements – villa/hotel/apartment/cruise cabin. Bathroom requirements – wet-room/grab rails/bath with seat etc. Mobility aids? Hoist/profiling bed/shower chair? Any additional requirements that I should know about?
Transfers from the airport, port in specially adapted vehicles
WHAT YOU CAN EXPECT
You will always be able to speak with just me during the planning and booking process. All your money will be 100% financially protected and I will provide you with 24/7 support whilst away.
Lots to do, but with a world of exciting travel opportunities just waiting to be explored, your planning and preparations will ensure you have the wonderful holiday you deserve. And as a travel professional ready and waiting to provide you with the perfect holiday that meets your travel dreams and ambitions and of course, your specific access and mobility requirements.
Making travel accessible. Everywhere. For everyone.