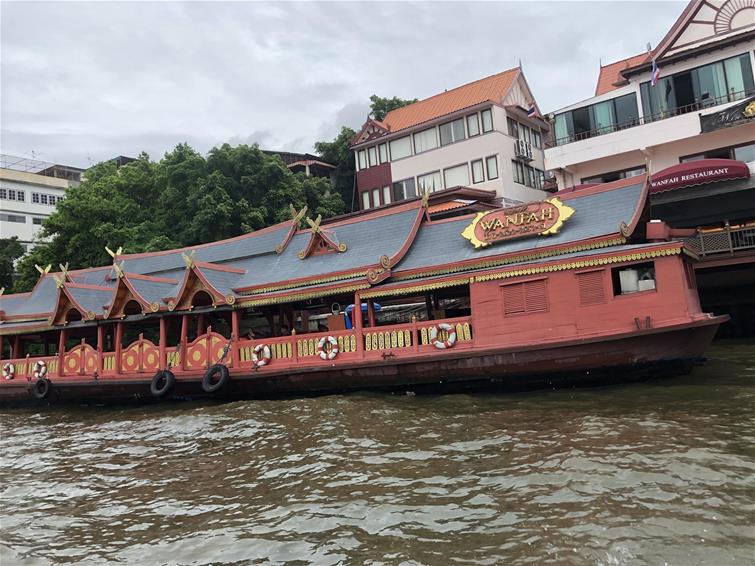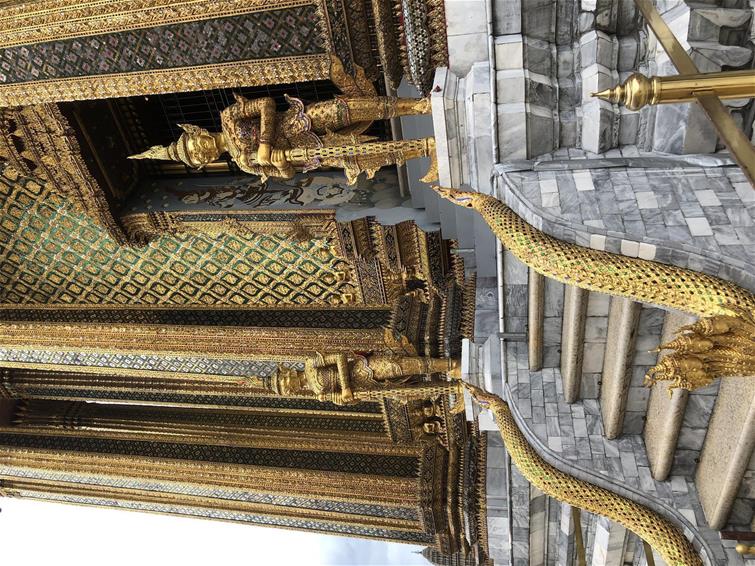 I spent 3 nights staying at the Rembrandt Hotel in a Terrace Suite, which had incredible views of Bangkok. They have a cocktail bar situated at the top which gives some great views over Bangkok. Breakfast was very good with lots of variety.
We did have a massage here which I would say was ok, I think you could have got more for your money in a salon which there are in abundance.
The hotel is well situated to get about easily, near the shopping centre, we also took a stroll down the street which has the bars, shows which are performed by lady boys, who all looked stunning.
Bangkok is a vibrant place with lots going on a great stop for a few days, I would recommend, deciding on what you want to see before going, and having that all in place as there is so much to do in a couple of days.
Full day visit of Bangkok like a local private tour:
We took the sky train, and glided through the city to reach the river, where we took a short boat trip to Tha Tien Pier starting with a visit of Wat Pho. Wat Pho is home to more than one thousand Buddha images, as well as one of the largest single Buddha statues: The Reclining Buddha. You will likely hear the monk's morning chanting ritual emanating from the main hall during your visit. Which we did hear.
We continued our walk to Wat Phra Kaew, known as the Temple of the Emerald Buddha and one of the most respected temples in Thailand. The next unmissable stop was the Grand Palace, home of the Kings of Siam of the Chakri Dynasty, originally built by King Rama I. We walked to the fascinating Amulet market. For a bit of adventure, jumped on a Thai tuk tuk to visit Wat Saket and climbed the 334 steps to the heavenly Golden Mountain, which offered incredible view over Bangkok.
We then took a Saen Saeb taxi boat to discover the Jim Thompson house, home of the famous founder of Jim Thompson Thai Silk. (Unless you know who Jim Thompson this could be missed.) One last ride by the sky train brought us back to our hotel after a day full of striking emotions.
Apsara Dinner Cruise
With intimate dining the boat takes around 20 people, we were greeted with a welcome drink, shown our seats and served a lovely 4 course Thai dinner, while sailing up the river and taking in the sights of Bangkok by night.
We had a half day at the vibrant Damnoen Saduak floating market by long-tail boat private tour, an early start with about an hour drive to our long tail boat, then through the water to the market. Our guide was fantastic, he advised not to buy as we came off the boat as theses were higher prices. The whole place was fascinating, you do need to barter in order to get a good price, usually start at half the price or a bit lower, until your happy at the price. Be prepared to walk away, there are lots selling identical goods.