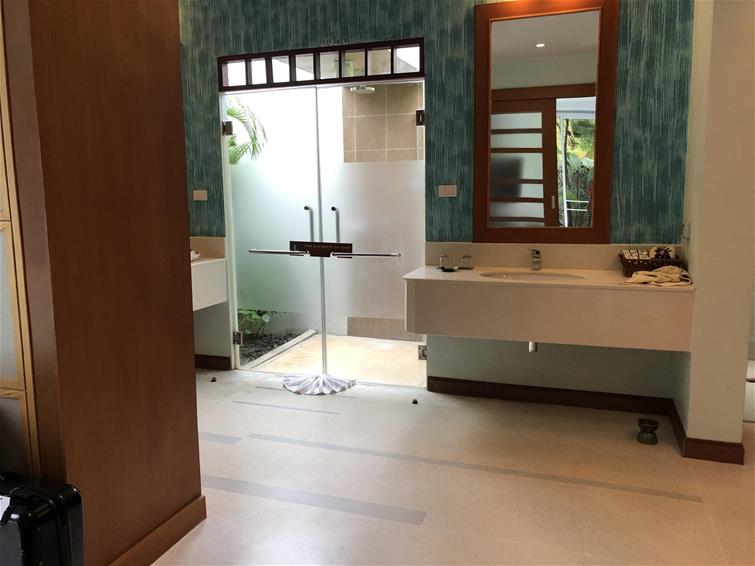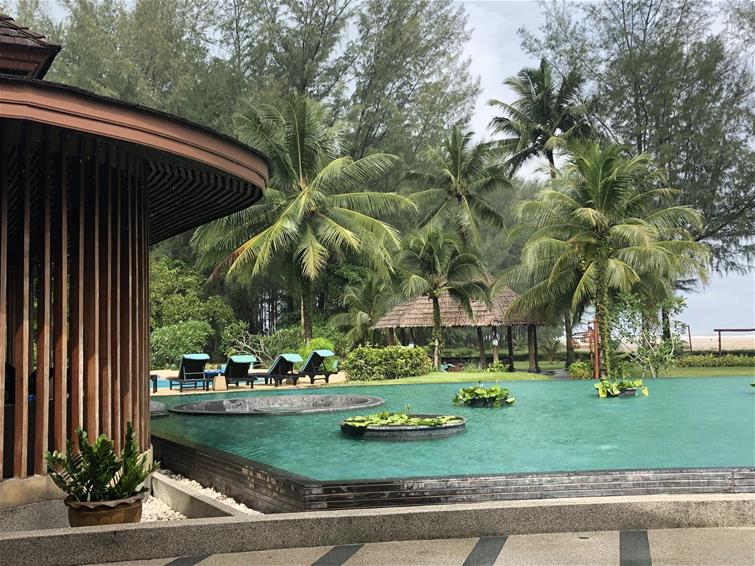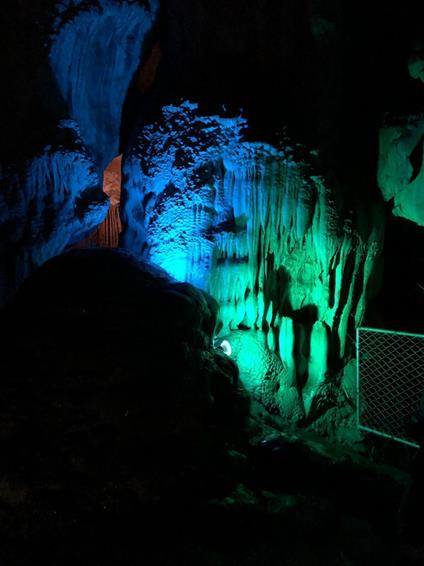 We spent 5 nights at Apsara beachfront resort and villas in Khao Lak. We stayed in a pool villa.
The resort is nestled in an area of outstanding natural beauty where the tides of the Andaman Sea flow into a lush lagoon and mangrove forest, against a backdrop of forested mountains.
This Khao Lak beachfront resort features two distinct zones on either side of the beautiful lagoon connected by an iconic bridge. The Resort Zone has a lively ambiance while across the bridge at the Villa Zone the village setting offers privacy and quietude.
To reach your villa a golf buggy takes you there. You collect it outside reception and dial 0 when you want collecting to go to the main resort. You go across the bridge and en route your view is of the sea. There is also a restaurant which for breakfast is only for villa guests and provides waiter service. At lunch and dinner this can be used by all guests and provides an a la carte menu.
The pool villas are totally enclosed and private. You have a bedroom, living room, dressing area with double sinks, toilet and wardrobes. The shower is an outdoor rain shower, which is lovely. The villa is spacious and would sleep 4 comfortably. Being able to take a swim as you wake up before breakfast was lovely. You have a patio area, plus sun loungers, and a mini bar that is replenished daily.
There is a spa on site, that provides a list of services. Villa guests receive a 30-minute free massage. We did indulge in a couple's massage which was very good.
The restaurant on the main site was excellent; beachfront location, staff were attentive, and they also do happy hour 4pm-6pm which is good value.
With this hotel you are about 25 minutes from any town, which is a factor to bear in mind, if you like having a stroll into the local village.
There is a market three days a week, not expensive by taxi. There is also the tsunami museum which you can look at to see the events in photos. We also took a trip to James Bond Island, visited the floating village, plus sea caving was brilliant. All arranged before we left.