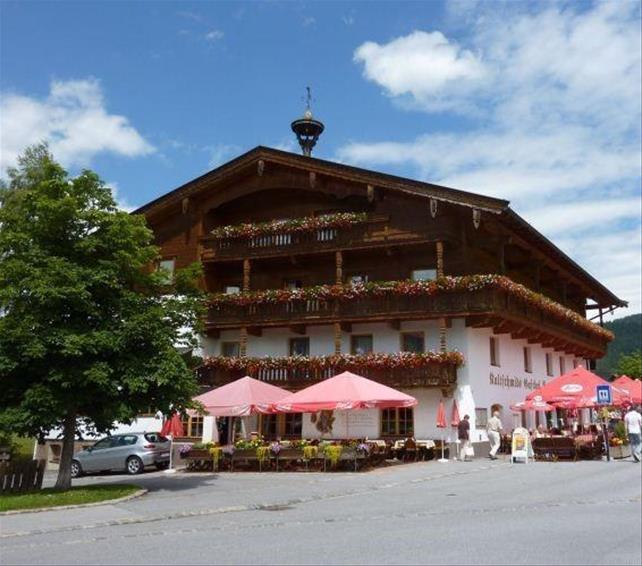 Seefeld is a small Alpine village located in the Austrian Tyrol, 11 miles from Innsbruck. Located at 1150 metres, and previously home to the Winter Olympic cross country events, it has two ski jumps and a roller skiing (dry) Nordic cross country ski area. There are also many walking and cycling trails. This pretty village also has a public outdoor/indoor pool with slides.
Gschwandtkopf, at the back of the village, proffered a 300 meter climb and getting to the top presents great views and a restaurant offering Weizenbeer and cake. The journey both up and down can be done by ski lift but we chose to walk back via Mosern, through hills and fields with a distinctive backdrop of cowbells.
We visited Wildmoos See and Moserer See where we went cycling for the day. This was a little bit harder than envisaged due to the altitude but the beautiful scenery and a gorgeous "Kaese Spaetzle" at the Moserer Seestuben more than made up for it. We were also able to swim in the lovely lake.
In Leutasch we spent a spectacular day out walking on a 3000 metre long suspended walkway through the Mountain Spirit Gorge Trail, popping sporadically across the border into Germany. There were some great vistas and a waterfall at one end. Near Leutasch, the Sommerrodelbahn provided a 1200 metre-long 'sledge' ride which both my daughter I were able to experience. We loved it!
For a nice day trip we took the local train to Innsbruck affording great views from the carriage. From there we walked across the main bridge over the river up to the top of the Hungerberg. We were at 2100m and you can enjoy lovely views looking down on the city and to the Brenner Pass and beyond. There was even some glacial snow up there too.
Having been to St Wolfgang, Salzburg, Hallstadt and the 'Sound of Music' country two years ago I was not going to be disappointed. Overall what is there not to love about Austria? Beautiful scenery, peace and quiet, fresh air, lovely people, great food and divine Dunkelweizenbeer!